and

Summer School Information
Ypsilanti Community Schools Summer School
Summer school starts June 25 through August 1. Classes are on Tuesday, Wednesday, and Thursday from 8:00 a.m.-12:30 p.m.  Breakfast and lunch are served daily.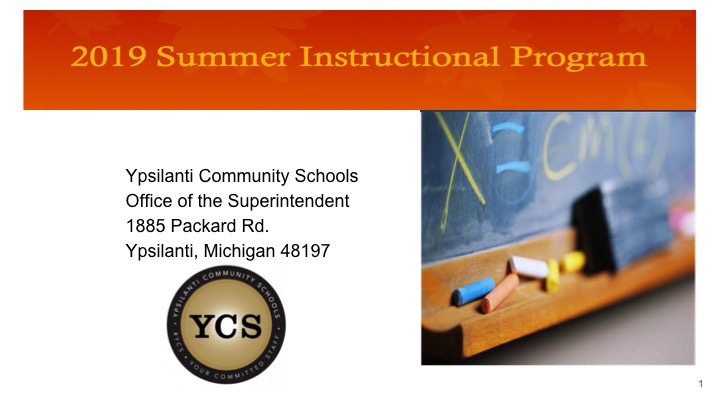 Link to 2019 Summer Instructional Program
New Leadership At Ypsilanti Community Schools Vow To Work To Strengthen District
By LISA BARRY
After filling the position for several months on an interim basis, Alena Zachery-Ross was recently named the permanent superintendent for Ypsilanti Community Schools, and Dr. Carlos Lopez was recently hired as the assistant superintendent of curriculum. 89.1 WEMU's Lisa Barry spoke with both of them about their goals and efforts to work for the betterment of the Ypsilanti Community School District.
Click here to hear Interview with Alena Zachery-Ross and Dr. Carlos Lopez
When you get to the page, click on the button that looks like this on the page.

YCS Robotics
How robots are changing students' lives in this at-risk community
In 2014, Ypsilanti Community Schools created the Ypsilanti STEMM Middle College, which is housed in the same building as Ypsilanti AC Tech High School.
The program allows students to learn about STEM (science, technology, engineering and math) and offers dual-enrollment where teens can earn college credits while obtaining a high school diploma.
YCS Honors Congressman John Dingell
Ypsilanti Community Schools recognized the long service of the late Congressman John Dingell for his commitment to Southeast Michigan and Ypsilanti Community Schools. His wife Congresswoman Debbie Dingell was presented a resolution from the YCS Board of Education for his service and dedication to the community.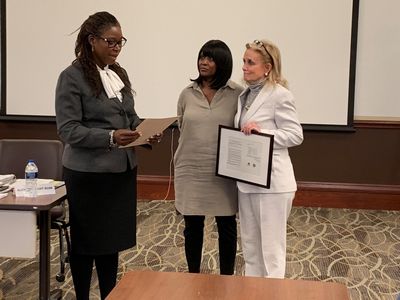 Community Update for End of School Year: Grizzly Soiree, Graduation, YCHS Prom, Mom2MOM Sale and more
The school year is coming to an end, and we are excited for the students graduating to the next grade level and from Ypsilanti Community High School! Just a few end of the year reminders and events hosted by Ypsilanti Community Schools in the coming weeks.
This week is Teacher Appreciation Week and Ypsilanti Community Schools would like to give a BIG THANK YOU to all of the hardworking and dedicated teachers in our district and community. We appreciate what you do for our students, and we hope you have a fabulous week!
We would also like to thank our School Nurses for their endless work in keeping our staff and students healthy during the school year! National School Nurse Day is next week too!
Ypsilanti Community Schools District Update:
Ypsilanti Community High Schoo Senior Update:
Ypsilanti Community Hgh School Seniors last day is Friday, May 24, 2019. Senior Prom will be the following week on Friday, May 31, 2019, at the Washtenaw Polo Fields from 7-10 p.m. This year's theme is a Masquerade Ball. Tickets go on sale soon and are $65 per person.
YCHS Graduation is Tuesday, June 4, 2019, at Eastern Michigan University Convocation Center. Students receive four (4) complimentary tickets and any additional tickets are $5 each at the EMU Convocation Box Office. Graduation precession starts promptly at 6 p.m.
Other District and Community Updates:
As always we appreciate your support of Ypsilanti Community Schools--and we are STRONGER TOGETHER!
For more information on YCS please visit our website at www.ycschools.us!
YCS Unity in Learning Family Science and Nature Nights--Volunteers Needed
Join our kids, families, and staff at the YCS Early Learning Centers and Elementary Schools for fun-filled nights of STEM activities and live animal experiences from Ann Arbor Hands-On Museum, Yankee Air Museum, and Leslie Science & Nature Center!
Through a generous grant from the Bosch Community Fund, these three Unity in Learning partners have been able to provide free field trip, outreach, and distance learning programs to every kindergarten, 1st, 3rd, and 5th-grade class in Ypsilanti Community Schools. Family Science and Nature Nights for all students in the participating schools are the culmination of this year's program.
Many volunteers are needed to help staff the STEM activity tables at each school. The commitment is for 3 hours each night (2 hours of activities with volunteers arriving half an hour early for orientation and staying half an hour after to help break down).
Organizers from each school you indicate will contact you before their event night to confirm your attendance and provide any additional information that may be needed.
Sign up to volunteer here:
https://forms.gle/jS24RcptaCuYsMWD6
General questions can be addressed to mgoodrich2@ycschools.us
Dates:
Ford Early Learning Center (PreK - 1st)




April 30, 4:30 - 7:30 PM, 2440 E. Clark Rd

Holmes Elementary (2nd - 5th)




May 2, 4:30 - 7:30 PM, 1255 Holmes Rd

Beatty ELC (preK)




May 9, 5:00 - 8:00 PM, 1661 Leforge Rd

Ypsilanti International Elementary (preK - 5th)




May 21, 4:30 - 7:30 PM, 503 Oak St

Perry ELC (preK - 1st)




May 23, 5:00 - 8:00 PM, 550 Perry Ave

Estabrook Elementary (2nd - 5th)




May 28, 4:30 - 7:30 PM, 1555 West Cross St

Erickson Elementary (1st - 5th)




June 4, 5:00 - 8:00 PM, 1427 Levona St
Normal park Garage Sale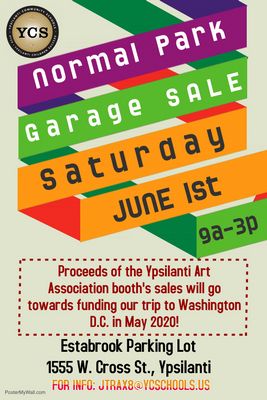 Fundraiser for YCS Art Trip of Washington D. C. - May 2020
Estabrook Parking Lot
1555 W. Cross St.
Ypsilanti, MI
For information: Email: jtrax8@ycschools.us
Math Corps at U of M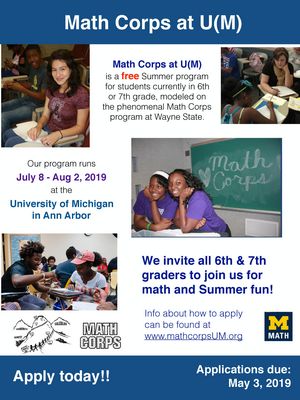 University of Michigan's math department is starting a camp this summer for Ypsilanti Community Middle School students. Math Corps is a summer camp that began in 1994 at Wayne State and has shown tremendous data for student achievement. Math Corps will be at the University of Michigan for 6th-grade & 7th-grade students attending YCMS. YCHS students have also been given applications to become mentors in the program.
Applications were due May 1st but we have extended the deadline until June 1.
The website is: Math Corps Website
EMU Bright Futures: Ideas to Action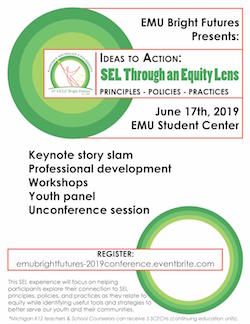 SEL Through an Equity Lens
Principals - Policies - Practices
June 17, 2019 - EMU Student Center
YCS 4th Grade Field Trip
Ypsilanti Community School 4th graders enjoy their live hip-hop concert during their lunch break at Riverside Arts Center.
EMU Education Day Video
YCS Students Traveling to Washington D.C. to have their Art Showcased
Check out the article on our 66 students headed to Washington D.C. next spring to have their artwork showcased at the National Department of Education! The districts art department teachers have been working extremely hard to make this experience for our students happen!