YCS COVID Information
The report below COVID-19 cases reported to schools by parents/guardians and staff. Schools are required to report cases to their assigned Local Health Department.
YCS Cases Dashboard Information
Fall Kindergarten - 2023-2024 Registration
Kindergarten 2023 - 2024 Interest Survey Form

We are pleased to welcome you to Ypsilanti Community Schools. Help us plan for kindergarten by completing this interest form! Sign up by clicking the link below.
Kindergarten Interest Form    
QR Code - Kindergarten Interest Form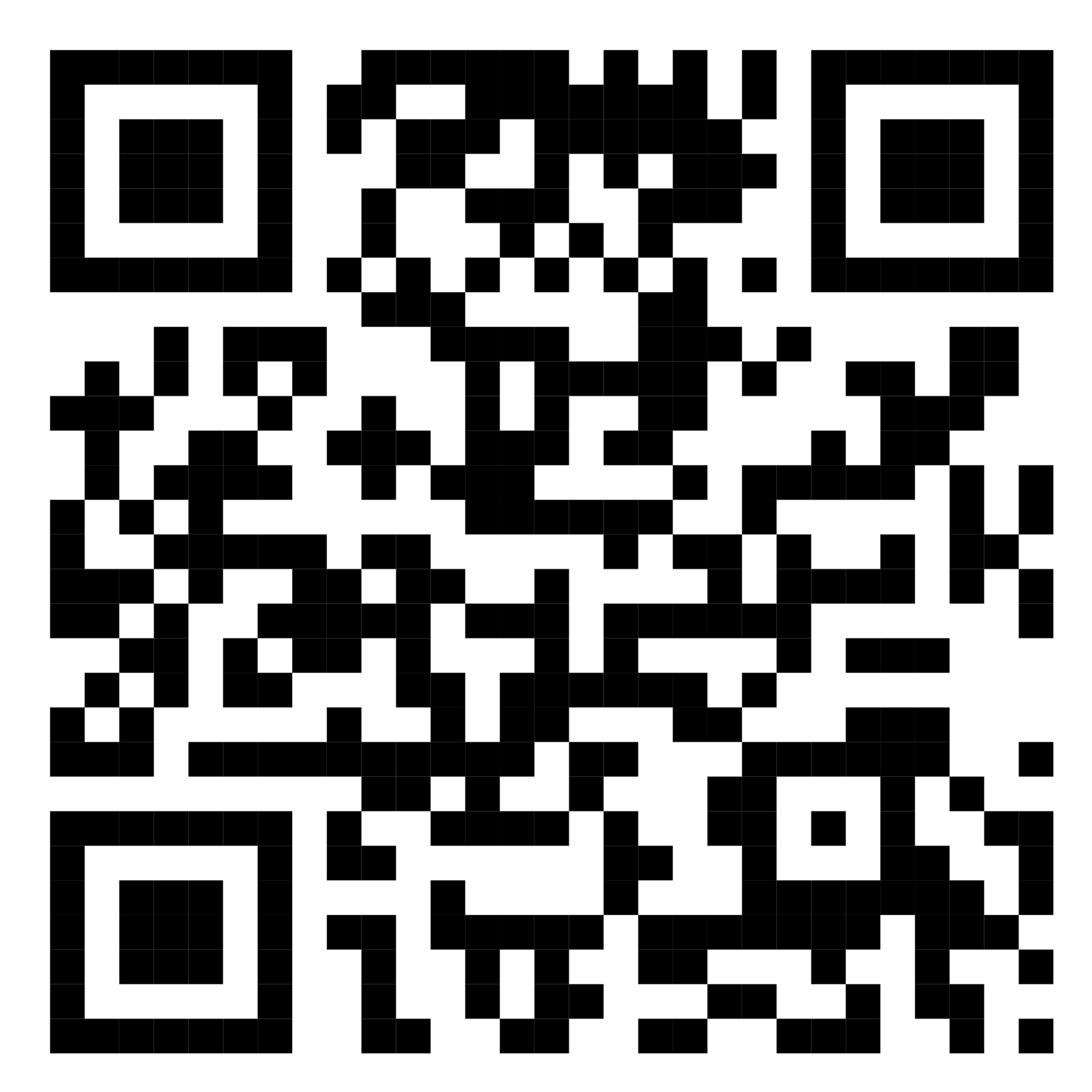 Register Now!!
YCS English & Spanish Dual Language Immersion Program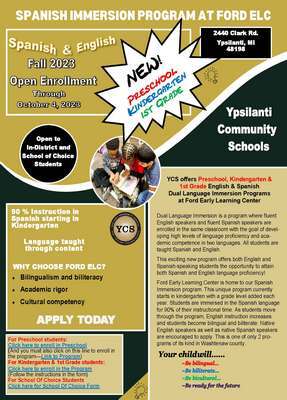 YCS English & Spanish Dual Language Immersion Program at Ford Early Learning Center  
Programa de Inmersión Dual en Inglés y Español de YCS en Ford Early Learning Center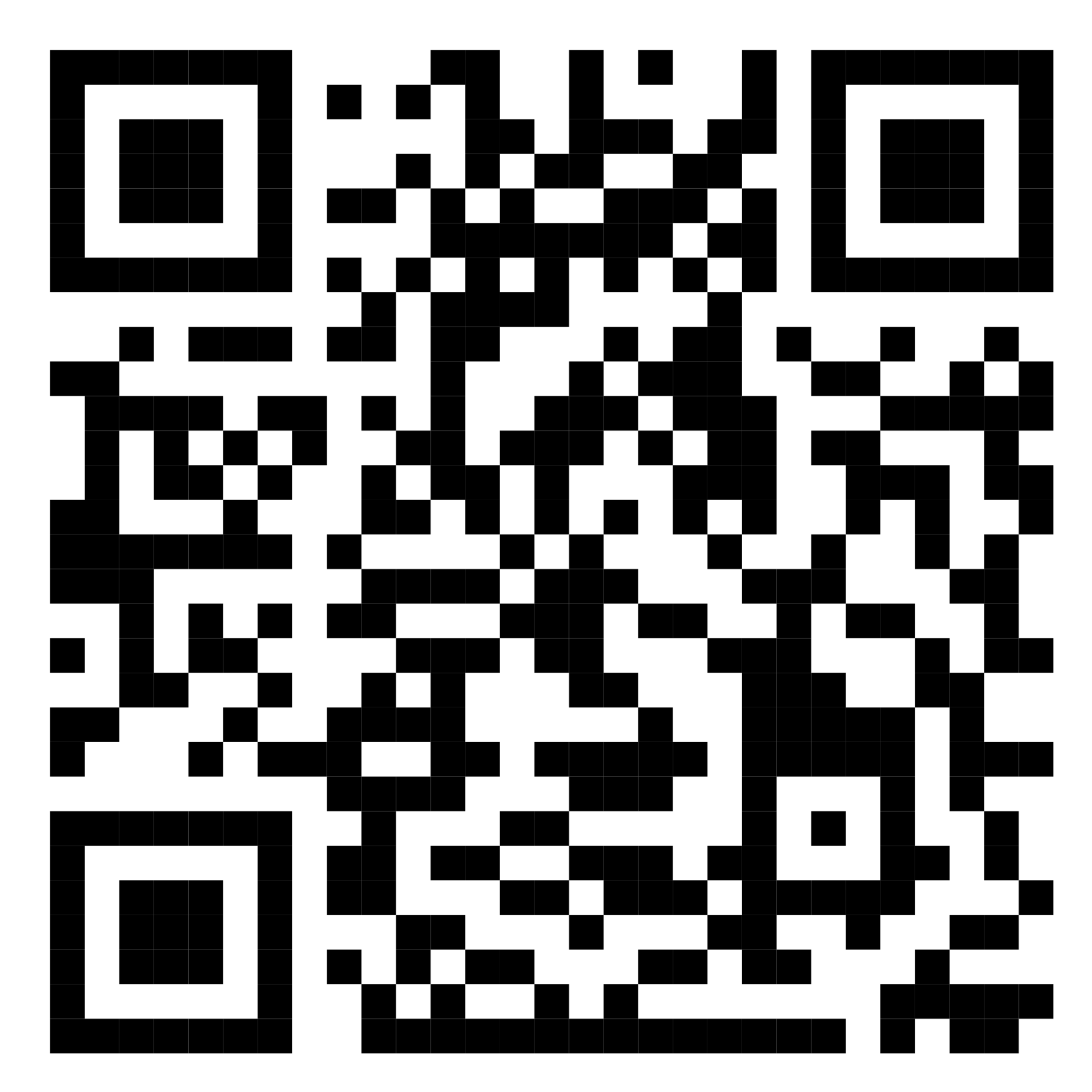 QR Code to sign-up form
District News
District News - Week of 1/30/2023
In the News
Board of Education Member Sworn In
A.C.C.E. Points of Pride
Future Education in MI
Valentines for Vets
YCS Human Resources
Staff Recognition

Literacy Corner

YCS Business - State and Federal Programs

Bus Tracking App

Estabrook

In the District this week- Upcoming Events

 Athletic Schedule

Ypsilanti Community Schools Information

Community Events
WE ARE YCS! Stronger Together!
Online Learning Program
Grades K - 12 - Revised
The K-12 YCS Online Learning Program offers rigorous courses that are aligned to the Michigan Academic Standards and the Michigan Merit Curriculum. We are committed to offering a comprehensive list of courses that will prepare our students to be college ready upon graduation.
YCS Online Learning Program
YCS Options
This school year will be different than any of us have ever experienced or anticipated. We are dedicated to keeping your children safe and giving them the best possible opportunity for school. The first day of school for students is Tuesday, September 8th. Please take a few minutes to fill out the attached enrollment form and let us know your preference by completing the linked survey for returning to school.
Information on 3 options for online learning
YCS Virtual Classes
Information includes School,Grade Level/ Teacher, Google Class Code, Zoom Chat Times, Live Instruction, Virtual Phone Number and Email Contact
School Facebook Pages

Board Meeting - Regular Meeting

Board Meeting - Regular Meeting

Board Meeting - Regular Meeting

Board Meeting - Regular Meeting
Education Project Referral - Homeless Services
You Don't Know My Story!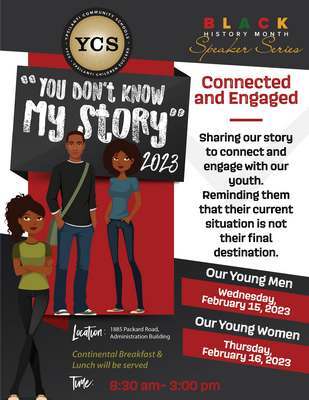 Black History Month Speaking Series
Connected and Engaged - Sharing our story to connect and engage with our youth.
Wednesday, February 15 and Thursday, February 16, 2023
8:30 am - 3:00 pm
Just a Kid From Ypsi!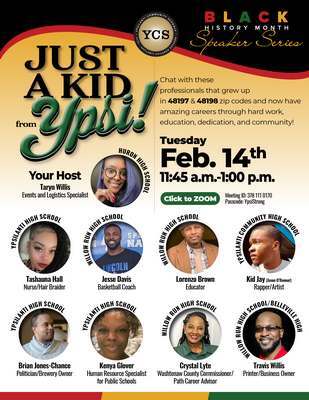 Black History Month Speaker Series
Chat with these professionals that grew up in 48197 & 48198 zip codes and now have amazing careers through hard work, education, dedication, and community!
Tuesday, February 14 11:45 am - 1:00 pm
Ypsilanti Community Schools Information
YCS Innovations - Our Story
Our Mission
The purpose of YCS is to develop mindful, engaged students with the skill set, work ethic, and attitude to contribute to a community that honors diversity, equality and justice.
Our Vision
YCS is — Academically strong and committed to transforming in ways that help students thrive.
YCS is — The choice for a trusted, reliable, and socially just district.
YCS is — A sense of connection for families and students in a district where each and everyone is valued and belongs.
YCS is — Your consistently well-managed and organized school district.
Title IX Information
Title IX Information
What is Title IX?
Title IX is a federal civil rights law passed as part of the Education Amendments of 1972. Title IX prohibits discrimination on the basis of sex in any District program, service, or activity including, but not limited to educational programs or activities, e.g., extracurricular activities, student services, academic counseling, discipline, classroom assignment, grading, athletics, transportation, etc.
Examples of Unlawful Discriminatory Practices Under Title IX
Sexual Harassment, Sexual Misconduct/Violence, Stalking, and Retaliation
Sexual Harassment: unwelcome sexual advances, requests for sexual favors, and other verbal or physical conduct of a sexual nature
Sexual Misconduct/Violence:

sexual harassment, sexual assault, domestic violence, and dating violence

Stalking: repeatedly following, harassing, threatening, or intimidating including by telephone, mail, electronic communication, or social media
Retaliation: adverse academic or other actions against anyone reporting or participating in an investigation of Title IX allegations
More Title IX Information
Link to Title IX Sexual Harassment Training Module

Link to Clark Hill PowerPoint Presentation - September 15, 2020

Link to Title IX Referral Form
Reporting Prohibited Behavior
Members of the school district community who believe that a Title IX violation may have occurred, should discuss their concerns and/or file a complaint with the District's Title IX coordinator:
Carlos Lopez
Title IX Coordinator
clopez2@ycschools.us
(734)221-1221