Washtenaw County Public Health
Washtenaw County Public Health Website
Link to the communicable disease section of the School Portal on the Washtenaw County Public Health website - School Portal Link
Find the Common Communicable Disease Guidance.
Link to the Washtenaw County Public Health Pertussis Information:
Pertussis Fact Information Link
Washtenaw County Health Department
Is my family protected against measles?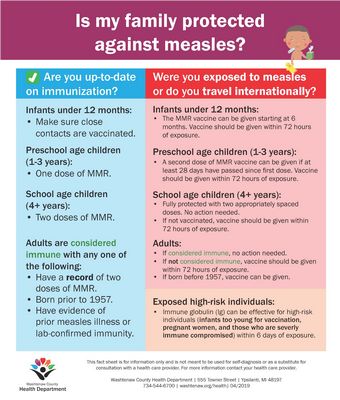 Contact: Susan Ringler Cerniglia, Communications Manager
Washtenaw County Health Department
734-544-6759 or 734-678-7010
ringlers@ewashtenaw.org
Make sure you are fully vaccinated; watch for symptoms if possibly exposed
RAHS Clinic Information
YCMS and YCHS
Days and hours
RAHS Clinic has open hours for vaccinations. Please see a school nurse for more information.
Click on each icon to enlarge and view more information
YCMS
YCHS