Washtenaw County Public Health
Washtenaw County Public Health Website
Link to the communicable disease section of the School Portal on the Washtenaw County Public Health website - School Portal Link
Find the Common Communicable Disease Guidance.
Link to the Washtenaw County Public Health Pertussis Fact sheet:
Pertussis Fact Sheet Link
Washtenaw County Health Department
Is my family protected against measles?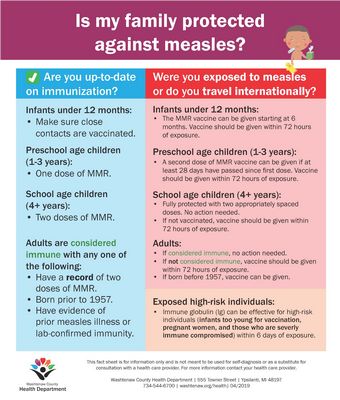 Link to Measles vaccine guidelines flyer
A Message from the Washtenaw County Health Department:
Washtenaw County Health Department Alerts Public to Possible Exposure to Measles
For Immediate Release
Contact: Susan Ringler Cerniglia, Communications Manager
Washtenaw County Health Department
734-544-6759 or 734-678-7010
ringlers@ewashtenaw.org
Make sure you are fully vaccinated; watch for symptoms if possibly exposed
YPSILANTI, Mich., April 9, 2019 – The Michigan Department of Health and Human Services has confirmed one case of measles in Washtenaw County as of April 8, 2019. Washtenaw County Health Department is providing additional information to local residents because of potential exposure to measles in public areas. Measles is very contagious, potentially serious and vaccine-preventable.
Click here for more information about the alert
If you do not have a record of two measles (MMR) vaccines,
or if you are unsure if you have been vaccinated or have had
measles in the past, contact your healthcare provider about
getting vaccinated. You can also call the Health Department at 734-544-6700.
For more information, visit www.washtenaw.org/health or Michigan.gov/MeaslesOutbreak.
The Washtenaw County Health Department Fact Sheet on
Measles is available
at www.washtenaw.org/DocumentCenter/View/5346/Measles-PDF
Link confirming one case in Washtenaw County
RAHS Clinic Information
YCMS and YCHS
Days and hours
RAHS Clinic has open hours for vaccinations. Please see a school nurse for more information.
Click on each icon to enlarge and view more information
YCMS
YCHS