2007 - YHS Induction Class
Hall of Fame - 2007

Hall

of Fame induction Class of 2007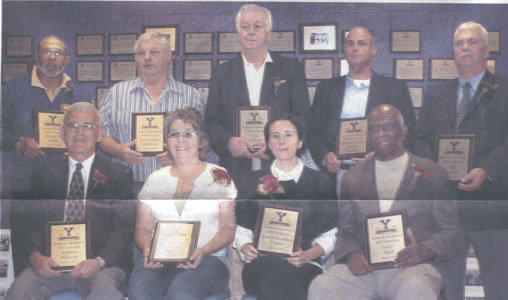 Louis Batterson
Michael Bradley
Leo Clark
Jeff Fulton
Annette Kubiskie
Jessica Riccobono-Thomas
Richard Robb
Richard Roberts
Don Schwall
Ambrose Wilbanks
LOUIS BATTERSON – YHS 1930 – FOOTBALL – BASKETBALL – BASEBALL – TEACHER – COACH
YHS - LETTERED IN FOUR SPORTS – FOOTBALL, BASKETBALL BASEBALL AND TRACK
1928 - QUARTERBACK OF THE STATE CHAMPION YHS FOOTBALL TEAM
1930 – RECIPIENT OF THE YHS "BILL FOY CUP" SIGNIFYING THE TOP 4-YEAR ATHLETE
ATTENDED MICHIGAN STATE NORMAL COLLEGE – NOW EMU – EARNING HIS TEACHING DEGREE
LETTERED IN THREE SPORTS AT MSNC – FOOTBALL, BASKETBALL, AND BASEBALL
CAPTAIN OF MSNC/EMU BASEBALL TEAM
PLAYED 5 YEARS OF MINOR LEAGUE BASEBALL WITH THE DETROIT TIGER ORGANIZATION
4 –TIME ALL-STAR IN MINORS BEFORE A BROKEN ANKLE ENDED HIS BASEBALL CAREER
SERVED IN THE AIR FORCE DURING WORLD WAR II
SERVED AS PLAYER/COACH FOR HIS MILITARY UNIT
COACHED FOOTBALL, BASKETBALL, AND BASEBALL AT YHS
25 – YEAR TEACHER/COACH CAREER IN YPSI SCHOOLS
NEVER COACHED A LOSING SEASON
COACHED YHS BASKETBALL TEAM TO MULTIPLE REGIONAL FINALS
FOUNDED THE FIRST BASKETBALL TEAM AT CLEARY COLLEGE
1975 – WON MICHIGAN SENIOR GOLF CHAMPIONSHIP IN HIS AGE GROUP
1979 – INDUCTED INTO THE EASTERN MICHIGAN UNIVERSITY ATHLETIC HALL OF FAME
2006 – PASSED AWAY
MICHAEL BRADLEY – YHS 1964 – FOOTBALL – WRESTLING – TEACHER – COACH
1963 – FOOTBALL TEAM CO-CAPTAIN
1961 – FOOTBALL THRILL – UPSETTING ANN ARBOR PIONEER AT EMU'S BRIGGS FIELD
1963 AND 1964 – REGIONAL WRESTLING CHAMPION
1964 – WRESTLING CO-CAPTAIN
1964 – STATE WRESTLING CHAMPION
1962 AND 1964 – MEMBER OF TWO YHS STATE CHAMPION WRESTLING TEAMS
1964 – ACCEPTED ATHLETIC SCHOLARSHIP TO MICHIGAN STATE UNIVERSITY
MSU – LETTERED IN FOOTBALL AND WRESTLING
1965 – MEMBER OF THE MSU BIG TEN CHAMPIONSHIP FOOTBALL TEAM
1966 – PLAYED IN THE ROSE BOWL GAME FOR MSU
1966 – MEMBER OF THE NATIONAL CHAMPIONSHIP MSU FOOTBALL TEAM
1966 – 67 – 68 – 3 TIME BIG TEN CHAMPION WRESTLER
1967 – MIDLANDS WRESTLING CHAMPION AND WRESTLED IN THE EAST/WEST ALL STAR DUAL MEET
1967 – 2ND PLACE ALL AMERICAN WRESTLER IN THE NCAA CHAMPIONSHIPS
1967 – MEMBER OF THE NATIONAL CHAMPION MSU WRESTLING TEAM
55-7 – CAREER WRESTLING RECORD AT MSU
1966 AND 1967 – VERY RARE- MEMBER OF TWO NCAA NATIONAL CHAMPIONSHIP TEAMS IN TWO DIFFERENT SPORTS
1968 – GRADUATED WITH HIS TEACHING DEGREE FROM MSU AND ACCEPTED A TEACHER/COACH POSITION WITH YPSILANTI SCHOOLS
1969-79 – U.S. NATIONAL MEDALIST IN GRECO-ROMAN WRESTLING
1970-73 –U.S. NATIONAL FINALIST IN FREESTYLE WRESTLING
1971 – ALTERNATE TO THE U.S. PAN AMERICAN WRESTLING TEAM
1972 – 2ND IN THE U.S. OLYMPIC TEAM TRIALS
1973 – MEDALIST FOR THE U.S. GRECO-ROMAN WRESTLING IN THE WORLD GAMES IN MOSCOW
1979 – REGIONAL WRESTLING HIGH SCHOOL COACH OF THE YEAR
1969-79 – YHS WRESTLING COACH
1980 – 89 – COACHED AT EMU, PINCKNEY H.S.,LINCOLN HS – U OF MISSOURI
RETIRED AFTER 35 YEARS IN EDUCATION AND COACHING
2017 – INDUCTED INTO THE MICHIGAN CHAPTER OF THE NATIONAL WRESTLING HALL OF FAME
LEO CLARK – YHS 1948 – FOOTBALL – BASKETBALL – BASEBALL – TRACK - COACH - TEACHER – ADMINISTRATOR
AN ACTIVE AND MAJOR CONTRIBUTOR TO MANY YHS SPORTS
1948 – ACCEPTED FOOTBALL SCHOLARSHIP TO MORNINGSIDE COLLEGE IN SIOUX CITY, IOWA
LEFT COLLEGE AND RETURNED TO YPSILANTI AFTER HIS FATHER BECAME ILL
COMPLETED HIS BS DREGREE IN EDUCATION FROM MSNC/ EMU
YPSILANTI PUBLIC SCHOOL HIRED MR. CLARK AS A HIGH SCHOOL SCIENCE TEACHER AND COACH – ONE OF THE VERY FIRST BLACK TEACHERS IN THE YPSI DISTRICT
AFTER 7 YEARS AT THE HIGH SCHOOL, TRANSFERRED TO EAST JUNIOR HIGH SCHOOL AS A SCIENCE AND P.E. TEACHER
1967 - FOLLOWING THE ADVICE OF HOF MEMBERS EUGENE BEATTY, ACCEPTED A POSITION AS COMMUNITY AGENT FOR THE YPSILANTI SCHOOL DISTRICT
1969 – NAMED PRINCIPAL OF PERRY ELEMENTARY
MAINTAINED HIS COMMUNITY CONNECTION AND SUPERVISED MANY OF THE BEST ELEMENTARY TEACHERS IN YPSILANTI
1976 – NAACP THREATENED TO CLOSE PERRY ELEMENTARY, BUT WITH HIS MENTOR MR. BEATTY, THEY CREATED A PROGRAM FOLLOWING MR. BEATTY'S MASTER THESIS THAT BECAME THE PERRY CHILD DEVELOPMENT CENTER
THE PERRY CHILD DEVELOPMENT CENTER BECAME A MODEL FOR EARLY CHILD DEVELOPMENT(CDC) THROUGHOUT THE USA
THE CDC PROGRAM, LED BY MR. CLARK, HAS EARNED NUMEROUS AWARDS AND IS WELL KNOWN ACROSS THE COUNTRY BY EDUCATION EXPERTS
THE CDC HAS BEEN STUDIED AND EMULATED BY MANY REKNOWNED EDUCATORS
1981 – HONORED AND AWARDED FOR HIS "OUTSTANDING AND UNSELFISH SERVICE TO THE COMMUNITY".
1991 – MR. CLARK RETIRED OVER 30+ YEARS SERVING IN THE YPSILANTI DISTRICT
HIS LEGACY IS WHAT FRIENDS, TEAMMATES AND COLLEAGUES SAY ABOUT HIM:
HOWARD NEELY(HOF 2018) – "HE WAS A FORCE TO BE RECKONED WITH ON THE GRIDIRON. HE WOULD RUN INTO OPPONENTS WITHOUT FEAR. A TOP FLIGHT GUY, A LEADER, NOT JUST IN SPORTS."
LAWRENCE PERRY,JR (HOF 2008) – "HE WAS A TEAM PLAYER. LEO WAS WILLING TO DO WHAT IT WOULD TAKE TO WIN. HE COULD PLUG IN WHEREVER HE WOULD BE MOST EFFECTIVE. HE SWITCHED FROM FULLBACK TO END TO HELP THE TEAM. PLAYED TREMENDOUS DEFENSE AND WAS A GREAT COMPETITOR."
SUPERINTENDENT DR. JAMES HAWKINS – "LEO WAS RESPECTED AND WELL-LIKED BY HIS STAFF. HE WAS EASY GOING AND VERY PERSONABLE. HE PROVIDED SOUND LEADERSHIP AT PERRY CDC. HE WAS RECOGNIZED AS A STRONG LEADER AND ADVOCATE IN THE EARLY CHILDHOOD EDUCATION MOVEMENT."
A FORMER STUDENT SAID OF HIM, " EVERYTHING HE'S DONE HAS ALWAYS BEEN FOR KIDS. HE MADE US FEEL GOOD ABOUT OURSELVES AND GAVE US A SENSE OF DIRECTION."
2016 – PASSED AWAY
JEFF FULTON – YHS 1974 – FOOTBALL – LIFETIME COMMUNITY AND SCHOOL SUPPORTER
1972 -FOOTBALL – HIGHLIGHT BEING A MEMBER OF THE TEAM THAT WENT 8 – 1 AND WON THE LEAGUE CHAMPIONSHIP - RANKED HIGH IN THE STATE
WIFE AND THEIR THREE SONS ALL YHS GRADUATES
ONE OF THE ORGANIZERS OF THE YHS GIRLS' GOLF TEAM
OWNER OF HICKORY WOOD GOLF COURSE THAT HELD MANY FUNDRAISERS
HICKORY WOOD (HWGC) LAUNCHED THE YPSILANTI BRAVE GOLF INVITATIONAL
FORMER STATISTICIAN FOR YHS FOOTBALL, BASKETBALL AND BASEBALL
PAST TREASURER OF THE YHS ATHLETIC BOOSTERS
HELPED REFURBISH THE ORIGINAL YHS WEIGHT ROOM
1980-2007 – HOSTED HUNDREDS OF GOLF FUNDRAISERS AT HIS HICKORY WOODS COURSE RAISING THOUSANDS OF DOLLARS FOR YHS ATHLETICS AND OTHER ORGANIZATIONS
1985 TO PRESENT – WAS EMU FOOTALL STATISTICIAN AND ENGINEER FOR WEMU GAME BROADCASTS
PAST YPSI PUBLIC SCHOOLS(YPS) BOARD OF EDUCATION MEMBER
PAST BOARD MEMBER OF THE YPS EDUCATIONAL FOUNDATION
YPSI HERITAGE FESTIVAL – MC FOR RUBBER DUCKY RACE
INDEPENDENCE DAY PARADE FLOAT JUDGE
TOOK PART IN NUMEROUS OTHER COMMUNITY FUND RAISING EVENTS
2003-2008 - DIRECTOR OF COMMUNICATIONS FOR THE WASHTENAW SHERIFF'S DEPARTMENT AND WAS INSTRUMENTAL IN SCHEDULING 9-1-1 AWARENESS ASSEMBLIES IN AREA ELEMENTARY SCHOOLS
50 + YEAR MEMBER OF ST. MATTHEWS UNITED METHODIST CHURCH
"OLD MAN WALKING" -AFTER RETIREMENT, MR. FULTON WALKED ACROSS THE STATE FROM TAWAS CITY TO FRANFORT PUBLISHING HIGHLIGHTS HIS ACCOMPLISHMENT IN HIS JOURNAL. HE WALKED 182 MILES IN 14 DAYS
JEFF FULTON - " I ENJOYED MY HIGH SCHOOL EXPERIENCE AND I THINK SPORTS REMAIN AN IMPORTANT EXTRACURRICULAR OUTLET FOR STUDENTS AT YPSILANTI HIGH SCHOOL. IN SOME CASES, INVOLVEMENT IN SPORTS MOTIVATES STUDENTS TO REMAIN IN SCHOOL."
ANNETTE KUBISKIE – YHS 1977 – SWIMMING/DIVING - GYMNASTICS – COACH
YHS PIONEER IN WOMEN'S SPORTS
AT 16 YEARS OLD – WAS ASKED TO COACH YOUNG GYMNASTS ON SATURDAYS
MS KUBISKE HAD HER EYE ON ENGINEERING, BUT FELL IN LOVE WITH COACHING AS A RESULT OF HER YOUTH GYMNASTIC'S COACHING
1973 – EARNED TOP YHS GYMNAST AWARD
ATTENDED MSU SUMMER DIVING CAMPS AND LOCAL POOL PROGRAMS
TOOK UP COMPETITIVE DIVING COMPETITION ONLY IN HER SENIOR YEAR OF HIGH SCHOOL
1976 – BECAME MICHIGAN'S FIRST FEMALE STATE CHAMPION DIVER
1976 – UNDEFEATED IN DIVING HER SENIOR YEAR
1976 – SELECTED FOR THE ALL-STATE SWIM TEAM
1977 – SELECTED AS A HIGH SCHOOL ALL AMERICAN DIVER
1977 – RECEIVED SCHOLARSHIPS FOR BOTH GYMNASTICS AND DIVING
1977 - ACCEPTED DIVING SCHOLARSHIP TO PURDUE
TWO-TIME VARSITY LETTER FOR DIVING AT PURDUE UNIVERSITY
EARNED BACHELOR'S DEGREE IN EDUCATION FROM EMU
EARNED MASTER'S DEGREE FROM PURDUE
1984 -1987 – PURDUE UNIVERSITY DIVING COACH
SHE BECAME A RESPECTED AND VALUED TEACHER COACH
APPEARED IN "WHO'S WHO AMONG AMERICA'S TEACHERS"
NOMINATED FOR PRESTIGIOUS GOLDEN APPLE AWARD" FOR OUTSTANDING TEACHERS
WORKS AS A LABOR RELATIONS CONSULTANT WITH THE OHIO EDUCATION ASSOCIATION
"WHEN I WAS 16 I WAS ASKED TO COACH YOUNGER GYMNASTS SATURDAY MORNINGS AT THE HIGH SCHOOL. I BELIEVE AS A RESULT OF THAT WORK, I AM WHERE I AM TODAY. I FELT I HAD A BETTER KNACK FOR THE DIVING PIECE BUT WITHOUT MY GYMNASTICS BACKGROUND I COULDN'T HAVE DONE WHAT I DID. MY LOVE FOR COACHING STARTED AT YPSILANTI HIGH SCHOOL." – ANNETTE KUBISKE
JESSICA RICCOBONO-THOMAS – YHS 1993 – SWIMMING / DIVING – GYMNASTIICS – SOFTBALL - TRACK – COACH
TALENTED MULTI-SPORT ATHLETE
2 – SPORT CAPTAIN – GYMNASTICS AND SWIMMING
4 – YEAR ALL STATE DIVER
1992 – STATE CHAMPION DIVER
1993 – YHS FEMALE STUDENT ATHLETE OF THE YEAR
1993 – DETROIT FREE PRESS ALL-METRO SWIMMING TEAM
HIGH SCHOOL ALL AMERICAN DIVER HONORABLE MENTION
1993 – HIGH SCHOOL ALL AMERICAN DIVER
1993 – YHS RECIPIENT OF THE DAUGHTERS OF THE AMERICAN REVOLUTION(DAR) LEADERSHIP AWARD
1993 – ACCEPTED DIVING SCHOLARSHIP TO THE UNIVERSITY OF IOWA
1993-1997 -4 - YEARS – BIG TEN DIVER FOR IOWA
2021 – MS. RICCOBONO REMAINS IN THE TOP TEN IN TWO DIVING EVENTS AT THE UNIVERSITY OF IOWA HISTORY – 1995 - 8TH IN ONE METER – 413.45 AND 1995 - 9TH IN 3 METER – 472.69
1997 – COMPLETED HER BACHELOR'S DEGREE FROM IOWA WITH A DOUBLE MAJOR IN PSYCHOLOGY AND SPEECH AND HEARING SCIENCES
COACHED DIVING AT THE UNIVERSITY OF SOUTH DAKOTA
2000 – AWARDED NCAA DIVISION II MEN'S DIVING COACH OF THE YEAR
COACH RICCOBONO'S MEN DIVERS PLACED IN THE 1 METER PLACED 3RD, 5TH, AND 8TH, WHILE HER 3 METER DIVERS PLACED 1ST, 3RD AND 10TH.
AT THE UNIVERSITY OF SOUTH DAKOTA, SHE COMPLETED HER MASTER'S DEGREE IN SPEECH THERAPY AND IS A SPEECH THERAPIST IN NEW JERSEY
COMMENTING ON HER HIGH SCHOOL STATE CHAMPIONSHIP PERFORMANCE, "I WAS THE UNDERDOG IN THAT COMPETITION BUT I STAYED RELAXED AND DID THE FINAL DIVE THE WAY I KNEW I COULD. " AND HER PARTICIPATION IN SEVERAL SPORTS, "THIS ALLOWED ME TO MEET A LOT OF DIFFERENT PEOPLE, MAKE GOOD FRIENDS AND TO BE EXPOSED TO A WIDE VARIETY OF VERY TALENTED ATHLETES." – JESSICA RICCOBONO-THOMAS
RICHARD ROBB – YHS 1954 – SWIMMING / DIVING – LIFETIME COMMUNITY AND SCHOOL SUPPORTER
SCHOOL ACTIVITIES – SWIMMING, INTRAMURAL SPORTS, VARSITY CLUB,
YHS THEATER PRODUCTIONS
A LIFETIME OF SERVING THE YPSILANTI COMMUNITY AND SCHOOL DISTRICT
1957-59 -SERVED IN THE ARMY
1959 -EARNED A BA DEGREE FROM EASTERN MICHIGAN UNIVERSITY
1964 -EARNED HIS DOCTOR OF DENTAL SURGERY FROM THE UNIVERSITY OF MICHIGAN
1967 – 1993 – SERVED ON EASTERN MICHIGAN UNIVERSITY'S BOARD OF REGENTS – 26 YEARS -LONGEST SERVING TENURE OF ANY EMU REGENT
1975-85 – ELECTED CHAIRMAN OF THE BOARD OF EMU REGENTS
1967-1970 – ELECTED YPSILANTI CITY COUNCILMAN
1967-71 – MEMBER OF THE YPSILANTI JAYCEES
FORMER TRUSTEE OF THE YPSILANTI BOYS' CLUB
SERVED ON THE YPSILANTI YOUTH COMMISSION
SERVED ON THE BOARD OF DIRECTORS OF THE EMU FOUNDATION
MEMBER OF THE YPSILANTI AREA CHAMBER OF COMMERCE
1967 – RECIPIENT OF THE JAYCEES OUTSTANDING YOUNG MEN OF MICHIGAN
1993 – CO-CHAIR COMMUNITY TASKFORCE ON YPSILANTI PUBLIC SCHOOLS
1993 – RECEIVED AN HONORARY DOCTOR OF SCIENCE FROM EMU
2004 – CO-CHAIR COMMUNITY TASKFORCE ON YPSI PUBLIC SCHOOLS FINANCES/MILLAGES
2009 – RECEIVED YPSILANTI CHAMBER OF COMMERCES DISTINGUISHED SERVICE AWARD
FORMER BOARD MEMBER FOR BANK ONE, CITIZENS BANK , AND BANK OF ANN ARBOR
SUPPORTED YPSILANTI AND EMU ACADEMIC AND ATHLETIC PROGRAMS
EMU'S OLDS-ROBB STUDENT RECREATION0INTRAMURAL COMPLEX IS NAMED FOR DR. ROBB AND DR. OLDS IN HONOR OF THEIR SUPPORT AND SERVICE TO EMU
DR. ROBB BELONGED TO A PLETHORA OF PROFESSIONAL ORGANIZATIONS
DR. ROBB RETIRED FROM HIS DENTISTRY PRACTICE, STILL LIVES IN THE AREA AND ENJOYING HIS MANY ROUNDS OF GOLS GOLF
"ATHLETIC OUTLETS ALONG WITH ACADEMICS PREPARED ME FOR COLLEGE AND BEYOND. I HAVE A FONDNESS FOR THE YPSILANTI PUBLIC SCHOOLS AND THE CITY.MY THREE DAUGHTERS GRADUATED FROM YHS, WENT TO COLLEGE AND HAVE DONE WELL.BEING INDUCTED INTO THE HALL OF FAME IS A SURPRISE AND AN HONOR." – DR. RICHARD ROBB
RICHARD ROBERTS – YHS 1949 - FOOTBALL – BASKETBALL – TENNIS – LIFETIME COMMUNITY AND SCHOOL SUPPORTER
SCHOOL ACTIVITES – VARSITY CLUB, CLASS OFFICER AS A JUNIOR AND SENIOR, CLASS SALUTATORIAN, AND NATIONAL HONOR SOCIETY
MR. ROBERTS WAS A RECOGNIZED SCHOLAR, AN ATHLETE, AND COMMUNITY SUPPORTER
THREE SPORT STANDOUT HIGH SCHOOL ATHLETE – FOOTBALL, BASKETBALL, AND TENNIS AND IN LATER YEARS BECAME AN ACCOMPLISHED GOLFER
HIGH SCHOOL TENNIS STATE CHAMPION DOUBLES PLAYER
1949 – ENTERED MICHIGAN STATE UNIVERSITY
MEMBER OF THE MSU R.O.T.C.
BIG TEN CHAMPION TENNIS DOUBLES PLAYER FOR MSU
COMPLETED HIS UNDERGRADUATE DEGREE AT MSU
SERVED IN THE ARMY AIR FORCE AS A 2ND LIEUTENANT
STATIONED AT FORT BRAGG AND WAS PART OF THE ARMY'S TENNIS TEAM
WON SEVERAL TENNIS CHAMPIONSHIPS WITH THE ARMY TENNIS TEAM
EARNED HIS LAW DEGREE FROM THE UNIVERSITY OF MICHIGAN LAW SCHOOL
ESTABLISHED HIS SUCCESSFUL 40+ YEARS LAW PRACTICE IN YPSILANTI
10 YEAR MEMBER OF THE YPSILANTI BOARD OF EDUCATION – AS PRESIDENT AND TRUSTEE
ACTIVE MEMBER OF THE YPSI JAYCEES AND WAS A STATE OFFICER IN THE STATE JAYCEES
MEMBER OF MANY LOCAL BOARDS AND COMMISSIONS INCLUDING, THE YPSILANTI COUNCIL ON AGING, THE YPSILANTI FINANCIAL ADVISORY BOARD, CHAIRMAN OF THE YPSILANTI REPUBLICAN PARTY, YPSILANTI TAX COMMISSION, YPSILANTI YOUTH COMMITTEE, BOARD OF THE UNITED METHODIST CHURCH, ON THE BOARDS OF NATIONAL BANK OF YPSILANTI, BANK ONE, AND CITIZENS BANK,
1960-68 – TAUGHT BUSINESS LAW AT EASTERN MICHIGAN UNIVERSITY,
MARRIED FOR 47+ PLUS YEARS TO WIFE MARGARET WHO RAISED ALL 8 CHILDREN IN YPSILANTI
PASSED AWAY
"Dick was a guy who could qualify for the YHS Hall of Fame in all three areas; sports, Academics, and community service. I don't know anyone who was more active in the community than him and he was a tremendous contributor to Ypsilanti. Dick was a great guy, extremely dependable and loyal." Ambrose Wilbanks, 2007 Hall of Fame inductee.
DON SCHWALL – YHS 1954 – FOOTBALL – BASKETBALL – BASEBALL
FAMILY MOVED TO YPSILANTI FROM PENNSYLVANIA TO WORK AT THE BOMBER PLANT
ALL-STATE BASKETBALL -GUARD AND FORWARD
ALL-STATE BASEBALL – PITCHER
ALL-STATE HONORABLE MENTION FOOTBALL – QUARTERBACK
1954 – ACCEPTED BASKETBALL SCHOLARSHIP TO UNIVERSITY OF OKLAHOMA
1957 -ALL BIG EIGHT BASKETBALL PLAYER – AVERAGED 15.1 POINTS PER GAME
1957 – LED BASKETBALL TEAM IN REBOUNDING – AVERAGING 8.7 PER GAME
1957 - HIGHEST SCORING SOPHOMORE IN U OF OKLAHOMA BASKETBALL HISTORY
1957 – PLAYING HEAD TO HEAD WITH WILT CHAMBERLAIN-OUTSCORED HIM 30 TO 11
1957 – LEFT A BASKETBALL PRACTICE TO ATTEND A BASEBALL TRYOUT
1957 – SIGNED PRO BASEBALL CONTRACT WITH THE BOSTON RED SOX WITH A BONUS OF $65,000, A VERY HIGH AMOUNT IN THOSE TIMES.
1961 – PITCHED IN FIRST MAJOR LEAGUE GAME FOR RED SOX ON MAY 21, 1961 AND ON JULY 13,1961 WITH AN 11-2 RECORD, WAS PITCHING IN THE ALL STAR GAME IN FENWAY PARK
1961 – AMERICAN LEAGUE ROOKIE OF THE YEAR WITH THE RED SOX
1961 – PITCHED THE MIDDLE THREE INNING OF THE 1961 ALL STAR GAME
1961 - STRUCK OUT THE LAST BATTER HE FACED, HALL OF FAMER, STAN MUSIAL
1961 – FINISHED WITH A 15-7 RECORD, ERA OF 3.22, AND 14TH IN THE MVP VOTING FOR A BOSTON TEAM THAT FINISHED 10 GAMES UNDER 500 AND 33 GAMES OUT OF FIRST PLACE
1961 – GAVE UP MICKEY MANTLE'S 54TH AND LAST HOMERUN OF 1961, BUT MR. SCHWALL WAS PROUD TO SAY HE NEVER GAVE UP A HOMERUN TO HANK AARON, WHO HE GOT THE BEST OF.
1961 – MADE THE AMERICAN LEAGUE ALL ROOKIE TEAM
1963 – TRADED TO THE PITSBURGH PIRATES
1966 – TRADED TO THE ATLANTA BRAVES
1967 – AFTER 7 YEARS, RETIRED FROM PROFESSIONAL BASEBALL
1961 -COMPLETED HIS BUSINESS DEGREE FROM THE U OF OKLAHOMA, BUT ATTENDED GRADUATION CEREMONY IN 2018
STOCKBROKER – PRESIDENT OF BOB PRINCE CHARITIES
LIVES IN PENNSYLVANIA WITH HIS WIFE OF 40 + YEARS, PATTY
" I attribute part of my success to the superior coaching staff at Ypsilanti High School that includes YHS Hall of Famers Ron Isbell, Ed Shadford, and Lou Batterson. " After being Rookie if the Year and pitching in an All Star Game, he said, "A memorable sports moment happened in high school when we played Kalamazoo Central. Kalamazoo Central was a basketball powerhouse and had been State Champions. That night I scored 36 points and we beat them 64-57. My uncle, Joe Schwall, who had played professional basketball, was at the game and it was a real thrill for me to have him there." – Donald Schwall
AMBROSE WILBANKS – YHS 1957 – WRESTLING – GOLF – TEACHER – COACH – ADMINISTRATOR
SCHOOL ACTIVITIES – YHS CLASS PRESIDENT, NATIONAL HONOR SOCIETY, VARSITY CLUB MEMBER
3 – TIME ALL STATE WRESTLER
1956 -CO-CAPTAIN OF TWO TEAMS – WRESTLING AND GOLF
1956 – 112 LB STATE CHAMPION WRESTLER
1956 – CO CAPTAIN OF THE STATE CHAMPION YHS WRESTLING TEAM
1956 – ACCEPTED A WRESTLING SCHOLARSHIP TO THE UNIVERSITY OF MICHIGAN
1960 – WON THE BIG TEN WRESTLING CHAMPIONSHIP
COMPLETED BACHELOR'S DEGREE FROM U OF MICHIGAN
COMPLETED MASTER'S DEGREE FROM EASTERN MICHIGAN UNIVERSITY
30+ YEARS AS ONE OF THE MOST RESPECTED AND SOUGHT AFTER WRESTLING REFEREES IN THE STATE OF MICHIGAN
1960'S – BEGAN HIS 30+ YEARS AS AN EDUCATOR IN THE YPSILANTI PUBLIC SCHOOLS AT WEST JUNIOR HIGH SCHOOL
1960'S – ESTABLISHED AND COACHED THE WEST JUNIOR HIGH SCHOOL WRESTLING PROGRAM
MOVED UP THE RANKS OF YPSILANTI SCHOOLS – TEACHER, COACH, AND COUNSELOR
WAS
A WELL-LIKED, WELL-RESPECTED PRINCIPAL IN THE YPS
CONTINUED HIS VERY SUCCESSFUL EDUCATIONAL CAREER IN THE CENTRAL OFFICE AS AN ASSISTANT SUPERINTENDENT.
LIFETIME YPSILANTI RESIDENT THAT CONTINUES TO GIVE BACK TO THE COMMUNITY
LONG TIME MEMBER OF THE YHS/YCS ATHLETIC HALL OF FAME COMMITTEE
AFTER RETIRING FROM THE SCHOOL SYSTEM, BECAME A VERY SUCCESSFUL REAL ESTATE AGENT, WHICH HE CONTINUES TO DO TODAY
"The friends you make through sports are long lasting. I am still friends with the kids I wrestled with at Ypsilanti High School. The camaraderie of sports is impossible to put a value on. We had a very demanding coach, YHS Hall of Famer Bert Waterman. We were a powerhouse team for 25 years. It's proof that if you work hard you can accomplish anything." – Ambrose Wilbanks