Hall of Fame - 2004

Hall

of Fame induction Class of 2004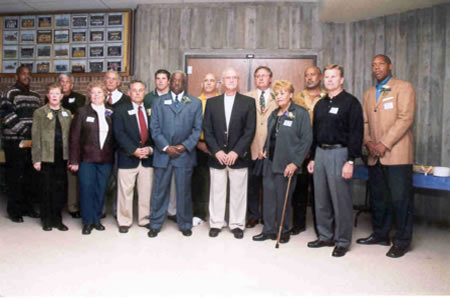 Rodney Barber
Eric Ball
Eugene Beatty
Fred

Cofield

Linda Crabtree
Jill

Deuel

Patrick

Dignan

Dane Emerson

Fortney

Rodney Holman

Tino

Lambros

Robert

Moffett

Dick

Ouellette

Sue Parks
Lowell Perry
Kirk Profit
Levi Simpson
Roy

Wilbanks

k from Dane

Fortney's

sister, but looked him up on Facebook and it said that he lives in Birmingham. So got the Birmingham address from White pages.
RODNEY BARBER – YHS 1974 – FOOTBALL -TRACK – COMMUNITY AND SCHOOL DISTRICT SUPPORTER
Varsity football and track
Starter on the 1972 football team that went 8-1 and was ranked 6th in State
Rodney's three children all graduated from YHS
Constant and active community and YHS Athletic Department supporter
Many years involved in the Ypsilanti Huron Braves youth football league
Long time President of the YHS Athletic Booster's raising thousands of dollars to support athletes and athletic programs at YHS
Ran annual fundraisers like the craft show and the model train show
Rodney was always there to help and lead – even painting bleachers at Shadford Field
Served as co-chair of the YHS Athletic Hall of Fame for many years
Rodney Barber did so much for the "kids" of Ypsilanti
ERIC BALL – YHS 1984 – FOOTBALL – BASKETBALL - TRACK
Earned 9 varsity letters – 3 each in football, basketball, and track
Honor student – compiled an impressive 3.8 GPA
1983(84?) – first team All State honors in football
Selected MVP of the Detroit Free Press Scholar/Athlete award
Accepted football scholarship to UCLA
Set Rose Bowl records in 1986 game – 4 touchdowns and 227 yards rushing
Was first pick of the Cincinnati Bengals in the second round of the NFL draft
Played 6 years with the Bengals and one with the Oakland raiders
Lives in Cincinnati with his wife and 5 children
Currently the Director of Players Relations with the Bengals
EUGENE BEATTY – 30 YEAR YPSILANTI PUBLIC SCHOOLS ADMIN ISTRATOR
30 year career that left an enduring impact on so many
Helped shape the Ypsilanti Public School District
Principal of 5 schools in Ypsilanti over his career
Earned many honors and citations throughout his lifetime
1932 – Named to the All American Track and Field Team
1932 – Held the world record for the 400 meter hurdles
1974 – Awarded the Distinguished Alumni Award for Eastern Michigan University (Michigan State Normal College)
1976 – Inducted into the Eastern Michigan Athletic Hall of Fame
1976 – Inducted into the Michigan Educational Hall of Fame
Mr. Beatty was instrumental in developing and initiating the world award winning Perry Early Childhood Development Center studied worldwide
One of the Early Learning Centers is named for Mr. Beatty
Eugene Beatty passed away on February 26, 1998
FRED COFIELD – YHS 1980 – BASKETBALL
Arguably one the best and most memorable players in Ypsilanti history
Fred could take over a game at any moment
Played 2 years of basketball at the University of Oregon
Returned to Ypsilanti for his final 2 years at Eastern Michigan University
Averaged 20.5 points and 5.9 assists per game for the Eagles
1986 – was the 4th round pick in the NBA draft by the New York Knicks.
Played 50 professional games for the Knicks and the Chicago Bulls
Played 10 years of international basketball for Venezuela, Spain, and Australia averaging 22.1 points per game
2017 – signed as a professional scout for the New York Knickerbocker
LINDA CRABTREE – YHS – LIFETIME ACHIEVEMENT AWARD
Served the Ypsilanti School District, Athletic Department, and community in many ways
Served as past president and director of the YHS Athletic Boosters Club
Mrs. Crabtree helped design the Scholar Athlete Award given by the Booster's Club
Served 4 years on the Ypsilanti Board of Education
1994-1995 – served as Vice President of the Board
Served as President of the Ypsilanti Education Foundation providing mini grants for Ypsilanti teachers
She has also served on the following committees: District Wide School Improvement Team, District Budget Committee, District/EMU/Community/School Excellence Committee, Past President of the Chapelle Elementary PAB, West Middle School PAB, and Ypsilanti High School PAB.
Past President of the Citizen's for Better Schools, Ypsilanti Rotary Club, corresponding secretary of the Philanthropic Educational Organization, and past President of the Ypsilanti Choral Association
Linda Crabtree is a true friend of Ypsilanti athletics and a viable leader in the Ypsilanti community
JILL DEUEL – YHS – TEACHER – COACH – ADMINISTRATOR
30 + years serving the students of Ypsilanti High School
Has had a huge impact on students at YHS
A true pioneer in women's athletics
18 years, 1966-1984, Mrs. Deuel coached the synchronized swim club and produced an annual swim show
1973-1976 – coached the YHS Women's Swim Team
1982-1997 – Assistant Athletic Director for Women's Athletics
She scheduled all women's sporting events, officials, and supervised evening events
Mrs. Deuel managed and organized league competitions for all women's sports
1973 – 1997, 24 years -Managed and organized the annual Ypsilanti High School Wrestling Invitational Tournament
For 15 years Jill was highly active in the American Red Cross safety Services Committee and for her work was honored with the Ruth Harris Award
Mrs. Deuel has not only been a monumental part of YHS Athletics but has been a wonderful role model to all
PATRICK DIGNAN –YHS - TEACHER – COACH
1958 - All State football and 1959 All State Basketball player for St Thomas H.S. (Gabriel Richard H.S.) in Ann Arbor
1958 – Football team was undefeated and unscored upon
Long time teacher/coach for YHS
1959-1963 – EMU – played football(halfback) and baseball(centerfield)
The Dignan's two children both graduated from YHS
Helped foster the football and baseball programs to great success
Produced many All State and college athletes
Football defensive coordinator – helped produce such notables as Eric Ball(Cincinnati Bengals), Rodney Holman (Cincinnati Bengals), and Fred Cofield (New York Knickerbockers)
1986 – Coached YHS Baseball team to the State Championship
Many of Mr. Dignan's baseball players went on to college baseball and the minor leagues
Mr. Dignan was looked upon as a highly effective economics and history teacher
When people think of YHS baseball they think of Coach Pat Dignan
DANE EMERSON FORTNEY – YHS 1972 – FOOTBALL – TRACK AND FIELD
2-year varsity in football and 3 in track and field
All State in two sports
1971 - 1st team All State Football – wide receiver
1971 YHS Football team went undefeated and finished and a 3rd ranking in State
1972 - State Champion in the 880 (1/2 mile) – 1:52.2 still among the best in State history
Attended Michigan State University on a football Scholarship
Mr. Fortney competed in both sports while at MSU - 3 years in football and 4 years in track
Competing in two sports at this level was an exceedingly rare accomplishment for any athlete
1974075 – Michigan State University Varsity Club president
He currently works for TRW Automotive as a sales manager.
He and his wife are involved with their children and they reside in White Lake, Michigan
RODNEY HOLMAN – YHS 1978 – FOOTBALL – WRESTLING
Earned 7 varsity letters – 4, wrestling, 3, football
1977 – All State football
3 Time All State wrestler, winning 2 undefeated State Championships 1977 and 1978 – winning 144 consecutive matches
1978 – Accepted a football scholarship to Tulane University
Played 4 years as a tight end for Tulane University
Set career school tight end records with 135 receptions, 1512receiving yards,
1979 - Set season tight end receptions record of 47
Instrumental is leading Tulane to two consecutive bowl games – first time in school history – 1978 Liberty Bowl and the 1980 Hall of Fame Bowl
1982 – Graduated from Tulane University with a double major in History and Physical Education
1982 – NFL Draft, picked in the 3rd round by the Cincinnati Bengals
All Pro selection 3 consecutive years – 1988, 1989, and 1990
Pro Bowl selection 3 consecutive years – 1988, 1989, and 1990
Played 14 years of pro football – Cincinnati Bengals -1982-1992 and the Detroit Lions -1993-1995
Career –365 receptions for 4771 reception yards and 36 touchdowns
As of 2005 - his 318 receptions were a Bengal career record for a tight end and 6th most over all
Mr. Holman played in 213 consecutive games and 216 career games – both 2nd most by a tight end in NFL history.-
1989 – Played in the XXlll losing to the San Francisco 49"ers 20-16
1998-99 – Tight end coach for the New Orleans Saints
2001-2002 – Strength coach for the Cincinnati Bengals
2013 – Inducted into the Greater New Orleans All State Sugar Bowl Hall of Fame
1955-1992 – "Football Outsiders" ranked Rodney in the top 6 tight ends in the NFL for those years with the number 1 ranking for 1989
The Holman's have two daughters and live in Slidell, Louisiana
At his induction into the Greater New Orleans Sports Hall of Fame/ Allstate Sugar Bowl Hall of Fame in August of 2013, Mr. Holman said, "It means a lot to be recognized by the Allstate Sugar Bowl Hall of Fame. Without my teammates I wouldn't have been there. Anytime you have an honor bestowed upon you, it's humbling. To think that somebody thought to recognize me for what I enjoyed doing."
C.TINO LAMBROS – YHS 1962 -CROSS COUNTRY -WRESTLING – BASEBALL – TEACHER - COACH
7 varsity letters – 1-Cross Country, 2- Baseball, 4 – Wrestling
1961 and 1962 - 2 time State wrestling runner-up
1960 – member of the State championship Cross country team
1961 and 1962 – Member of the back to back State Championship wrestling teams
1962 – Co- captain of the State champion wrestling team
Active in school activities – Varsity Club, Student council, NHS, National Thespians, Capella choir, and school plays
1962 – Accepted scholarship to wrestle at the University of Michigan
4 Year U of M wrestling team that won 3 Big Ten Championships and finished in the top six in the NCAA wrestling tournaments all 4 years
1966 – NCAA Wrestling All American
1966 – Earned Bachelor's from U of M and 1975 a Master's Degree from EMU
32-year teaching and coaching career
1966 – 1971 – Wrestling coach at West Junior High School - record of 45 – 1
Wrestling coach at Saline High School, YHS, and Lincoln High School with over 250 victories, 9 Conference Championships,4 District championships, 2 Regional championships, over 35 All State wrestlers and over 100 State qualifiers., and several top 10 team finishes in the State Tournament
4-time MHSAA Regional Coach of the Year awards
1976 – Member of the Men's' Fast Pitch Class B State Champions and was awarded the "Outstanding Outfielder" of the tournament
Community involvement – Ypsilanti Chamber Committees, member of the Boards for Convention and Visitors' Bureau Washtenaw Credit Union, Chairman of the C. Robert Arvin Foundation, and member of the YCS Athletic Hall of Fame Committee
Lifetime Ypsilanti resident
ROBERT MOFFETT, SR – YHS 1946(?) – FOOTBALL – BASKETBALL - BASEBALL - TEACHER – COACH – ADMINISTRATOR
3 sport athlete at YHS – football – basketball - baseball
3 sport athlete at Michigan State Normal College (EMU) – 4 years baseball, 3 years in football, and two years in basketball
Personable, caring man of high integrity – mentor to many
1949 – graduated from MSNC – EMU and began his long career as athletic director at Lincoln
At Lincoln, started the football program and coached basketball and baseball, as well
1958 – joined the staff at YHS and began a long career at YHS as teacher, coach, and athletic director
I950's -3rd baseman for the men's Class Double "A" Fast pitch softball team that won the State Championship, led by the hitting of Mr.Moffett
"Coach" had an outstanding 30 + year career spreading his kindness to hundreds of YHS students
The Moffett Scholarship was established honoring two senior athletes, one male and one female. The recipients are selected for their strength in character and leadership ability, just like Robert Moffett displayed over his years of working with children.
RICHARD ("DICK") OUELLETTE – YHS – TEACHER – COACH
32-year career as a teacher and coach – 23 years at YHS
Graduate of Michigan State University
After 9 years at Addison High School, came to YHS in 1964
Best known as a basketball coach, Mr. Ouellette also coached football, baseball, tennis, and golf
Served as a Guidance Counselor, Chair of the Guidance Department, and later, the Cooperative Education Coordinator, and Driver's Education teacher for 30 years
Considered an outstanding football official
Past President of the Michigan High School Coaches Association
482-198 – career basketball record; YHS 465-171
17 League championships
18 District TITLES
9 Regional titles
1968 and 1969 - two 2nd place finishes in State
1964 – Adrian Telegraph Lenawee County Coach of the Year Coach of the Year
1969 – Detroit News Coach of the Year
1971 – Michigan High School Coach of the Year
1984 – Washtenaw County Coach of the Year
1984 - Nominee for National Coach of the Year
1985 – Inducted into the Michigan High School Coaches Hall of Fame
"If you can get young people to believe in themselves, work hard ,it is amazing what can." Dick Ouellette
SUSAN PARKS – YHS 1974 – CROSS COUNTRY – TRACK
1971 – Won the US National high jump and made the US Pan American team that competed in the Pan American games in Cali, Columbia
1972 – Ran for the USA in a meet against the Russian team.
1972 – Member of the 2-mile relay team that set the American record
1972 - First women to compete in high school track in Michigan as she was allowed to compete on the men's track team
1973 , as a one lady team, she finished 5th in State in the team scoring
1974 –State Champion as she set record in the 880
Attended Eastern Michigan University and earned her Bachelor's and Master's degrees
Ms. Parks competed 4 years in both track and cross country for her father, Hall of Fame coach, Bob Parks
1976-78 – won 3 unofficial M AC cross country championships
1979 – won the official MAC cross country championship, as it became an official sport
While at EMU, Ms. Parks set records in the 880, 1000, 1500, mile, 2-mile, 3 mile, and was a member of the record setting 2 mile relay team.
After graduation, she went on to coach at the University of Michigan (1986 Big Ten Coach of the Year), Michigan State University, University of Arizona (NCAA Regional Coach of the Year),
1994 – Began a 12-year tenure as coach at Ball State University coaching indoor and outdoor track, and cross country
At Ball State she earned 7 coach of the year honors spread among the 3 disciplines, and an NCAA Cross Country Regional Coach of the Year
Her Ball State accomplishments include numerous MAC team championships, 6 NCAA All Americans, 7 Conference MVP's, 70 MAC individual champions, and 12 MAC relay champions,
President of the Cross Country Coaches association
2006 – Ms. Parks returned to EMU as their head track and field, and cross country coach
In those same three specialties, she has continued her legendary success by adding 6 more track and field MAC championships, 5 MAC cross country championships, and 9 more MAC Coach of the Year awards
1992 – Inducted into the EMU Athletic Hall of Fame
2020 – In her 15th year at EMU, and still going strong!
LOWELL PERRY – YHS 1949 – FOOTBALL
3 years captain of the football team
1946-47-48 -Led the YHS football team to 3 consecutive State Championships
1949 – attended the University of Michigan and graduated with a History degree
1951 – Earned All American, All Midwest, and All Big Ten honors as a wide receiver
1951 -Two-way player, punt returner and safety – rated best defensive back in college
1951 – Was a key member of the U of M Rose Bowl winning team against U of California
Held U of M receiving records for 15 years – 71 – Most receptions, 1261 yards – Most receiving yardage, 165 – Most yards in a game
After graduation, Mr. Perry had a two-year military obligation through his ROTC program
Played football at Bolling Air Force Base- and was named the outstanding football player in the military
1953 – Drafted by the Pittsburgh Steelers as a receiver and return specialist.
1956 – In his 6th game as a rookie he sustained a career ending injury- a many thinking he was on his way to being Rookie of the Year
Mr. Perry was injured and spent 13 weeks in the hospital recovering from a football career ending broken pelvis and dislocated hip
1960 – graduated with a Law Degree from Detroit College of Law
Many firsts in Mr. Perry's resume'- Black assistant coach in the NFL(Steelers), Black NFL Broadcaster to National Audience(Steelers), Plant Manager for Chrysler(17-year career),
1975 – President Ford appointed him Commissioner of the Federal Equal opportunity Commission
1989 – Inducted into the University of Michigan Hall of Honor
1990-1996 – Director of the Michigan Department of Labor
"You make a living by what you earn but make a life by what you give." Lowell Perry
KIRK PROFIT – YHS 1970 – FOOTBALL – WRESTLING – TENNIS – PUBLIC SERVICE
3 Sport letter winner
A hard, dedicated worker who got things done
1975 – BS Eastern Michigan University in Philosophy and Political Science
1979 – University of Detroit Mercy Law School – ( J.D.)
1980 – The FBI National Academy
1982 – Columbia University for postgraduate law studies
1989-1998 – Served in the Michigan House of Representatives for the 54th and 22nd Districts
Served many years in the Washtenaw County Sheriff's Department
Supported YHS Athletics in many ways over the years
Kirk A. Profit Fund for Michigan – raised revenues to send the world famous YHS Choir Vienna, Austria
The fund helped purchase football uniforms
Established the pre-game football meal
Mr. Profit was a strong supporter of the YHS Athletic Booster Club
A YHS alumnus who has stood tall and continues to support and extend a helping hand to get things done
LEVI SIMPSON – YHS 1955 – FOOTBALL – BASKETBALL – TRACK – TEACHER – COACH
8 VARSITY LETTER – 2 football, 2 basketball, and 4 in track
1955 – 440 State Champion – 50.5
Attended Eastern Michigan University and graduated with a degree in Physical Education and a minor in history
Mr. Simpson was the anchor man on the mile relay tram
Member of the EMU track team that went undefeated for 3 years
After graduation, returned to YHS and had an extraordinarily successful 38-year teaching and coaching career
42 years Coach Simpson was a mainstay on the "chain gang" for all YHS home football games – missing only one game in that span
This pure "purple and gold" man touched and influenced the lives of hundreds of YHS students and athletes
ROY WILBANKS – YHS 1960 – CROSS COUNTRY – WRESTLING – GOLF - TEACHER – COACH
3 time All State wrestler
1959 – State Champion wrestler and team Captain
1960 – Accepted wrestling scholarship to Colorado State University
1969 – Returned to YHS as a biology and Physical education teacher, wrestling, and golf coach
48-5-2 Overall wrestling dual meet coaching record at YHS
4 Sauk Trail Conference championships, 3 District Championships, and 4 Regional championships
Mr. Wilbanks's teams finished in the top 10 in State and twice finished 3rd
34 – Consecutive dual meet victories and a perfect 14-0 in the 1969-70 season
7-year tenure as golf coach – finished in the top 5 in State twice
Earned a master's degree from Eastern Michigan University
10 years as successful administrator at the Regional Career Technical Center
A recognizable person at Eastern Michigan University in several capacities including CEO of the EMU Foundation, Assistant to the EMU President, on the Board of Regents(2004-12), EMU Vice President for University Relations,
26 years of service to Eastern Michigan University
2014 – Eagle Crest Golf Course Clubhouse named in his honor
Received the EMU John W Porter Distinguished Service Award
Received the Ypsilanti Chamber of Commerce Distinguished Service Award
Named the Ypsilanti Press Person of the Year
Made our community a better place and Ypsilanti's athletic history truly richer