Facilities Management & Use
---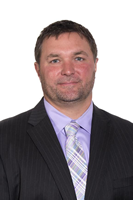 AARON ROSE -
DIRECTOR OF FACILITIES MANAGEMENT
All individuals and or groups interested in using one of our many Facilities can do so by completing the following three easy steps:

1. Review the Facility Use Calendar Below for Space Availability.
2. Click on and Read the "Facility Rental Rates" Link Below (This link contains policies and fees.)
3. Click on the Ypsilanti Community Schools - Application for Building Use, Complete and submit the online form.
Our office will contact you after receiving the form to work out all of the logistics.
Thank you for your interest in making Ypsilanti Community Schools the destination for your event.
Facility Rental
For YCS Staff Members
If your event requires technology equipment, you must submit a Technology IT ticket?
Emergency Drills

Link to emergency safety drill readiness information


YCS Emergency Drills
Drill Recording Form

Link to Drill Recording Form
Director: Aaron Rose email: arose7@ycschools.us
Address: 2095 Packard Rd.
Ypsilanti, MI 48197
Phone: 734 221-1198
---
FACILITY AUDIT / ASSESSMENT
YCS Moving Request - In District
Link to YCS moving request

Use this form anytime you are requesting district property to be moved from one district building to another. Facilities will supply boxes (pictured below) for in district moves from one building to another. Boxes are not supplied to move personal items home. After the boxes are emptied please turn them over to the building custodian so we can reuse them. Please try to provide as much lead time as possible.
HVAC Hot & Cold Call Line

"When reporting heating or cooling issues please call 734-221-1190 and leave the following information: Name, Problem, Location of Problem i.e. building and room."

segment 2 This event has a video call. Join: https://meet.google.com/fmp-qjvh-bvu +1 385-275-0215 PIN: 773725070#