Resiliency Center and Homeless Youth Program Information
As of June 13- Sept 5, 2022, Open from 10am-3pm, closed on Friday's.
Until further notice please use the following number 734-221-3948.
Resiliency Center
WILLOW RUN CAMPUS
1960 Holmes Rd
YPSILANTI, MI
ONE-STOP-SHOP FOR OUR YCS STUDENTS AND FAMILIES
SHOP BY APPOINTMENT ONLY
New time starting June 13 - September 5, 2022
As of June 13- Sept 5, 2022, from 10-3pm, closed on Friday's.
The Resiliency Center will be posting a monthly donations list of items we are in need of. Please refer to the list and follow the drop-off instructions. PLEASE DO NOT DROP OFF ANY ITEMS AT CENTRAL OFFICE. Please contact Cherisa Allen, callen2@ycschools.us or 734- 211-3948, for any questions.
Link to Resiliency Center Flyer (PDF to download)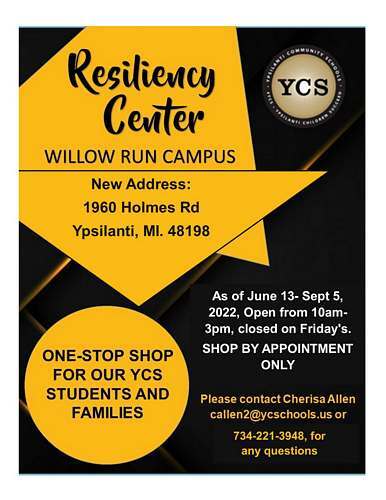 Click on image to enlarge
Homeless Youth Program Contact
Cherisa Allen
Ypsilanti Community Schools
1885 Packard Road
Ypsilanti, MI 48197
Cell: 734- 244-2423, for any questions.
Homeless Youth Program Information