Resiliency Center & Homeless Youth Program
The YCS Resiliency Center is a one-stop shopping experience for the students and families of YCS. Families can schedule an appointment to shop for clothing, shoes, toiletries, and non-perishable food items. For the 2022-23 school year, YCS has added ten laptop computers, a Kids Zone, and a space for adults to, relax, read and prepare for their next destination. If you know a student or family that attends YCS schools and they are in need of any services, please contact Cherise Allen, Ypsilanti Programs Community Liaison, at callen2@ycschools.us or 734-221-3948. For more information regarding the Resiliency Center, please visit www.ycschools.us.

We currently have an Advisory Board, which consists of two Social Workers, 2 High School representatives, and 1 Community member. We have two volunteers
and 1 Intern.
Resiliency Center
WILLOW RUN CAMPUS
1960 Holmes Rd
YPSILANTI, MI
ONE-STOP-SHOP FOR OUR YCS STUDENTS AND FAMILIES
SHOP BY APPOINTMENT ONLY
Hours of Operations- 9 am- 4 pm
The Resiliency Center will be posting a monthly donation list of items we are in need of. Please refer to the list and follow the drop-off instructions. PLEASE DO NOT DROP OFF ANY ITEMS AT THE CENTRAL OFFICE. Please contact Cherisa Allen, at callen2@ycschools.us or 734- 221-3948, for any questions.
Link to Resiliency Center Flyer (PDF to download)
Click on image to enlarge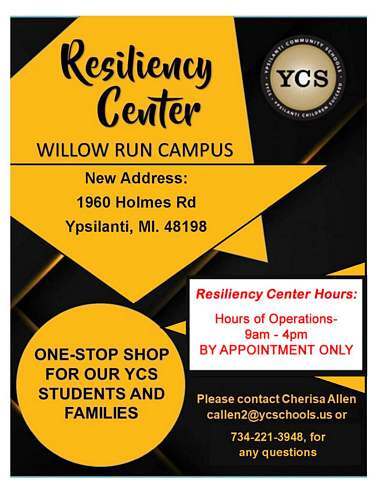 Homeless Youth Program Contact
Cherisa Allen
Ypsilanti Community Schools
1885 Packard Road
Ypsilanti, MI 48197
Cell: 734- 244-2423, for any questions.
Homeless Youth Program Information
YCS Resiliency Center Mo

nthly

Donation Themes
● September "Back to School" Items Accepted: New/Gently used clothing for
Boys and girls, needed items 6-8, 10-12, 14-16 (S- XL) in youth sizes. Ladies sizes, 6, 8, 10, 12, 14, 16, 22. Men sizes 30-42. Boys jogging pants, and hoodies most requested items. Young ladies; jeans, shirts/blouses.
New Items Only - socks, t-shirts, baby wipes, diapers, and undergarments sizes Newborn- 4X
● October "Thanksgiving" Please drop off Non-perishable Food items (for our
pantry), personal hygiene products, and toiletries
● November "Christmas - Let the Shopping Begin!" Items accepted: Gas
Cards, Toys, Board Games, New Coats/Gloves/Winter Boots
● December "Self-Care" Items accepted: Lotions, Soaps (liquid and bar),
Toothbrushes, Toothpaste, Floss, Deodorant, Bath Oils, Body Cream, and Baby
Oil
Please contact Cherisa Allen, at callen2@ycschools.us for any questions or to schedule an appointment to drop off items.