YMCA:EMU:YCS Child Care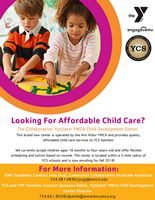 A new child care program opened this summer at the former Chapelle Community School, an elementary school within the Ypsilanti Community Schools District at 111 South Wallace Boulevard, Ypsilanti, MI 48197.
Registration forms may be found here. For more information about touring the facility, please contact Donetta Mazyck at 734.661.8045
The Collaborative – Ypsilanti YMCA Child Development Center (CDC) addresses a critical need for excellent quality, affordable child care in eastern Washtenaw County.
Who is eligible to attend? Spaces will be held for children (aged 18 months to 5 years) of EMU students, families living in YHC communities and families in the Ypsilanti Community School District.
What are the CDC's hours of operation? Beginning Summer 2018, hours of operation will be 6:30 AM to 6:30 PM Monday through Friday. Beginning Fall 2018, additional evening hours options to accommodate EMU evening classes may be offered. This program will require a separate registration and will be open to children ages 3 to 12.
The opening of the child care center.