Academics
Third Grade Reading Legislation
The Third Grade Reading legislation requires each district to implement an on-going norm-referenced assessment (like the NWEA MAP Test) to identify each child's reading progress.
Beginning with the 2019-20 school year, all third graders in Michigan are required to meet the state's reading proficiency criteria on the M-STEP and/or qualify for a good cause exemption as defined in PA 306, in order to be promoted to fourth grade.
For continued support in reading, please contact your child's teacher. For more on the state's Read By Grade Three Law, go to the Michigan Department of Education's webpage on early literacy (www.michigan.gov/earlyliteracy), where you can find helpful information and resources.
Academic News
March 27, 2022
YCS is Offering a NEW Spanish Dual Language Immersion Program
We are now enrolling stu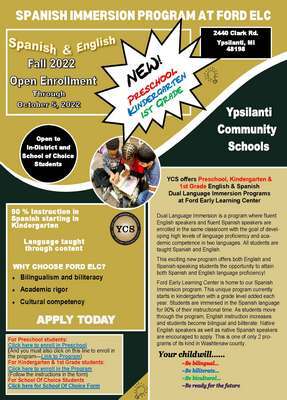 dents in our New Expanded Spanish Immersion Program - 
Our new expanded Spanish Programs at Ford Early Learning Center: Kindergarten students and now Preschool and First Grade students also.
Dual Language Immersion is a program where fluent English speakers and fluent Spanish speakers are enrolled in the same classroom with the goal of developing high levels of language proficiency and academic competence in two languages.
Preschool - Young 5s - KINDERGARTEN ENROLLMENT INFORMATION
Spread the Word: YCS Kindergarten Roundup Time!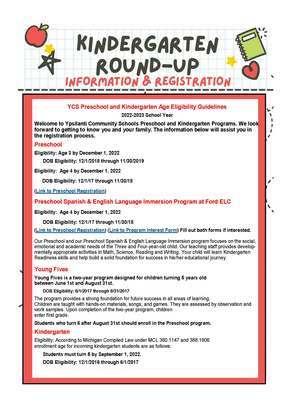 It's that time of the year!  YCS Kindergarten Roundup is coming up for Ford and Perry! Please see the attached flyer for details on how to get your kindergartner registered!  
Ford ELC and Perry ELC
April 14, May 19, and August 18, 2022, by appointments: - IN-PERSON Appointments
YIES  -  Preschool  -  YC2 School - Preschool Spanish & English Language Immersion Program at Ford ELC Information included
Feel free to share!
Click on image to download PDF
Early Childhood Programs
Information on Early Childhood Programs at Ypsilanti Community Schools.
Visit the Early Childhood Programs page
---
Student Support Services
Ypsilanti Community School provides services to students with disabilities in a continuum of educational environments, from regular class placements with special education services and programs to full-day programs in county-based programs.
Visit the Student Support Services page
M-STEP Parent Information

YCHS Freshman Academy

The Mission

The Freshman Academy will lay the foundation for students to successfully build their skill, will and character.

The Vision

To create a positive learning community through: • Building strong relationships • Life skills curriculum • Creating academic accountability.

Why choose YCHS Freshman Academy

Freshman Academy Bridge Program (includes team building activities, school tour, meet + greet)
Collegiate and cultural field trips
Hands-on learning experiences
Cross-curricular learning
Small learning communities
Separate from the general high school population
Working relationships with local colleges and universities
Placed-Based Learning • Reading and Math Interventions
Technology-driven
Common Core
How are 'Common Core' standards playing out in Michigan classrooms today?
Back in 2010, the State Board of Education approved the Common Core State Standards for Michigan — a set of math and English goals for K-12 students.
Explantion of standards
Reading Reasons: Motivational Mini-Lessons for Middle and High School
Link to article