Summer School Information
Ypsilanti Community Schools Summer School
Summer school starts June 25 through August 1. Classes are on Tuesday, Wednesday, and Thursday from 8:00 a.m.-12:30 p.m.  Breakfast and lunch are served daily.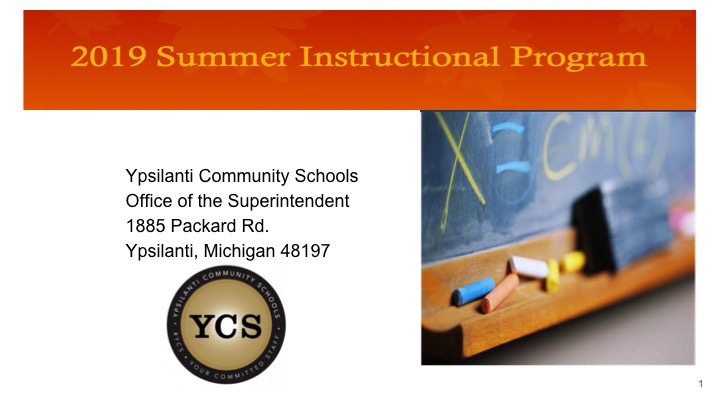 Link to 2019 Summer Instructional Program
The public library is a great place for family outings during the summer. We would like to support keeping and even increasing a level of literacy by suggesting that our students continue to read throughout the year.
 
Busy libraries support our community partners while building skills within our YCS students. 
Link to YCS Suggested Summer Reading List
Early Childhood Programs
Information on Early Childhood Programs at Ypsilanti Community Schools.
Visit the Early Childhood Programs page
---
Student Support Services
Ypsilanti Community School provides services to students with disabilities in a continuum of educational environments, from regular class placements with special education services and programs to full-day programs in county-based programs.
Visit the Student Support Services page
M-STEP Parent Information

YCHS Freshman Academy

The Mission

The Freshman Academy will lay the foundation for students to successfully build their skill, will and character.

The Vision

To create a positive learning community through: • Building strong relationships • Life skills curriculum • Creating academic accountability.

Why choose YCHS Freshman Academy


Freshman Academy Bridge Program (includes team building activities, school tour, meet + greet)
Collegiate and cultural field trips
Hands-on learning experiences
Cross-curricular learning
Small learning communities
Separate from the general high school population
Working relationships with local colleges and universities
Placed-Based Learning • Reading and Math Interventions
Technology-driven
Important Information:
How are 'Common Core' standards playing out in Michigan classrooms today?
Back in 2010, the State Board of Education approved the Common Core State Standards for Michigan — a set of math and English goals for K-12 students.
Explantion of standards
Reading Reasons: Motivational Mini-Lessons for Middle and High School
Link to article