VLAC Enrollment Information
Virtual Learning Academy Consortium (VLAC) offers a choice for parents who want to be more directly involved in their child's education.

VLAC is a high-quality, home-based virtual learning opportunity for students in grades K-8. Our program is a public school option for parents (and other caregivers) preferring a flexible, home-based environment and who are willing to guide their child's learning. Parents, students and staff in the VLAC program work together to keep our students engaged and excited about learning.

We know that an excellent education can happen when parents and schools become true partners in a child's education. VLAC is a partnership that ensures that a warm, meaningful and supportive environment is established from the very beginning of a child's educational experience. This partnership also allows each child to flourish and become a well-rounded and unique person whose individual strengths and talents can be developed to their full potential.
For information about new enrollments call (855) 862-7708.

VLAC Information
Link to VLAC package information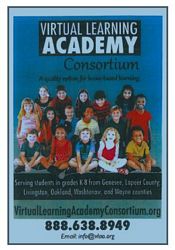 VLAC Website