Washtenaw Community College
Dual Enrollment
For Dual enrollment information, please contact
Dual Enrollment Application
High School Dual Enrollment Informational ​
With the creation of YCS, the unified school district that has brought together the Willow Run and Ypsilanti districts, there is great opportunity to explore and implement innovative educational models that have the promise to improve student achievement and outcomes. In response to its charge to research, recommend, and develop a system with multiple ways for all students to earn college credit and/or career credentials prior to high school graduation, the College Credit and Career Credentials (C4) Community Advisory Group strongly recommends that YCS offer all of its high school students enhanced dual enrollment options.
Dual enrollment involves high school students taking college courses with the aim of earning college credit before graduating from high school. Several different dual enrollment models exist, including early/middle colleges, which are public high schools designed to allow a student to earn a high school diploma while also earning an associate's degree, a certificate of completion, or transferable college credits toward a four-year degree.
Washtenaw Community College
Read the WCC Resolution of Support
Read "Enhancing Student Outcomes: The Promise of Career Credentials and College Credit Partnerships for Ypsilanti Community Schools" by the College Credit and Career Credentials (C4) Community Advisory.

Important Information
College Readiness & Career Credentials Dual Enrollment at Washtenaw Community - College Information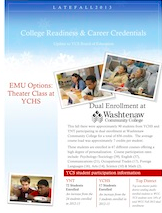 "STEPS TO DUAL ENROLLING AT WASHTENAW COMMUNITY COLLEGE"
"If you have any questions regarding dual enrolling please contact the counselor at your high school"