Michigan Advanced Technician Training (MAT²®) Program
High School Seniors and Recent Graduates…Welcome to MAT²
®

!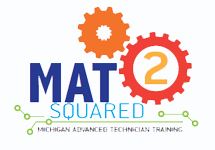 Gain the high-tech skills you need to succeed
Manufacturing and technology companies are experiencing a shortage of employees with the knowledge, skills, and education necessary to operate and maintain new systems-based equipment and technology.
The MAT2 program is an educational model developed in conjunction with global technology leaders that combines theory, practice, and work to help train a globally competitive workforce in the cutting-edge fields of Mechatronics, Information Technology, and Technical Product Design.
MAT2 will provide students with:

A three-year training program with all tuition costs paid for by an employer

On-the-job training with pay

An associate degree in a high-tech, in-demand field

A guaranteed job upon successful completion of the program
Students will earn while they learn, alternating between classroom training at a participating community college, and on-the-job training with an employer, acquiring marketable skills and valuable knowledge along the way.
Informaitonal Flyer
Interested in learning more?
Please visit MI Talent