HIGH SCHOOL SMALL LEARNING COMMUNITIES
YCHS Information
YCHS STEMM and YCHS Registration Information
It has come to my attention that there is some confusion over our STEMM student schedules. The confusion is related to students "not having elective classes". This is just not true as our STEMM student schedules are still being completed. Please know that we will do everything that we can to get the students their desired elective classes, while still staying on track with the STEMM Middle College graduation requirements. Your Administrative Staff and High School Counselors are working diligently to accomplish this. 
 
There is a dual enrollment meeting for our students tomorrow evening, August 20, at 6 pm in the YCHS auditorium for our Washtenaw Community College Students. The STEMM student schedules for grades 10-12 will be available to access online on August 29 or the students can come to the YCHS Counseling Center and pick their schedule up between 1-4 pm. The STEMM orientation for our new 9th graders will be on August 30. Breakfast will start at 9 am in the YCHS cafeteria. We will have schedules for our STEMM 9th graders at the orientation. 
 
I sent a letter home to all of our YCHS stakeholders last week that contained this information. I look forward to seeing you soon and am excited for a great 2019-2020 school year. 
Go Grizzlies
Cory Gildersleeve
YCHS Principal
#StrongerTogether

YCHS will be hosting its Open House
YCHS CLASS SCHEDULES
2019-2020 Class Schedule Pick Up
Wednesday, August 28th
8:30 to 11:30 am and from 12:30 to 3:30 pm
YCHS

Fall Open house
Thursday, September 19th
5:00 to 7:00 pm (Prizes will be drawn throughout the event)
Free 1-day Camp for High School Students
August 20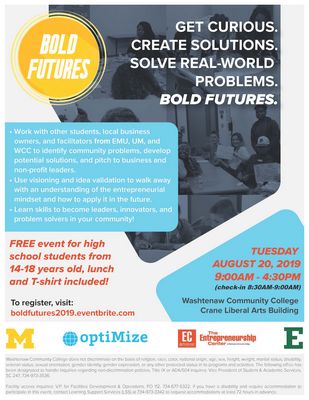 th and is open to all YCS high schoolers. It is an all-day social impact and entrepreneurship camp for students between 14-18 years old. The students have the opportunity to think critically about problems in their community and design potential solutions for identified issues. They are grouped with peers and facilitated by college students from WCC, EMU, and UM. Toward the end of the day, they have a chance to present to local business and nonprofit leaders to receive feedback on their ideas.
Link to register: http://boldfutures2019.eventbrite.com
STEMM Middle College, Early College Alliance at Eastern Michigan University. Science-Technology-Engineering-Mathematics. The Arts. Washtenaw International High School.
These educational options and more will be available to YCS high school students. All involve obtaining college credits or career credentials before graduating. All entail rigor, a culture of accelerated achievement and empowerment. All include co-curriculars-athletics and after-school enrichment programs available to all students regardless of the small learning community they choose. All represent a united student body that will serve as the forerunners for 21st-century high school. It's unprecedented. It's impressive. It's your YCS high school.
---
Link to YCHS Guidance and Counseling page
---
Location: YC High School, 2095 Packard Rd.
At AC Tech High School, students experience both personal and individualized instruction based on the Arts, Humanities and Logistics. An interdisciplinary approach to learning will be emphasized, as students complete a rigorous program with variable instructional practices based on Michigan Merit Curriculum and common Core State Standards. Credit will be granted and achievement will be communicated based on mastery of standards and skills. Instruction will take place in the classroom, in educational workshops, and through self-designed research and development. Students, staff, and community partnerships will create and enriching, challenging, and thought-provoking learning environment that will prepare and expose students to a collegiate experience.
---
Location: YC High School, 2095 Packard Rd.
The STEMM (Science, Technology, Engineering, Mathematics and Manufacturing) Academy will offer a rigorous, relevant and technologically advanced learning experience for all students. Businesses, community partnerships, and STEMM-based electives will be used to create and incorporate real-world experiences in the learning process. Inquiry and project-based instructional best practices will be implemented to ensure all students accomplish their goals. In order to create a meaningful educational experience, we will establish a system of shared responsibilities and collaboration, supported by the trust and respect of students, staff, and the community. The culminating learning experience for STEMM Academy will be a Senior Capstone project.
Ypsilanti STEMM Middle College Graduation Requirements
Link to STEMM graduation requirements
---
Location: George School, 1076 Ecorse Rd.
Teaching methods incorporated in this program are designed to reach and support students in a flexible learning environment. ACCE utilizes community partnerships, personalized instruction, online learning, and a hands-on approach to finding academic solutions.
Enrollment in this program is by referral only and is not an option that students can choose during the course selection process.
---
Early College Alliance
The Board of Education voted to continue participation in the ECA@EMU program when Willow Run and Ypsilanti are unified as Ypsilanti Community Schools. Recently, members of the community have raised questions regarding the number of ECA program slots available to Ypsilanti and Willow Run students compared with prior years. The document below outlines the process that was agreed to by the Joint Steering Committee that governs decisions related to the ECA program.
ECA 2013 Slot Allocation and Enrollment Summary
---
Washtenaw International High School
Similar to the action taken for the ECA@EMU, the Board of Education voted to continue participation in the Washtenaw International High School International Baccalaureate program, located in Ypsilanti. The program shares a building with YCS' Washtenaw International Middle Academy. For more information visit their website: www.wihi.org.
---
Career and Technical Education
Ypsilanti Community Schools is offering a variety of educational programs designed to give students a jump start on college and careers. The link provides the classes that will be offered during the 2013-14 school years. The high school counselor will assist students with enrolling in these dynamic programs.

CTE Descriptions