Summer School Information
YCHS 1st Prom/Graduation Dress Expo a Huge Success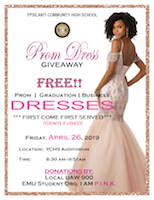 The prom committee held at YCHS a Prom/Graduation Dress Expo on Friday, April 26. The Dress Expo was a HUGE Success.
The feedback from the students was amazing. Moving forward, we are looking to make this an annual event and take it to another level next year. All the dresses were donated to YCHS by Local UAW 900 and EMU's I Am P.I.N.K student organization.
The success of the Dress Expo is truly due to the efforts of Mr. Taylor, Ms. Orr, Mr. Nick, Ms. Alexander, Mr. Malik, our community partners, and the Dress Expo student committee lead by graduating senior Desiree Turner.