YCS Learning Program
YCS COVID-19 Preparedness and Response Plan
YCS ONLINE LEARNING PROGRAM
Grades K - 12 - Revised
Our YCS Vision
The K-12 YCS Online Learning Program offers rigorous courses that are aligned to the Michigan Academic Standards and the Michigan Merit Curriculum. We are committed to offering a comprehensive list of courses that will prepare our students to be college ready upon graduation.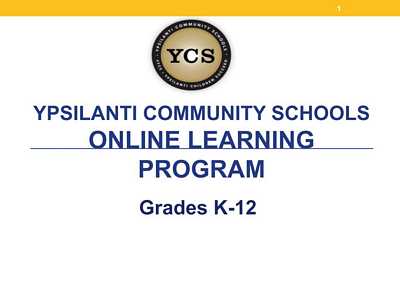 Click on image to view our online learning program


YCS Options
This school year will be different than any of us have ever experienced or anticipated. We are dedicated to keeping your children safe and giving them the best possible opportunity for school. The first day of school for students is Tuesday, September 8th. Please take a few minutes to fill out the attached enrollment form and let us know your preference by completing the linked survey for returning to school.
Here are the 3 options:
Link to more information about the 3 options
In-Person (face to face instruction)

Remote (via Chromebook or Ipad)

Online 100% (via Chromebook or iPad)
Friday Independent Student Work Project-Based Learning
Students will respond to the equity prompts and questions, participate from equity panels, listen to monthly speakers, create PSA short videos, work with other youth around topics of race that will allow them to do a quick write as well as create a 2 to 5-minute video clip that will be placed in the Stories from our YCS Freedom Dreamers website that will be created from the various projects. for others to learn about their greatness.
The link to more information: Times, Zoom Links, Google Classroom links, etc. is below:
Link to Information about Fridays' activities
Our Media Staff for this project is:
Tanya Wood - PreK - 1st grades
Amanda Garner - 2nd - 5th Grades
Cheree' Stevenson - 6th - 8th Grades
Dwayne Scott - 9th -12 Grades