March 27, 2022
YCS is Offering a NEW Spanish Dual Language Immersion Program
We are now enrolling stu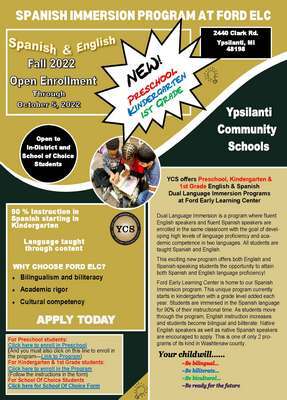 dents in our New Expanded Spanish Immersion Program -
Our new expanded Spanish Programs at Ford Early Learning Center: Kindergarten students and now Preschool and First Grade students also.
Dual Language Immersion is a program where fluent English speakers and fluent Spanish speakers are enrolled in the same classroom with the goal of developing high levels of language proficiency and academic competence in two languages.
All students are taught Spanish and English.
This exciting new program offers both English and Spanish-speaking students the opportunity to attain both Spanish and English language proficiency!
Your child will......
~Be bilingual...
~Be biliterate...
~Be bicultural...
~Be ready for the future!