August 21, 2018
Free Scholarship Fair
You are invited...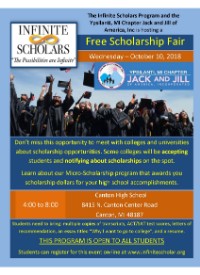 The Infinite Scholars Program and the Ypsilanti, MI Chapter Jack and Jill of America, Inc
Wednesday – October 10, 2018
Time: 4:00 to 8:00
Canton High School
8415 N. Canton Center Road
Canton, MI 48187
Students need to bring: multiple copies of transcripts, ACT/SAT test scores, letters of recommendation, an essay titled "Why I want to go to college", and a resume.
THIS PROGRAM IS OPEN TO ALL STUDENTS
Students can register for this event online at www.infinitescholar.org
African-American Grants - Open Education Database
OEDB.org developed a list of scholarships and grants specifically for African American students. We provide context for how students can best take advantage of available resources while offering a listing of 15 scholarship and grant opportunities.
Link to OPEDB
---
Scholarship opportunities with open applications
Green Home Improvement Scholarship
Scholastic Art & Writing Awards Scholarships
---
Aspiring Fashion Professional Scholarship
This is a $1,000 scholarship that will be awarded to students that are interested in pursuing a fashion degree at an accredited post-secondary school or college. Interested students can visit this link: Link to scholarship information and find the scholarship located at the bottom of the page and click on it.
---
Lawn Starter Scholarship
A scholarship geared towards the promotion of entrepreneurship.
The scholarship is offered semi-annually.The scholarship information is included below.

Scholarship-related information:
Eligibility Requirements: Open to all majors as long as they are an incoming or current full-time student enrolled in a 2-year/ 4-year/ or graduate program and are passionate about entrepreneurship.

Website: Link to website for scholarship information

Application for Scholarship: Students apply by sending a transcript, resume, and a 500-700 word essay answering the following prompt "What makes them passionate about building a business?" to scholarships@lawnstarter.com

Number of Awards: 2 (one per semester)
---
FormSwift
$1,000 Scholarship Contest, which we have made available for high school seniors and college students across the country. You can give it a look at the link below:
Link to scholarship information
Michigan Scholarships
Various Scholarship & Funding Opportunities: