Coordinated School Health Team
---


Kharena Keith, M.Ed
Coordinator of Wellness & Community Partnerships
Ypsilanti Community Schools
Ph. 734-221-1212
Email: kkeith2@ycschools.us
---
The YCS board passed a resolution to support the formation of a district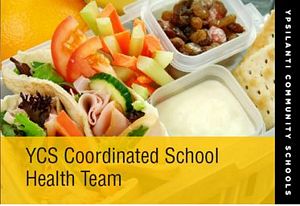 Coordinated School Health Team.
The team completed three modules of the Healthy Schools Action tool and currently is working to revise the YCS student wellness policy to promote a healthy school environment, nutrition, counseling, psychological and social services.
YCS has the only district-wide CSH team in the state. The vision of YCS is to create a first choice cradle-to-career system. In order to achieve the district's primary mission of education and academic achievement, students and staff need to be physically, mentally and socially healthy.
Community Partners
At present, the YCS Coordinated School Health Team members include:

1. Regional Alliance for Healthy Schools (RAHS)- University of Michigan Health System
2. Project Healthy Schools (A community/University of Michigan Health System collaborative)
3. St Joseph Mercy Health System
4. Growing Hope
5. CTC (Communities that Care) Ypsilanti
6. Washtenaw County Public Health Department
7. Ann Arbor YMCA
8. Food Gatherers
9. West Willow Neighborhood Association
10. EMU Bright Futures
11. Washtenaw County Food Policy Council
12. Livingston Educational Service Agency
---
2017-18 Meeting Dates, 9:00 am, YCS Administration Building
Alternating 2nd Wednesdays & Thursdays

September 13
October 12
November 8
December 14
January 10
February 8
March 14
April 12
May 9
June 13
---
2014-15 Meeting Dates and Minutes
Link to 2014-15 meeting dates and minutes.