Welcome to Ypsilanti Community Schools

Ypsilanti Community Schools is in the heart of a history-rich community that values tradition yet embraces innovation. The district links state standards-based curriculum with business, educational and civic partnerships to provide a diverse and relevant academic experience for all students. The district encourages students to engage in higher-level thinking, problem solving, empowerment and creativity, preparing them to be socially responsible and career ready. YCS students are Learning, Achieving, and Succeeding!
---

Information about Homeless Programs
Laura Frey-Greathouse - Homeless Liaison

LANGUAGE TRANSLATOR
Below
YCS Summer School Activities
---
YCS High School Seniors and Recent Graduates
Michigan Advanced Technician Training (MAT²®) Program
Welcome to MAT²®!
Click here for more information.
---
Ypsilanti New Tech Tour
---
Career Technical Education at YCS
Click here for more information.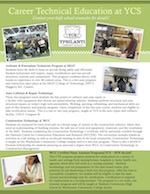 ---
Important Notice - Taxpayers in the former WR district
Click here for more information
.