Welcome to Ypsilanti Community Schools

Ypsilanti Community Schools is in the heart of a history-rich community that values tradition yet embraces innovation. The district links state standards-based curriculum with business, educational and civic partnerships to provide a diverse and relevant academic experience for all students. The district encourages students to engage in higher-level thinking, problem solving, empowerment and creativity, preparing them to be socially responsible and career ready. YCS students are Learning, Achieving, and Succeeding!
---
IMPORTANT INFORMATION
Special Meetings Public Notice
Information about Homeless Programs
Laura Frey-Greathouse - Homeless Liaison

LANGUAGE TRANSLATOR
Below
NEWS...
---
The FIRST in Michigan Robotics 2015 State Championship - Congratulations to YCHS Robotics Team 66
Qualified 8th in the state for Worlds.

St. Louis here we come!
---
Congratulations to WIMA's Ms. Church and her students
Congratulations to Tammy Church and her students for being featured in The Atlantic education article last week: "Undercover Teachers or Imaginary Friends?
Link to article and other information.
---
Community Activities and Flyers
Link to Community Activities and Flyers.
---
---
Free Great Start Readiness Program Summer 2015 Preschool Programs!
For children that could qualify for some preschool experience before entering kindergarten in the fall.
Click on this link or icon for more information and locations.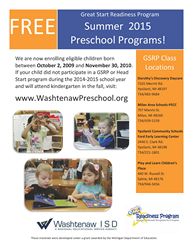 ---
Save the Dates:
YCS Middle School Open Houses
Click here for more information.
Please come and visit all of the three middle school options on these dates.
---
YCMS - AC-Tech Sustainability Summit
Preparing for the Future Based on Lessons from the Past
YCMS - AC-Tech Sustainability Summit on June 11 - 6:00-8:00 p.m.
Click here for more information
.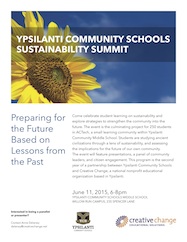 ---

YCS Traditional Calendar 2015-2016
HOLMES Balanced Calendar 2015-2016.