Ypsilanti Community Middle School
Principal: Aaron Rose email: ARose7@ycschools.us
Assistant Principal: Djeneba Cherif email: dcherif2@ycschools.us
Secretaries: Andrea Gossett agossett3@ycschools.us & Cassandra Brown- Fields cbrownfields6@ycschools.us
Address: 235 Spencer Lane
Ypsilanti, Michigan 48198
Phone: 734-221-2200
Fax: 734-221-2203
Grade Levels: 6th - 8th Grades
Hours: 7:15 a.m.- 2:15 p.m. (full day)
7:15 a.m.-10:45 a.m. (half day - early dismissal)
---
Parents, please fill out the parent contact information form by clicking on the link below to submit your contact information.
---
YMCS BUS ROUTES AND TIME
Link to YCMS Bus Routes and Times.
---
The 1st Quarter Honor's Celebration
Reschedule for Thursday, December 22, 2016
The Theme is a Season of Celebration
The program begins at 9:00 -10: 20 a.m. in the school auditorium
---
---
Lion King fundraising
YCMS/Estabrook Musical Link to GoFundMe page.
Students at YCMS and Estabrook are so excited about their future performance of "The Lion King, Jr," in April. Our school received a grant from the Disney Theatrical Group that includes the show materials, a musical theater curriculum, and the rights to hold a public performance. Students have already started working in groups or "prides", practicing reading scripts and learning songs and choreography. Auditions will be held in December and students who are in the show will be able to go see the live Broadway version of the show in Detroit, but we need sponsors and donations for this. Some art students will be helping with making masks and set pieces. Other students and parents will be involved in drumming, creating masks, costumes, and sets and working behind the stage. We also need money for these supplies.

Our schools have not done a middle school musical in a long time and many of our students have never been to a musical. They have the love and passion for singing and performing and I think this will be an amazing experience for them. Any help you can give will be greatly appreciated!
Help spread the word!
Link to flyer.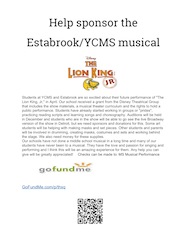 ---
From the YCMS/Estabrook Music Department - Mark Your Calendar
"Lion King Jr." Auditions-
Estabrook- Nov. 28 and 30
YCMS - Dec. 1 and 5
Middle and High School Choir Caroling-
Dec. 2nd - First Fridays, Downtown Ypsilanti
7:00 p.m.
YCMS/Estabrook Band and Choir Holiday Concert-
YCMS Auditorium
December 15th
7:00 p.m.
---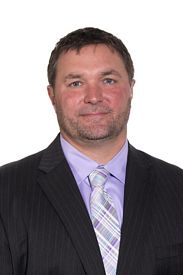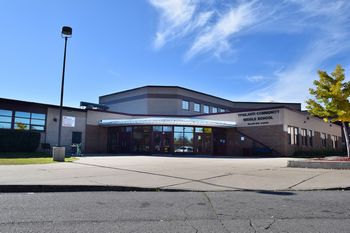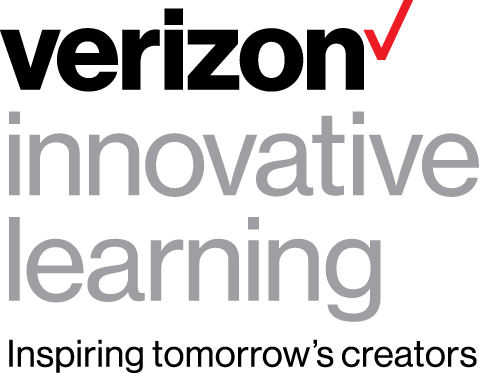 IMPORTANT INFORMATION:

2014-15 YCMS School Annual Education Report (AER) Cover Letter

2014-15 YCMS Annual Education Report

2016-17 YCMS School Improvement Plan

YCMS Unpacking Tool
---
Emergency Drills Information
Link to Emergency Drills Information.
Join us on our Facebook Page