Meet the Principal
---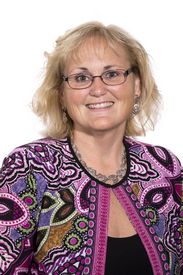 Michelle Berg, Principal
My name is Micki Berg and I am the principal at Ford Early Learning Center. This is my fifth year with YCS and I couldn't be happier.
I have been in education 28 years and began my teaching career in Detroit, teaching 2nd-grade students. From there, I went to Napoleon, Michigan (in Jackson County) where I taught Kindergarten for 13 years and Third Grade for one year. I moved into administration and accepted a position with Sand Creek Community Schools in Lenawee County. My building was preschool through 6th grade with a total of about 550 students. I was at Sand Creek for four years before accepting the administrator position at Ford Early Learning Center with Ypsilanti Community Schools. My student teaching was done in Napoleon with First Grade students. Out of all of my teaching experience, I have to admit that Kindergarten was my favorite age to teach.
My degrees include a Bachelor's Degree in Elementary Education minoring in Math and Science, a Master's Degree in Early Childhood Education (which is a specialization in Birth through Third Grade) and a Specialist Degree in Educational Leadership. All of my degrees are from Eastern Michigan University. What might surprise you is I am also a certified Driver's Ed instructor and taught Driver's Ed for 13 years with Plymouth - Canton Community Schools.
My love for teaching and education came to me at an early age, when my own Third Grade teacher, Barb Vanderveen, left such impression on me. She let me be the "teacher" for about 45 minutes during reading groups and I was hooked then and there. I have never wavered in my decision to go into education.
I believe that relationships are key to the success and the younger age of the student, the better relationships you need to have with the families/parents. You might not always remember what was taught in the classroom (good or bad), but you will always remember the relationship that you had with that teacher and how he/she impacted your life or made you feel (good or bad).
On a personal note, I am a single mom with one daughter who will be going into 8th grade. She is a great daughter that I am blessed to have her in my life. My boyfriend, Ryan, recently moved in with us and it has been a wonderful transition for us. I have an older brother and sister, both of whom are teachers as well. I enjoy reading, visiting with family and friends and traveling (although I don't do this as much as I would like to!)
Some my proudest moments were:
*I was nominated by my parents and won Teacher of the Year for Jackson County in 2007
*In 2013 I was nominated by my peers and won Principal of the Year for Region 3 (Hillsdale, Lenawee and Jackson Counties).
*In 2015 I won the NAACP Distinguished Civil Rights Rosa Parks Award for advocacy of African American children.
*For the 2018 - 2019 school year, I was also elected as president of the Michigan Elementary and Middle School Principal Association (MEMSPA). It is and continues to be an honor to be working with children and their families.