Meemic Foundation check presentation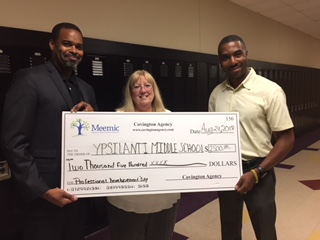 Covington Insurance Agency, showing its continuing support of Ypsilanti Community Middle School, presented Mr. Petty with a check to further staff professional development.
YCMS Ribbon Cutting Ceremony

Ypsilanti Community Middle School has a new home! We are very excited to start the school year in our new building at 510 Emerick (formerly East Middle School).
YCMS would like to thank everyone that has contributed to making this move a success. We are STRONGER TOGETHER!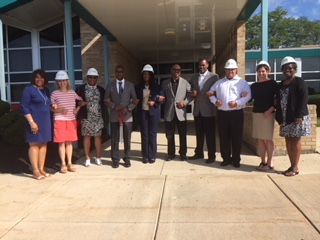 Some of out strongest supporters, from left to right:
Guidance Counselor Brenda Averett, BOE Secretary Maria Sheler-Edwards, Assistant Superintendent Dr. Sherrell Hobbs, Principal Seth Petty, Interim Superintendent Alena Zachery-Ross, Dean of Students Damion Jackson, Assistant Principal Jason White, Facilities Director Steve Burgess, BOE President Sharon Irvine, Teachers Union President Charlotte Tillerson
BACK TO SCHOOL BASH AT PROSPECT PARK
We hope to see everyone at the Back to School Bast at Prospect Park on Saturday, September 8th.