Meet the Principals
Cory Gildersleeve, Principal
Cory Gildersleeve came to Ypsilanti Community Schools with extensive coaching, teaching, and administrative experience. As a collegiate student-athlete, he received his Bachelors Degree from Central Michigan University. Cory was very successful with the Chippewas as he tied the all-time CMU record for most tackles in a single game, was named Most Outstanding Linebacker, All-MAC Linebacker, Team MVP, and was a finalist for the MVP of the MAC Conference. Off the field, he was on the academic honor roll for three semesters.
While completing his Master's Degree through Marygrove College, he was honored with three 'Who's Who Amongst America's Teachers' awards and was also named County and Region Honorable Mention Coach of the Year in Monroe County. As a football coach, he has won a Conference, Regional, and State Title.
He earned his Administrative Educational Leadership Certificate through Eastern Michigan University's Specialist Degree Program. In doing this, he was able to work as an administrative intern at the Roberto Clemente Developmental Center and the A2 Technical High School Campus. He then continued on with administrative work for the Ann Arbor Public Schools at the Pathways To Success High School Campus as a lead teacher, building Principal (when called upon), Discipline/Detention Chair and PBIS Co-Chair. While in Ann Arbor, he was also on the Equity Team at Pattengill Elementary and spent time as a member of the Washtenaw County Task Force for at-risk youth.
Cory was the Assistant Principal at Ypsilanti Community High School prior taking over as the Principal. His wife Barb Gildersleeve is a teacher consultant for the Ann Arbor Public Schools. In their free time, they enjoy traveling together and spending time with their four children Kevin, Kennedy, CJ and Ty.
Lawrence Z. Reeves, Athletic Director/Assistant Principal
Lawrence Reeves was born and raised in Detroit Michigan. Mr. Reeves has been in the field of education for over 16 years. He attended U of D Jesuit High School where he played football and graduated from Benedictine High school where he played basketball. Lawrence attended Western Michigan University and graduated with a degree in History/Social Studies and Secondary Education.
After completion of his undergraduate work at Western Michigan. Lawrence went back to Detroit to teach History and Social Studies for 6 years while also serving as Athletic Director and Head Boys Varsity Basketball Coach. Mr. Reeves attained his first Master's degree in 2006 from Wayne State University in Educational Leadership.
Shortly after attaining his Master's degree Lawrence became a Vice Principal/Athletic Director in Redford Michigan for 2 years. Lawrence went on to get his second Master's degree in Sports Management and Administration from Central Michigan University. He went on to be a district athletic Director at Auburn Hills Avondale for 2 years. During his time there the school won 2 state championships under his leadership of the athletic program.
For the last 5 years, Mr. Reeves has lived and been a Principal in the Warren/Youngstown Ohio Metro area. Lawrence is elated to return to Michigan and excited and honored to be a part of the Ypsilanti Community School District and leadership team. Lawrence enjoys spending time with his daughter who is currently in elementary school. He also enjoys weight training, physical fitness, music and personal leisure. He has a passion for increasing student achievement academically and athletically.
Amanda Rawsky, Assistant Principal/Special Education Supervisor
Amanda Rawsky is a proud graduate of Ypsilanti and has been with the district since 2002.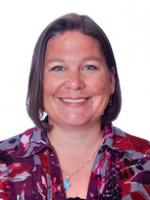 She attended Ardis, West Middle, and Ypsilanti High School and was involved in orchestra, women's chorus, and was a scholar athlete for all 4 years. Her bachelor's degree is held in Elementary and Special Education, along with a master's degree in Educational Leadership from Eastern Michigan University.
She began in YPS as a self-contained special education teacher, then taught 2nd grade and has been a teacher consultant/academic coach at New Tech, as well as the Lead Teacher. Most recently she was the Department Head of Student Support Services at the high school level. Amanda is a CPI trainer, TieNet trainer and works with the Youth Gang Prevention Task Force.
Amanda is married to David and together they have 3 amazing boys, Colby, Casey and Carson that are very involved in sports and they travel often in support of the boys. The family enjoys camping, kayaking and outdoor activities along with their furry companions.

Raymond Alvarado, Assistant Principal
Raymond J. Alvarado has over 15 years of school administrative experience. Raymond attended Wayne State University and has earned a Bachelor's degree of Arts in Business Administration where he has lead teams across the country into implementing and supporting an inventory tracking system for the Lazy Boy Corporation. At Wayne State University, he also earned a Master's degree in Educational Leadership and is currently attending Central Michigan University for his Ed. Specialist degree in Educational Leadership.
Raymond grew up in Southwest Detroit and understands that the way out of poverty is through education. In 2013, he was a finalist for Administrator of the Year through the Michigan Association of Public School Academies. Raymond enjoys swimming, watching movies, and playing golf with his son.