Wolverines Pathways Program Recruitment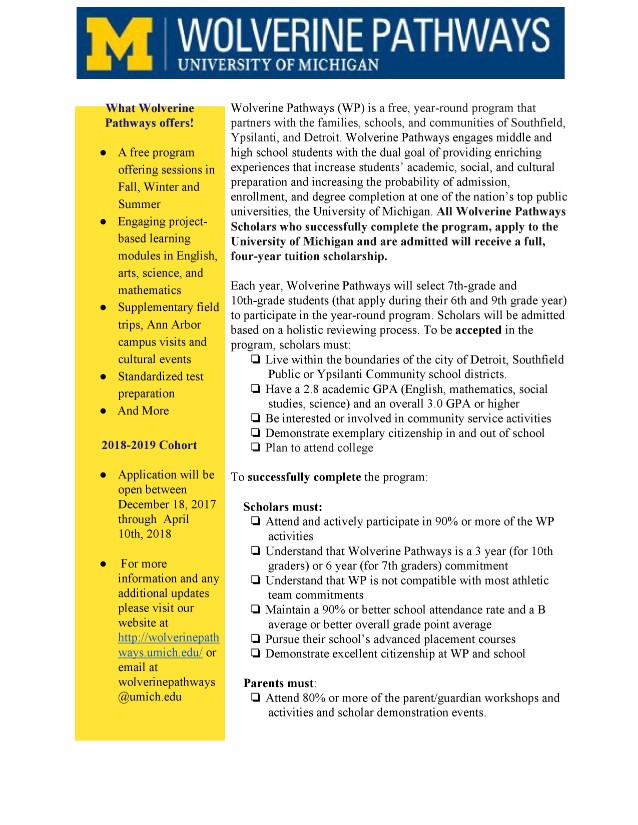 Wolverine Pathways will have slots for up to 60 upcoming 10th-grade students who live in Ypsilanti to join their program this Fall 2018.
More information is attached (in English and Spanish), and the application is available here, but here's some important information they shared with me that students and families need to know up front:
3 letters of recommendation are required (2 from core subjects, 1 from an elective)
The program consists of 8 full-day Saturdays in the Fall, 8 full-day Saturdays in the Winter, and 4 full weeks in the Summer. 90% attendance is mandatory.

Students must have a minimum 2.8 GPA in core subjects and a 3.0 GPA overall.

Students starting in 10th grade should expect a 3-year commitment and students starting in 7th grade should expect a 6-year commitment.

Parents are expected to attend 80% of parent activities.

Students who complete Wolverine Pathways and also earn admission to the University of Michigan will receive a full 4-year tuition scholarship.
Please note that I did let Wolverine Pathways staff know that this time commitment is challenging for many youths, especially for those in your various programs and for students who play sports or part of other extra-curricular activities.
If you know of any young people who may be interested in this opportunity, please share this with them! Applications are due April 10.
If you have any questions or concerns, please contact Connie Powers at connpowers2@gmail.com