Welcome
Career Technical Education CTE
Ypsilanti Community Schools is offering a variety of educational programs designed to give students a jump start on college and careers. The high school counselor will assist students with enrolling in these dynamic programs.
Career and Technical Education Classes -

YCS Dual Enrollment Guidelines YCS Dual Enrollment Application
YCS Career & Technical Education Application & Student Information
Construction Technology @ WCC
Students in this program will be prepared for entry-level jobs in a broad range of careers in the construction industry, where they need a understanding of building systems, the safe us of tools and equipment, materials, and the vocabulary of the field. Students completing the Construction Technology I certificate will be nationally certified through the National Center for Construction Education and Research (NCCER). The curriculum will include hands-on activities in a lab setting, as well as on-the-job training at sites in the local community. In addition to the construction technology curriculum, the program will also include reading, writing, and math basic skills curriculum aligned with the construction industry.
An academic year will consist of 40 weeks of instruction: 15 weeks in each Fall & Winter semester plus a 10 week Spring/Summer semester. Students successfully completing the six semesters of their junior and senior years of high school will earn 30 college credits, which include a college certificate in Construction Technology I. Completion of this certificate will allow the student to enroll in the Advanced Certificate-Construction Technology II and/or the Associate Degree in Construction Technology after graduating from high school. The students will also have the opportunity to earn a 10-hour OSHA card during the program.
Basic Nursing Assistant Skills @ WCC
This state approved 90-hour program prepares students for employment in a variety of health care settings from nursing homes, hospitals or home health care agencies where they will work as a nursing assistant. It will begin in the fall of 2014. After the class is successfully completed, the student will be eligible to take the state clinical and knowledge tests for certification. Certification is required for employment as a nursing assistant in long-term care facilities.
Auto Technology
This is an entry-level course for auto technicians that utilizes the State mandated NATEF curriculum. The areas covered during a two-year cycle are Electrical and Engine Performance (tune-up), Steering, Suspension and Alignment, as well as, Brakes. Students performing at employable levels will be able to pass the State of Michigan certification tests in the areas studied. While the course is designed to be a two-year program, students may enroll for either one or two years. The class is approximately 35% classroom work and 65% lab work.
This is a NATEF endorsed two-year course of study in which students will be trained in seven areas of collision repair. Using the I-CAR LIVE curriculum, students will do structural and non-structural repairs on today's high-tech automobiles. Students will learn the basics of automotive MIG welding, as well as, plastic welding and plastic repair.
Paint course will cover single and two stage refinishing, paint and shop safety, and basic custom painting. Collision repair shop management and estimating are covered, as well as, collision repair related mechanics. Upon completion of the two-year course, students should be able to pass the State of Michigan Collision Repair certification tests. Employment opportunities are available through on-the-job training in partnership with local collision repair shops.
MIAT College of Technology
Airframe & Powerplant Technician Program @ MIAT
Students learn the skills to keep an aircraft flying safely and efficiently. Student technicians will inspect, repair, troubleshoot and test aircraft structures, systems, and components. This program combines theory with hands-on experience in over 40 content areas. This is a two-year program and instruction takes place at the MIAT College of Technology, 2955 S. Haggerty Rd., Canton.
Energy Technician Program @ MIAT
This program was created based on the need of the energy industry for more qualified technicians. The building blocks for basic technical knowledge, terminology, equipment, tools, safety procedures and professionalism needed in the power industry are part of the program. Power generation, power plant operations, wind power, compression technology and process systems are taught. This is a one-year program and is based at the MIAT facility, 2955 S. Haggerty Rd., Canton.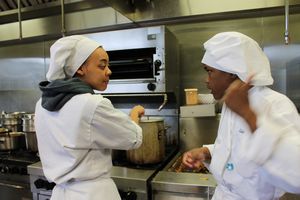 Culinary Arts One/Two is designed for the young person of today and the adult food service worker of tomorrow. Students will practice the basic fundamental skills of many modern cooking techniques used in today's commercial kitchens. The opening and operating of the Race Trac Café is the "hands on" experience of the restaurant industry. The joy of creativity will be developed through the learning experiences offered, and will help students to develop skills needed for future learning, living, and employment opportunities.
In basic food preparations, special emphasis will be given to the study of ingredients, nutrition, cooking methods, and procedures. Basic cooking methods that will be practiced in class include, but not limited to: sautéing, broiling, pan-frying, roasting, baking, braising and deep-fat frying. Raw food preparations and preservation methods will be explored – knife skills, as well as, the use and care of power equipment are also part of the curriculum. Students will learn the fundamentals of safety and sanitation that are so important in the food service industry. Finally, customer service training completes the areas of study.
Important Information:

Career and Technical Education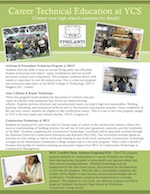 ---
La Petite Boulangerie
"The Little Bakery"
Link to website
Link to Facebook - RCTC Culinary Arts and Bakery Science
Hello and welcome to RCTC"s La Petite Boulangerie
"The Little Bakery" in Ypsilanti MI !!! As a teaching kitchen we pride ourselves on providing outstanding quality, home made products and the real world experiences to our students. Please feel free to contact us at any time!!