HIGH SCHOOL RESOURCES & News
This page will contain information pertinent to all High School SLCs.
Ypsilanti-based program works to improve Latinx community's quality of life by supporting its youth
Diana Bernal-Canseco knows how good it felt to discover a community of other Spanish speakers through a Latinx youth group she attended during her junior and senior years at Ypsilanti Community High School (YCHS). So when she heard there was an opening for a job helping other Latinx students through a program called Buenos Vecinos (Spanish for Good Neighbors), she was excited to apply for it.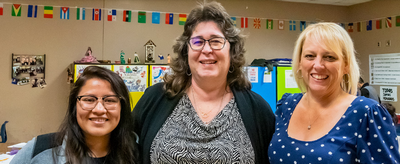 Under this heading you will find information about the following topics: - Click on + sign to open.
Under this heading you will find information about the following topics:
Guidance & Counseling
Band
Camps & Student Opportunities
Dual Enrollment at WCC Information
First Robotics
Ypsilanti STEMM Middle College Graduation Requirements
MAT²® Opportunity for Graduates
MIAT Dual Enrollment Program
RAHS
Seven Correlates of Effectiveness
Water is cool at school!
YCHS Calendar
YCHS Freshman Academy
YCHS NSBE, Jr. Chapter
YCHS STEMM and YCHS Registration Information
It has come to my attention that there is some confusion over our STEMM student schedules. The confusion is related to students "not having elective classes". This is just not true as our STEMM student schedules are still being completed. Please know that we will do everything that we can to get the students their desired elective classes, while still staying on track with the STEMM Middle College graduation requirements. Your Administrative Staff and High School Counselors are working diligently to accomplish this.

There is a dual enrollment meeting for our students tomorrow evening, August 20, at 6 pm in the YCHS auditorium for our Washtenaw Community College Students. The STEMM student schedules for grades 10-12 will be available to access online on August 29 or the students can come to the YCHS Counseling Center and pick their schedule up between 1-4 pm. The STEMM orientation for our new 9th graders will be on August 30. Breakfast will start at 9 am in the YCHS cafeteria. We will have schedules for our STEMM 9th graders at the orientation.

I sent a letter home to all of our YCHS stakeholders last week that contained this information. I look forward to seeing you soon and am excited for a great 2019-2020 school year.
Go Grizzlies
Cory Gildersleeve
YCHS Principal
#StrongerTogether
September at YCHS - 2018
September 2018
Calendar

‹

August

2019

›

S
M
T
W
T
F
S
1

Aug 1

Robotics national competition

Set up all day Thursday and Friday competition 8am to 8pm Saturday 8/3 during these days the gym will not be able to have any usage due to the set up.

3:00 PM to 5:00 PM

Boys Soccer Conditioning - Indoor

Location:

YCHS Weight Room

4:00 PM to 6:00 PM

Football Strength Training

Location:

YCHS Weight Room

9:00 PM to 10:00 PM

Volleyball Strength Training

Location:

YCHS Weight Room

2

Aug 2

Robotics national competition

Set up all day Thursday and Friday competition 8am to 8pm Saturday 8/3 during these days the gym will not be able to have any usage due to the set up.

3:00 PM to 5:00 PM

Boys Soccer Conditioning - Outdoor

Location:

YCHS Soccer Field

3

Aug 3

Robotics national competition

Set up all day Thursday and Friday competition 8am to 8pm Saturday 8/3 during these days the gym will not be able to have any usage due to the set up.

9:00 AM to 1:00 PM

4

Aug 4

7:30 AM to 12:00 PM

ANTIOCH Church Services

Location:

Auditorium and 500 hallway area

This event has a video call. Join: https://meet.google.com/rna-epei-euq +1 615-813-0248 PIN: 545270608#

5

Aug 5

8:00 AM to 5:00 PM

coach Brooks This event has a video call. Join: https://meet.google.com/zza-fzdm-ncf +1 413-497-2549 PIN: 673907886#

9:00 AM to 11:00 AM

All star drivers ed

Location:

classroom room 124

3:30 PM to 5:30 PM

Cheer Conditioning/Practice

Location:

YCHS Upper Gym/Cheer Room

4:00 PM to 7:00 PM

6

Aug 6

8:00 AM to 5:00 PM

coach Brooks This event has a video call. Join: https://meet.google.com/zza-fzdm-ncf +1 413-497-2549 PIN: 673907886#

9:00 AM to 11:00 AM

All star drivers ed

Location:

classroom room 124

8:45 AM to 10:00 AM

Volleyball Strength Training

Location:

YCHS Weight Room

4:00 PM to 7:00 PM

7

Aug 7

8:00 AM to 5:00 PM

coach Brooks This event has a video call. Join: https://meet.google.com/zza-fzdm-ncf +1 413-497-2549 PIN: 673907886#

9:00 AM to 11:00 AM

All star drivers ed

Location:

classroom room 124

3:30 PM to 5:30 PM

Cheer Conditioning/Practice

Location:

YCHS Upper Gym/Cheer Room

4:00 PM to 7:00 PM

8

Aug 8

9:00 AM to 11:00 AM

All star drivers ed

Location:

classroom room 124

3:30 PM to 5:30 PM

Cheer Conditioning/Practice

Location:

YCHS Upper Gym/Cheer Room

4:00 PM to 7:00 PM

9
10

Aug 10

9:00 AM to 1:00 PM

11

Aug 11

7:30 AM to 12:00 PM

ANTIOCH Church Services

Location:

Auditorium and 500 hallway area

This event has a video call. Join: https://meet.google.com/rna-epei-euq +1 615-813-0248 PIN: 545270608#

12

Aug 12

9:00 AM to 11:00 AM

9:00 AM to 11:30 AM

Washtenaw county summer camps- boys basketball

boys basketball This event has a video call. Join: https://meet.google.com/oqj-yebq-rrh +1 413-357-2291 PIN: 474593112#

11:00 AM to 1:00 PM

3:30 PM to 5:30 PM

Cheer Conditioning/Practice

Location:

YCHS Upper Gym/Cheer Room

3:45 PM to 7:45 PM

13

Aug 13

9:00 AM to 11:00 AM

9:00 AM to 11:30 AM

Washtenaw county summer camps- boys basketball

boys basketball This event has a video call. Join: https://meet.google.com/oqj-yebq-rrh +1 413-357-2291 PIN: 474593112#

11:00 AM to 1:00 PM

8:30 AM to 3:30 PM

In service

Location:

room 102 at the high school

This event has a video call. Join: https://meet.google.com/vhy-uzug-nzg +1 724-201-6074 PIN: 813785644#

9:00 AM to 1:00 PM

Jessica Krueger

Location:

upstairs computer ;ab

PD math department This event has a video call. Join: https://meet.google.com/mps-qnvo-dqv +1 614-845-2757 PIN: 344804245#

3:45 PM to 7:45 PM

14

Aug 14

9:00 AM to 11:00 AM

9:00 AM to 11:30 AM

Washtenaw county summer camps- boys basketball

boys basketball This event has a video call. Join: https://meet.google.com/oqj-yebq-rrh +1 413-357-2291 PIN: 474593112#

8:00 AM to 4:00 PM

In service

Location:

room 102, 103 and 104

This event has a video call. Join: https://meet.google.com/mhf-bsrw-qof +1 513-666-1121 PIN: 564634915#

3:30 PM to 5:30 PM

Cheer Conditioning/Practice

Location:

YCHS Upper Gym/Cheer Room

3:45 PM to 7:45 PM

15

Aug 15

9:00 AM to 11:00 AM

9:00 AM to 11:30 AM

Washtenaw county summer camps- boys basketball

boys basketball This event has a video call. Join: https://meet.google.com/oqj-yebq-rrh +1 413-357-2291 PIN: 474593112#

8:00 AM to 4:00 PM

In service

Location:

rooms 102, 103 and 104

This event has a video call. Join: https://meet.google.com/ouq-mahp-cgq +1 561-282-5098 PIN: 175374813#

11:30 AM to 1:00 PM

Washtenaw county dedication

This event has a video call. Join: https://meet.google.com/omx-bkcd-quv +1 417-719-7740 PIN: 826731862#

3:30 PM to 5:30 PM

Cheer Conditioning/Practice

Location:

YCHS Upper Gym/Cheer Room

3:45 PM to 7:45 PM

16

Aug 16

3:45 PM to 7:45 PM

17

Aug 17

8:00 AM to 5:00 PM

coach Brooks This event has a video call. Join: https://meet.google.com/iai-vnur-ksz +1 813-393-1595 PIN: 624988764#

9:00 AM to 1:00 PM

10:00 AM to 2:00 PM

Football Scrimmage/Cookout

18

Aug 18

7:30 AM to 12:00 PM

ANTIOCH Church Services

Location:

Auditorium and 500 hallway area

This event has a video call. Join: https://meet.google.com/rna-epei-euq +1 615-813-0248 PIN: 545270608#

19

Aug 19

9:00 AM to 11:00 AM

11:00 AM to 1:00 PM

All Star drivers ed

Location:

classroom room 124

3:30 PM to 5:30 PM

Cheer Conditioning/Practice

Location:

YCHS Upper Gym/Cheer Room

3:45 PM to 5:45 PM

5:45 PM to 7:45 PM

Varsity Volleyball Practice

20

Aug 20

9:00 AM to 11:00 AM

Carlos Lopez PD

Location:

HS rooms 100, 102, 103 and 104

3:45 PM to 5:45 PM

5:45 PM to 7:45 PM

Varsity Volleyball Practice

21

Aug 21

9:00 AM to 11:00 AM

Carlos Lopez PD

Location:

HS rooms 100, 102, 103 and 104

3:30 PM to 5:30 PM

Cheer Conditioning/Practice

Location:

YCHS Upper Gym/Cheer Room

3:45 PM to 5:45 PM

5:45 PM to 7:45 PM

Varsity Volleyball Practice

22

Aug 22

9:00 AM to 11:00 AM

Carlos Lopez PD

Location:

HS rooms 100, 102, 103 and 104

3:30 PM to 5:30 PM

Cheer Conditioning/Practice

Location:

YCHS Upper Gym/Cheer Room

3:45 PM to 5:45 PM

5:00 PM to 7:00 PM

Girls Basketball Open Gym

5:45 PM to 7:45 PM

Varsity Volleyball Practice

23

Aug 23

3:45 PM to 5:45 PM

5:45 PM to 7:45 PM

Varsity Volleyball Practice

24

Aug 24

9:00 AM to 1:00 PM

25

Aug 25

7:30 AM to 12:00 PM

ANTIOCH Church Services

Location:

Auditorium and 500 hallway area

This event has a video call. Join: https://meet.google.com/rna-epei-euq +1 615-813-0248 PIN: 545270608#

26

Aug 26

3:30 PM to 5:30 PM

Cheer Conditioning/Practice

Location:

YCHS Upper Gym/Cheer Room

4:00 PM to 5:30 PM

Girls Swim and Dive Practice

5:00 PM to 7:00 PM

Girls Basketball Open Gym

27

Aug 27

3:45 PM to 5:45 PM

4:00 PM to 5:30 PM

Girls Swim and Dive Practice

5:00 PM to 7:00 PM

Girls Basketball Open Gym

5:45 PM to 7:45 PM

Varsity Volleyball Practice

28

Aug 28

8:00 AM to 4:00 PM

In service

Location:

room 100, media center and cafeteria

This event has a video call. Join: https://meet.google.com/wzp-jhdi-fdo +1 912-712-4202 PIN: 284287228#

8:00 AM to 4:00 PM

Washtenaw county Dive team

This event has a video call. Join: https://meet.google.com/thi-ibfd-pdy +1 573-741-0203 PIN: 147708128#

3:30 PM to 5:30 PM

Cheer Conditioning/Practice

Location:

YCHS Upper Gym/Cheer Room

3:45 PM to 5:45 PM

4:00 PM to 5:30 PM

Girls Swim and Dive Practice

5:00 PM to 7:00 PM

Girls Basketball Open Gym

5:45 PM to 7:45 PM

Varsity Volleyball Practice

29

Aug 29

3:30 PM to 5:30 PM

Cheer Conditioning/Practice

Location:

YCHS Upper Gym/Cheer Room

4:00 PM to 5:30 PM

Girls Swim and Dive Practice

5:00 PM to 7:00 PM

Girls Basketball Open Gym

30

Aug 30

3:45 PM to 5:45 PM

4:00 PM to 5:30 PM

Girls Swim and Dive Practice

5:45 PM to 7:45 PM

Varsity Volleyball Practice

31

Aug 31

9:00 AM to 1:00 PM