Estabrook - 826 Michigan dinner and Author, Christopher Paul Curtis' visit

826 Michigan work with Mrs. Gray's class on a writing project that turned into them writing a book that is being published. We worked with 826 Michigan all year on this project. When 826, was having a fundraiser dinner on May 24, and two of my students, TaNiyah and Isaiah were asked to read a section of the book that they wrote, how it related to their own lives, and what their experience was like working with the volunteers from 826. I was also invited to this wonderful event. The keynote writer-speaker for this event was Christopher Paul Curtis, the famous author of many books, some of which include Bud, Not Buddy, and The Watson's go to Birmingham. During his stay, he asked to come to the classroom of the children who were speaking that night, and on May 25, he visited my classroom.

During his visit, he spoke about being a writer, what it's like having to edit his own writing, why he chose to write about what he did, and then spent about 45 minutes doing a question and answer session, in which my students asked many eloquent questions about becoming a writer, what it means to be a writer, and how the process goes. They also asked about the characters in the books and how he created them and if any of them came from real life people or experiences. Almost all of them did. Either from his family or friends. We then allowed the students to get autographs and take a picture with me. He also saw the state of my class set of The Watson's Go To Birmingham and is sending me a new class set. They have been loved for many years.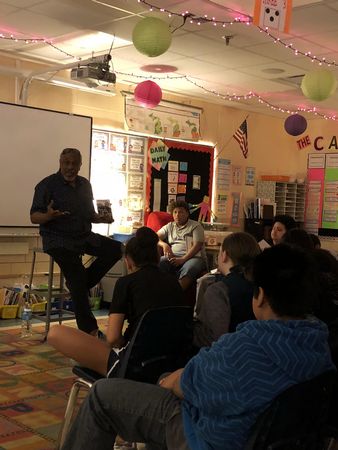 December 17, 2019
Estabrook Walking Field Trip to EMU
Last Wednesday, Estabrook took a walking field trip to EMU to see the play Still Life with Iris.  The kids (and staff) were all bundled up and had a great time both on the walk and at the play!
The play was a special performance that was sensory friendly for special needs students.  All of the students enjoyed it,and our students represented Estabrook excellently!  Thank you to Mr. Rindo for arranging such a fun and engaging experience!
October 26, 2019
Hispanic Heritage Night
Estabrook recently held its Hispanic Heritage Night!  We celebrated our Hispanic families and staff, ate delicious food, and danced the night away!