E3 Awards and Teacher of the Year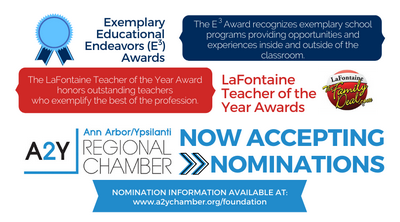 2020 A2Y Chamber Letter | 2020 E3 Awards Nomination | 2020 Teacher of the Year Nomination
The A2Y Regional Chamber is seeking nominations for exemplary educational endeavors taking place in the area public schools. One E³ Award trophy and a cash award (provided by a local community partner and the Foundation of the Ann Arbor/Ypsilanti Regional Chamber) will be given in each of these school districts for an exemplary program:
Ann Arbor Public Schools

Lincoln Consolidated Schools

Ypsilanti Community Schools

Out County District (One shared award for Chelsea School District, Dexter Community Schools, Manchester Community Schools, Milan Area Schools, Saline Area Schools, Whitmore Lake Public Schools, and Washtenaw Intermediate School District)
Award recipients will also be recognized at the A2Y Chamber's Annual Awards Breakfast at Weber's on April 15, 2020.
E³ Program Awardees in Washtenaw County will meet the following criteria:

Programs must have been in operation between May 2018 and February 2019.

Be exemplary: Something that serves as a model, deserving imitation.
Be an endeavor: An activity directed toward a goal.

Provides enhanced educational opportunities and experiences for students both inside and outside the classroom.

Increases parental and/or community involvement in the educational process.

Prepares students to enter the workforce and develop lifelong learning skills.

Develops innovative initiatives, business partnerships, or career pathways.

Continues to improve the quality of area public school districts.
Nomination Procedure:
Colleagues, administrators, board members, parents, students, education-related organizations, such as PTOs, and other community members may submit nominations for programs who meet all the criteria listed above.
Nominations must include a written recommendation describing:
The activity, effort, or program that is being nominated, including the length of time it has been in place and the number of students impacted.

Detail of how the group activity, effort, or program addresses each of the criteria above established for the E³ Award.

A photo that represents the program is required.
Optional:
Copies of publicity received, additional letters of recommendation, pictures or videos of events conducted, etc., are not necessary, but will help the selection committee.
The deadline for accepting nominations is 4:30 pm, Thursday, February 20, 2020.