NAAPID
National African American Parent Involvement Day



WHAT IS NAAPID?
NAAPID is a national call to action to get African American parents more involved in their children's education. It is expected that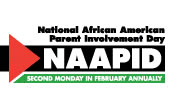 this national observation will open up dialogue among teachers, parents, and students, which will lead to a more conducive learning environment for African -American students from kindergarten through college.
NAAPID Student Poster Contest -
NAAPID Theme: Resilience is Timeless
Resilience is made up of five pillars: self-awareness, mindfulness, self-care, positive relationships & purpose. by strengthening these pillars, we in turn, become more resilient.
Click on image to download PDF
Entry deadline:
February 19, 2021 at 4:00 pm