F.A.C.E. Conference Sign-ups
F.A.C.E. Conference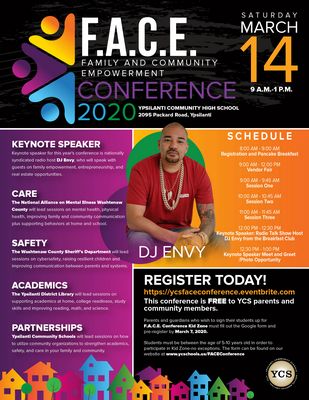 Registration for the Family and Community Empowerment Conference is now open! This is a FREE conference for YCS parents and the community! We have a full line-up of events and conference sessions for you on the topics of care, safety, academics, and partnerships!

Our keynote speaker is DJ Envy from the Breakfast Club! We are excited to have him as our special guest speaker!!
You must register for the conference at https://ycsfaceconference.eventbrite.com
If you need help with registering, please contact your building secretary for assistance!

The Kid Zone registration link is available below! Space is limited!
Click on image to enlarge
Kid Zone Sign-Up

F.A.C.E. Conference Kid Zone Sign-Up
Space is limited!
DJ Envy Private Session Parent Sign-up

F.A.C.E. Conference DJ Envy Private Session Parent Sign-up
Referral Only by Building Principals/YCS Staff