Hall of Fame
---

2018 Hall of Fame Inductees
Hall of Fame Inductees will be honored at the YCHS Friday's football game Ypsilanti vs Pinckney at Shadford Field with 7 pm kickoff.
2018 Induction Ceremony September 14, 2018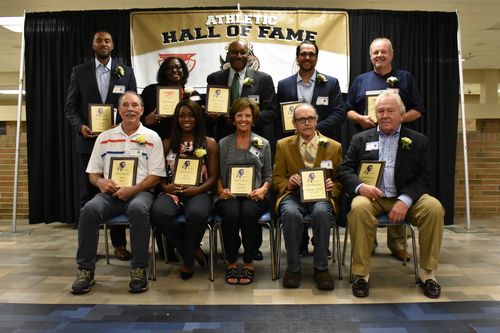 Dear Inductees, Family, and Friends,
It is with great pleasure that we gather this evening to recognize a select group of individuals who will join the Ypsilanti Community Schools Athletic Hall of Fame. This will be our fourteenth class of inductees, and we are excited that you are here to celebrate this prestigious honor.
It is our goal to honor individuals who have brought pride to Ypsilanti High School and/or Willow Run High School not only on the athletic fields but also those who were athletes who have gone on to make a positive contribution to their community.
The Athletic Hall of Fame has become an anticipated annual event. The organizers of the ceremony have worked diligently to coordinate an evening that will be memorable and will bring recognition to those who have proudly represented both schools.
The goal of the committee is to sustain and expand the program. In order to host the event, the committee is dependent on the generous donations of our alumni and friends. Please consider making a tax-deductible donation and make checks payable to Ypsilanti Community Schools and in the memo line indicate Hall of Fame.
Thank you again for joining us in honoring an exceptional group of people. It is our pleasure to present the YCS Athletic Hall of Fame Class of 2018. We applaud each of you.
Sincerely,
The Hall of Fame Committee
Tino Lambros, Co-Chair
Ambrose Wilbanks, Co-Chair
Melvin Anglin
Brian Banks
Jill Deuel
Donald Fields
Jerry Hayes Diana Jackson
Ray Mellberg
Korinth Patterson
Scott Robinson
Dr. Darryl Warner
Special Consultants
Lawrence Reeves, Athletic Director
2018 Inductees
Ypsilanti Community High School Hall of Fame Inductees.
Bruce Allison 1962
Jason Bird 2001
Farrolyn Bond-Caver 1978
Kyra Caldwell 2008
Tom Hall 1963
Diana Jackson 30 Years
Howard Neely, Jr 1950
Jacob Rhodes 2007
William "Billy" Sorrell 1959
Ronald Tarrant 1971-1990