Literacy - Library/Media Centers
---
Our Literacy Support Team
"Our literacy team" works in the schools' media center, we are media specialists, and are here to support teachers, also. We work alongside teachers to assist with students that need extra support.

We are passionate about literacy and believe that assisting children to become lifelong, readers and writers is an essential skill for becoming self-actualized adults. Although we know many things about literacy, we also know we can learn from staff and students.
Our hope is to provide an opportunity for us to share and build on our expertise. We look forward to working and learning alongside you this year.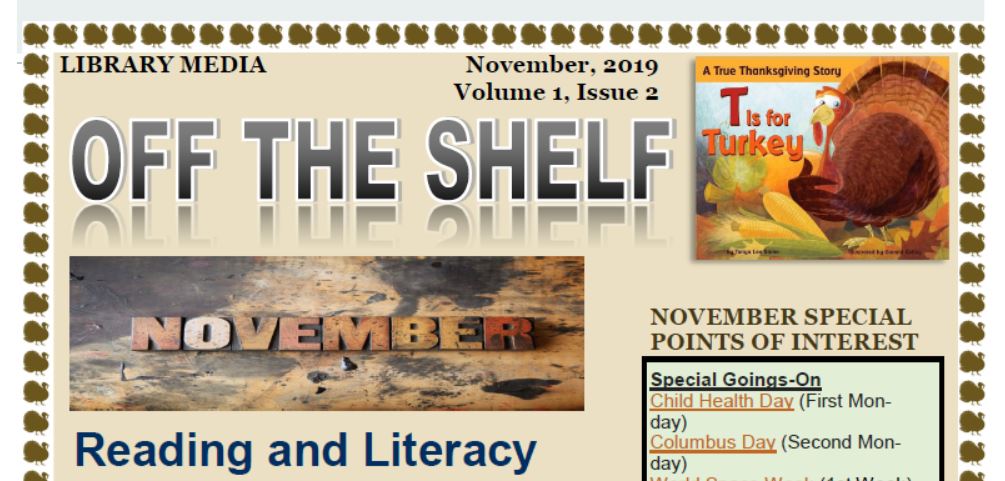 2019 - 2020 School Year "Off the Shelf" Newsletters
December 2019 - Newsletter
January 2020 - Newsletter
February 2020 - Newsletter
March 2020 - Newsletter
April 2020 - Newsletter
May 2020 - Newsletter
June 2020 - Newsletter
2018 - 2019 School Year "Off the Shelf" Newsletters
2016 - 2017 School Year "Off the Shelf" Newsletters
2017 - 2018 School Year "Off the Shelf" Newsletters