Superintendent's Recognition Award
---
Awards 2017 - 2018
Ypsilanti Community Schools will be the first, high performing urban school district in the United States based on student achievement, teacher expectation, parental involvement, and community/business engagement, which is my own professional mission.
The recipients of the September and October Superintendent's Recognition Award follows:
Mr. Daryhl Covington (community/business engagement), Covington Insurance Agency
Ms. Shoshana DeMaria (community/business engagement), NAACP, Willow Run-Ypsilanti Chapter, President
Ms. Debbie Swanson (teacher expectations), 5th Grade Teacher, Holmes Elementary School
Ms. Tasha Porht (parent involvement), Parent Volunteer, Ypsilanti International Elementary School
Ms. Amy Downer (student achievement), Title 1 Teacher, Perry Early Learning Center
Ms. Danielle Edwards (teacher expectations), Mathematics Teacher, YCHS, STEMM SLC
Ms. Cynthia Fassbender (teacher expectations), English Teacher, YCHS, AC Tech
Ms. Jessica Dodson (student achievement), English Teacher, YCMS
Congratulations to all our students who are the recipients of the great service of our businesses, civic organizations, teachers, and teacher-leaders. Be certain to congratulate our September and October best for their recognized service.
Photos of awards presentation:
Superintendent's Recognition Award
This award is about recognizing the greatness within our community, the countless sacrifices made on behalf of our students. Each month, a team of us assembles to nominate, discuss, and honor those we want to receive this honor. We take great lengths in our considerations and frankly, it is one of the best days throughout the month. This recognition is not meant to ever create competition or dissension.
Congratulations to the following YCS Family:
January Decisions

Bertha Provost and Dave Gallesero - Estabrook - Community Engagement
As a team, you tirelessly take on the responsibility of organizing activities, decorating for events, and facilitating after school functions that make the Estabrook experience memorable for staff and students. You address the students by name and lend a hand in classrooms when more adult presence is needed. The respect the children have for you can be heard when they stop "Miss Bertha" or "Mr. Dave" in the halls. You are never too busy for a child. As volunteers, you go beyond "putting in time". The two of you put in "heart" with everything you do.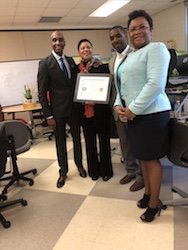 Gilda Myles - YCMS - Teacher Expectations
You manage to support students when they are striving to reach their behavioral and academic goals. You can be found de-escalating behavior in a hallway or elevating ability in a classroom. Your efforts to make the environment seasonally attractive and inviting do not go unnoticed. Many more students would face frustration and suspension if not for your stern but nurturing interventions. You exemplify supporting the wings of those who are still learning they deserve to fly.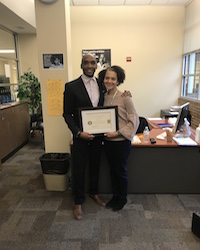 Valencia Brooks - YCHS - Grizzly Center - Student Achievement
Your calming spirit provides a restorative option to both staff and students who are having a challenging day. Behavior modification means our students are able to stay in school to attend to their coursework after a session in your office. Having you in place means there is a safe and neutral space for a child to unburden, when life gets too heavy and academics come in second to survival.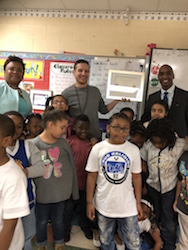 Andrew Pietryga - Estabrook - Teacher Expectations
As a new teacher, you stand out as an educational leader. You demonstrate the true heart of a teacher! You lead your students in accepting all members of the class as valuable. Academics are not compromised as you adjust to allow for all student voices to be heard. Your ability to take in advice and guidance from others and sort through, prioritize, and put into practice is amazing. Thank you for your commitment to our students, families, and the district as a whole.
February Decisions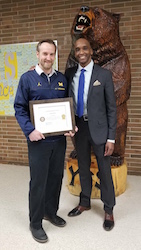 Richard Mero - YCHS - AC Tech - Student Achievement
You strive to make language arts "alive". You challenge your students to surpass their last best and create a safe environment in which they know they can try and be supported by teacher and classmates. Your presence shows young men that a love of literature and the ability to use verbal or written language has a place in the lives of the men they are becoming.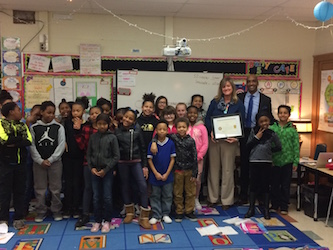 Kim Barrett - Erickson - Teacher Expectations
The bar you set for yourself and your students are exceptional. The planning that you do with your students in mind is thoughtful and detailed. Your classroom community is collaborative and engaging. It is clear that the heart of your classroom is creating a safe place for your students to learn. Others cannot help but take notice of your continual pursuit of meeting the needs of each and every student in your room. Taking the lead in The Leadership in Me program demonstrates you not only support your students but your fellow colleagues as well. You are proof that the best leaders lead by example and need not make a lot of noise to be respected.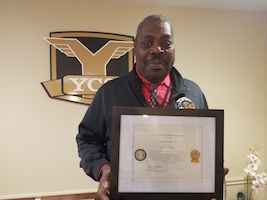 Isiah Daniel, Jr. - Estabrook, Ford, Holmes and Y.I.E.S. - Community Engagement
Isiah Daniel is the school district community liaison/truancy officer at four schools. Isiah is a caring and nurturing role model for our students and staff. He builds positive relationships with both families and individual students. He assists staff with challenging student behavior in a firm yet caring manner. For several years he has served as the 8th-grade girls' basketball coach instilling within them confidence and the ability to be a team player. He has been an asset for many years in the Ypsilanti community and a pleasure with whom to work.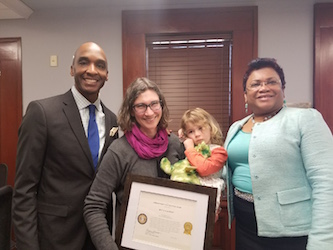 Maria Goodrich - Community Member - Community Engagement
In your capacity as a parent and active community member, you have made a commitment to the families and prospective families of YCS by attending nearly all Open Houses, informational sessions, Board meetings, and WEOC meetings and reporting out on Facebook Live and other venues to provide information.
You demonstrate active community engagement and are an ideal example of what we, educators, desire in our parents. You have made a conscious decision to visit our schools, interact with staff, and ask questions, which serves in the best interests of those residing in our community.
March recipients will be announced next week. Again, congratulations to our remarkable YCS Family members.