WCC Adult Ed Plus Transitions, GED Plus!
---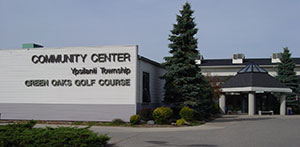 Greetings,
As one of six core programs under Workforce Innovation and Opportunity Act (WIOA), Adult Education plays an integral role in the workforce development system by providing access to educational services for adult learners. Literacy and numeracy are fundamental skills necessary for workforce success, as well as for personal and social well-being. Adult Education increases opportunity in the educational and workforce development of adults as workers, parents, and citizens.
While still playing a critical role in adult attainment of a high school equivalency credential,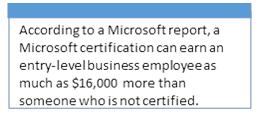 WCC Adult Transitions has exciting new opportunities planned for the Fall 2017 program. In addition to our contextualized GED Pathway program, the recent modifications in (WIOA) opens the door for us to provide options to adults who have a high school credential, but lack the readiness skills to enroll in college, apprenticeship, or training programs. In response, we have designed a contextualized Integrated Education and Training (IET) model that increases the chance of post-secondary success by helping students build academic skills, develop a focused career path, and receive added support every step of the way while learning the skills needed to prepare for the Microsoft Office Specialist Certification (MOS).
Preparing for the MOS provides the basic computer skills needed to succeed as a college student and in the workplace. In a hands-on learning environment, students will work on gaining basic computer skills with real-life applications.
Examples:

Word: writing papers and reports
Power Point: making presentations
Excel: budgeting
If planning to go to college, Microsoft Office skills are essential tools for schoolwork. Certifications also give students a competitive edge in the workplace by providing recognized evidence of skills.
IET classes are instructor-led. With an eight-hour per week commitment, these WCC Main Campus classes will help students master the reading, math, and computer skills necessary for school and work.
****IET programming is also available to students preparing for a GED.
****All applicants must attend a mandatory orientation on Tuesday, August 22, or Thursday, August 24, to determine eligibility. To register for orientation call (734) 677-5006.
The IET day and evening classes will run:
Monday-Wednesday
Sept. 5 –December 13, 2017
Day & Evening Classes available
---
Main Campus and Harriet Street GED/IET Pathway
The Main Campus and Harriet Street GED/IET Pathway program orientation schedule is enclosed. We need your help in connecting students with these opportunities. To register for an Orientation, prospective students should call 734-677-5006 as their first step in the enrollment process. Students will need:
A valid, government issued ID
$30.00 check or money order**
Social Security number
**Please note that there are WCC Foundation Scholarships available for qualifying students.
Fall classes at both the WCC Campus and Harriet Street locations will run:
Tuesday through Thursday - September 19 - December 14, 2017
Day, Afternoon & Evening Classes available
For more information google WCC Adult Transitions or visit our WCC Homepage http://www.wccnet.edu/services/adulttransitions/
---
Supported through our partnership with Washtenaw Intermediate School District (WISD) and Ypsilanti Township, we are also hosting a Registration Open House for the integrated ESL/GED Pathway program at our Ypsilanti Township Community Center location on:
Monday, Sept. 18, Thursday, Sept. 21, Tuesday, Sept 26 & Thursday, Sept. 28 - 10am-2pm & 5p-8p
Ages 18+
All students must have a photo ID
For more information, students may call or text Beth (734) 858-8416.
Fall classes at the Ypsilanti Township location run:
Monday through Thursday
Oct. 2-Dec. 14
Day and Evening Classes available
---
Washtenaw Community College Adult Transitions
(734) 677-5006
Mandatory Orientation Schedule- Fall 2017
PRE-REGISTRATION IS REQUIRED

Help Build Futures - GED and ESL Classes Information - (PDF to Print)
Address:
---
Ypsilanti Township Community Center
2025 E. Clark Rd.
Ypsilanti, MI 48198

WCC ADULT TRANSITIONS IN PARTNERSHIP WITH WISD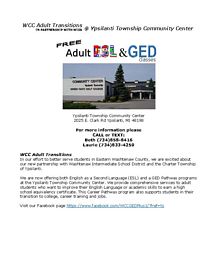 GED Winter Class Schedule
WCC Campus and Harriet Street locations Tuesday through Thursday
January 24, 2017 through April 13, 2017
10:00am to 1:00pm 1:30pm to 4:30pm 6:00pm to 9:00pm

ESL and GED Winter Class Schedule Ypsilanti Township Community Center Monday through Thursday
January 23, 2017 through March 30, 2017
Day and Evening Classes available
**Please note that there are WCC Foundation Scholarships available for qualifying students.