Adult Transition Pathway Spring-Summer Session Orientation
May 18 from 10am-noon in Student Center Building room 322 at WCC's Main Campus. Interested students need to call Mari at (734) 677-5006 to get on the orientation list.
Greetings,
This winter has been a doozy with cold temperatures and snow. Despite all that, we are excited to share news about our Spring Adult Transitions Pathway programs with the hope that we will soon put all that behind us.
Ypsilanti Township Community Center
2025 E. Clark Rd.
Ypsilanti, MI 48198
Through April 23, registration is on-going for the integrated English as a Second Language (ESL) and GED Pathway program.
Day and Evening Classes available. Classes run Monday-Thursday through June 30.
To register or find out more, call or text Julia (734) 219-3781.
The program is free
Student must be age 18+
All students must have a photo ID
WCC Main Campus
4800 E. Huron River Dr.
Ann Arbor, MI 48105
In addition to ramping up academic skills and earning a GED as a first step in preparing for postsecondary education and jobs, students now have the opportunity to earn Microsoft Office Specialist Certification (MOS). Students prepare for the MOS Certification in our hands-on, instructor-led courses. They also develop a focused career path and increase their understanding of financial literacy. Wrap-around support services are provided every step of the way.
With only a $30 investment and a 10-hour per week commitment, these WCC Main Campus classes will help students master the reading, math, and computer skills necessary for securing family-sustaining employment that strengthens the state and local economies.
Main Campus classes run:
Monday-Thursday - May 14 - August 2
Day & Evening Classes available
**** To determine eligibility, all applicants must attend a mandatory orientation. Orientations start offered starting the last week of April. To register for Orientation call Mari at (734) 677-5006.
Harriet Street Pathway
304 Harriet St.
Ypsilanti, MI 48197
In partnership with WCC Workforce Development, Michigan Works!, and Washtenaw Literacy, we offer a full range of integrated class options for students at this location.
In addition to the experiences, resources, tools, and support offered on our Main Campus, students have the option of individualized tutoring offered in collaboration with Washtenaw Literacy. To register for an Orientation at this location, students should call Mari at (734) 677-5006 as their first step in the enrollment process. Students will need:
A valid, government-issued ID
$30.00 check or money order**
Social Security number
**Please note WCC Foundation Scholarships are available for qualifying students for fee based programs
For more information google WCC Adult Transitions or visit our WCC Homepage http://www.wccnet.edu/services/adulttransitions/

Help Build Futures - GED and ESL Classes Information - (PDF to Print)
Address:
---
Ypsilanti Township Community Center
2025 E. Clark Rd.
Ypsilanti, MI 48198

Mandatory Orientation Schedule- Spring/Summer 2018
PRE-REGISTRATION IS REQUIRED
Link to schedule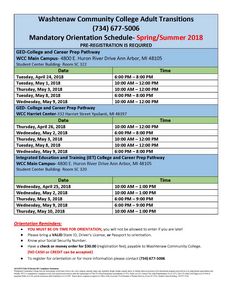 WCC ADULT TRANSITIONS IN PARTNERSHIP WITH WISD