Meet the Principal
---
Connie Thompson, Principal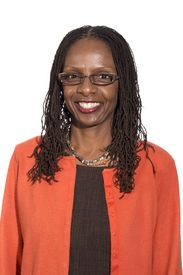 Connie Thompson is the principal of Perry Early Learning Center. She holds a Ph.D. in Educational Studies from the University of Michigan, an M.A. in Education and a B.A. in Communicative Disorders from New Mexico State University. Connie has worked in education for approximately 25 years. Her background includes speech, language, and literacy development. Prior to becoming an administrator, she was a speech language pathologist in K-12 public schools, pediatric, clinic, and university settings in Virginia, Texas, Michigan, and Washington State; a special education consultant in a public school district in Washington State and; an assistant research scientist at the University of Michigan. She coauthored several publications while at the University of Michigan. Her research focused on the language and literacy development of African American students and the links between oral vocabulary abilities and reading skills for African American students. During the 2015-2016 school year, she conducted an action research project that examined the impact of math instruction on preschoolers' math vocabulary skills.

Prior to becoming the principal of Perry ELC in July 2014, Connie served as the principal of Adams S.T.E.M. Academy. During her tenure at Adams, Connie established several programs and partnerships with community agencies and universities such as the Ann Arbor YMCA, the Society of Women Engineers (U of M) and the National Society of Black Engineers (U of M) to enrich the educational experiences of her students. Under her leadership, Adams also made Adequate Yearly Progress (AYP) every year.

Connie demonstrates a rare mixture of resolve, compassion, and commitment to accountability. She possesses strong instructional leadership skills; expertise in speech, language, literacy, school improvement, and data analysis; and is passionate about early childhood education. Connie sets high expectations for herself, staff, and students. She believes that all children are entitled to receive equitable educational experiences in order to maximize their life options. Connie is committed to providing rich and meaningful learning experiences to help set the stage for the district's youngest learners to develop into proficient and creative readers, writers, mathematicians, scientists, and political leaders. Connie's only son Gordon attends Eastern Michigan University. Connie is an avid runner and cyclist. She loves children and teaches children's bible study on Sundays. Connie enjoys watching movies with her son, traveling, and exploring new areas. She is thankful to be a part of the Ypsilanti Community Schools' team.