YNT PARTNERING WITH WASHTENAW COMMUNITY COLLEGE
---


Dual enrollment allows eligible students to take any WCC class for which they meet the requirements. Most dual enrollees use the opportunity to get some of their general education classes out of the way. Even if they plan to attend a four-year university, these students like the small class sizes, personal attention. By taking just one WCCclass each September and January that you're in high school, you'll earn 18 credits. That's more than a full semester's worth of credits, giving you a great head start on college.
Beginning the Process:
In the spring of an YNT Sophomore's 10th grade year, our students will travel to Washtenaw Community College campus to find out about their dual enrollment opportunities. This includes going to the testing center to take the COMPASS placement test or WCC staff coming to YNT to administer the first test. The Computer-Adaptive Placement Assessment and Support System or (COMPASS) is a comprehensive assessment, advising and retention tool. The American College Testing program (ACT) developed COMPASS to help college institutions increase their ability to gauge the likelihood that entering students would achieve educational success and retention through proper initial class placement.
All YNT students who pass the WCC COMPASS test with acceptable scores in Writing and Reading will be enrolled in up to two courses earning college credit. This can start as early as the fall semester of their Junior year.
---
ENROLLMENT FOR 2017
Students who are currently enrolled will review the classes offered by WCC and fill out a Course Selection Sheet with first and second choices of classes.To ensure that currently enrolled students receive their choices of courses, it is important to register on time!
---
PREPARING FOR THE COMPASS TEST
The COMPASS test is an untimed test based on the ACT, and as such, challenging in its level of difficulty. This test requires that students prepare in advance. Preparation includes study of mathematics, practicing writing, building stamina for reading and interpreting technical and informational text.
---
READY TO BEGIN DUAL ENROLLMENT
After students (Juniors & Seniors) have taken and passed the COMPASS test, they will select their courses for the Winter semester.
FORMS: The Ypsilanti New Tech administrator or counselor will fill out WCC Consent forms and submit them for each eligible 11th/12th-grade student who will enroll for the Winter semester. Parents/Guardians must also print, complete the Parent Consent form and submit it to either YNT front offices or directly to WCC Admissions located in the Student Center.
Parent Consent forms must be submitted each semester or students won't be able register.
The following steps must be followed to complete the registration process:
After passing the COMPASS, each student receives a letter from WCC that includes a student ID number and information to access his or her WCCNET online account.
Student uses information from the letter to log into the WCCNET online account
Student creates personal online account for MyWCC
Student logs into MyWCC account, reads and completes Checklist
Student completes WCC Online Orientation
Go to Student Center on WCC Campus with parents/guardian to complete the following:
Verify your identity, age, grade & residency (YNT Student ID, final report card, transcript)
Attend in-person orientation at WCC
Log into WCCNET MyAccount and register for two classes *(not to exceed 8 credits)
Transportation
A YCS school bus transports students from New Tech to WCC. Students travel home from WCC on the AATA. AATA is free for all student with a valid WCC student identification number.
For more information regarding dual enrollment, you can contact the YNT school counselor, 734-221-1501.
College Readiness & Career Credentials
Dual Enrollment at Washtenaw Community College Information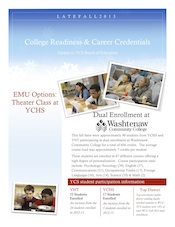 This fall there were approximately 90 students from YCHS and YNT participating in dual enrollment at Washtenaw Community College for a total of 656 credits. The average course load was approximately 7 credits per student.
These students are enrolled in 67 different courses offering a high degree of personalization. Course participation rates include: Psychology/Sociology (39), English (37), Communications (21), Occupational Trades (17), Foreign Languages (16), Arts (14), Science (10) & Math (2).