ACTECH News & Events
---
FIRST ROBOTICS COMPETITION
CHAIRMAN'S AWARD WINNERS
STEMM Robotics team Won top award, the Chairmans Award which automatically qualifies them for the state.
Click on photo to enlarge.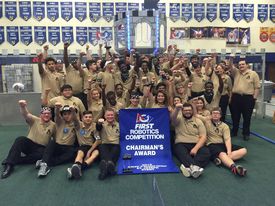 ---
Celebrating Black History Month
---
Ypsilanti Community High School: Why My Life Matters, As Seen Through the Arts
On February 26, 2016, YCHS's ACTech students presented a program celebrating African-American history. Performed in front of an appreciative student audience, the show combined spoken word, song, drama, and dance. Note: Historical photos are from the public domain, with the exception of a Raven Wilkinson photo from danceusa.org, here used under fair-use provisions. Video by Laura Bien.



Ms. Salles 4th and 6th hour academic support classes put together this quilt in celebration of Black History Month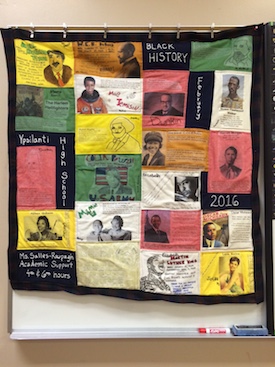 ---
YCS Senior Events
April

Friday, April 29: Senior Project Due for (AC Tech, Stemm & Acce only).
May

Friday, 5/13: Senior Pinning Ceremony - All YCS Seniors, YCHS Media Ctr., Time: TBA
Friday, 5/20: Senior Class Prom/Polo Fields in Ypsilanti, 8 p.m.
Tuesday, 5/24: Final Exams
Wednesday, 5/25: Final Exams
Thursday, 5/26: Final Exams
Friday, 5/27: Check-out
Tuesday, 5/31: Final Grades Due
May/June
Senior Week May 31st – June 3rd
Thursday, June 2: National Honors Society, Auditorium @ 6 p.m.
Senior Awards Night, Auditorium @ 7 p.m.
Tuesday, June 7: Mandatory Graduation Rehearsal, TBA
GRADUATION COMMENCEMENT CEREMONY

EASTERN MICHIGAN CONVOCATION CENTER
TUESDAY, JUNE 7, 2016 AT 6:00 PM
---
Dollars for Scholars Field Trip - November 6th
Twenty-five Ypsilanti Community High School students attended the 2015 Campus Explore at Washtenaw Community College on November 6th.
Click here for the rest of the story and photos.
---
African American Mural Project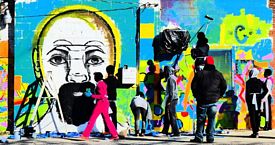 Community meetings started over the summmer 2015 held at Parkridge Community Center (photos). Art teacher Lynne Settles, Local Historian Matt Siegfried and retired Lincoln teacher Jeff Brush.
Click here for the rest of the story and photos.
---
River Raisin Battlefield National Park
Pam Vincent and Todd Oldford took the US Military students and the Psychology students to the River Raisin National Battlefield Park in Monroe, MI.
Click here for the rest of the story and photos.
COMING IN THE 2016-2017 SCHOOL YEAR:
University High School 9th Grade Academy. More information to come.