Ypsilanti Community High School Building News & Events
Study published in July
Case study on Mr. Odumodu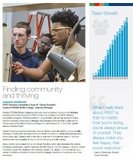 Case study on Mr. Odumodu, one of our STEMM and Robotics Students at YCHS
YCHS Oratorical Contest Winners!
Go Grizzlies!
Ann Arbor Breakfast Optimist Club 2018 Oratorical Contest!
Students prepared speeches on the topic, "What are the roots of my optimism?" These students represented our district with pride delivering speeches that reflected grit, passion, and reflection beyond their years.
Spencer Robinson took first place receiving $500.00 and the chance to compete at the district and international level with a total prize potential of $22,500.00 in scholarships!
Kenneth Curtis II took second place with a prize of $300.00
Michael King also competed and represented YCHS with pride!

Washtenaw County Students Walkout Of School In Support Of Gun Control Laws -
YCHS Students Joined in the Walkout
We are proud of our YCHS students!
Washtenaw County students took part in a school walkout this morning that was held across the country. Students are demanding better gun control laws after 17 people were killed in Florida last month during a school shooting.
Link to news article