Water is cool at our school!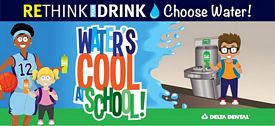 Ypsilanti, Michigan—Ypsilanti Community High School (YCHS) is among 23 schools is the state that will soon have two (2) new water fountains/bottle filling stations thanks to the Delta Dental Foundation (DDF.)
YCHS was among the winners of the DDF's $100,000 Rethink Your Drink: Water's Cool at School program, designed to encourage children to drink more water during the school day.
"The Delta Dental Foundation is pleased to fund this program," said Teri Battaglieri, Delta Dental Foundation director. "Water is critical to maintaining good oral health and when children choose water over sugar-sweetened beverages, they can reduce incidents of tooth decay, the most common chronic childhood illness in the U.S."
As part of their prize package, YCHS also received reusable water bottles for students and staff as well as funding to design and implement a campaign to encourage students to drink more water during the school day.

Thank you to our sponsors for providing these water stations and water bottles to our students! YCHS is committed to happy and healthy students!