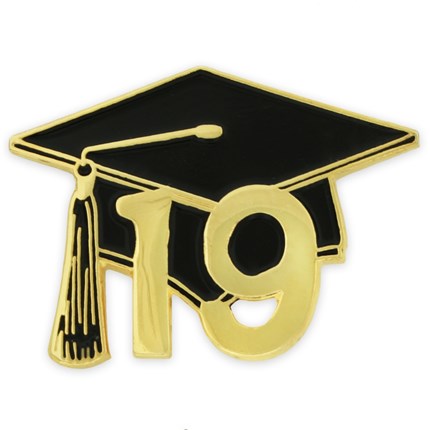 Last chance to guarantee a book is February 22nd. Don't miss the chance to order your yearbook. Please visit this link to order your book now!
This Friday, February 22, is the last day for students to purchase a yearbook. If students wish to buy one, yearbooks can be purchased at www.jostensyearbooks.com
Please email our YCHS Yearbook Advisor Ms. Brown if you have any questions at: zbrown8@ycschools.us
YCHS YEARBOOK UPDATE:
Hello Senior Parents,
We are getting closer to graduation!! We are so excited to celebrate this achievement with you and your child. The senior yearbook image deadline is quickly approaching. Thank you so much for your patience with the Senior Image Link. Jostens repaired the link on the Senior Information Page. Seniors also have access to the link on the Class of 2019 Google Classroom site. ALL Senior Images MUST be uploaded using the link. Pictures sent by email will not be accepted. ALL Senior Yearbook Images are due Friday, January 25, 2019. We are unable to accept any photos after this date. Our photography department is offering to take senior portraits for students for FREE. Please take advantage of this special offer so you are able to make the deadline. If you have any questions please do not hesitate to contact Mrs. Brown.
2019 Senior Prom Theme: Masquerade
Prom Date: Friday, May 31, 2019 Time: 7:00 pm to 11:00 pm Location: Polo Fields 2955 Packard Rd Ypsilanti MI/48197 Prom Tickets Price $60
Prom Dress Sale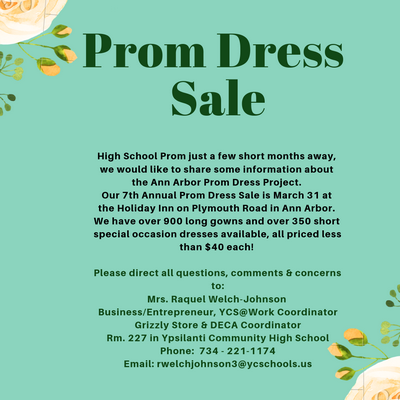 High School Prom just a few short months away, we would like to share some information about the Ann Arbor Prom Dress Project.
Our 7th Annual Prom Dress Sale is March 31 at the Holiday Inn on Plymouth Road in Ann Arbor. We have over 900 long gowns and over 350 short special occasion dresses available, all priced less than $40 each!
Click on image to enlarge
Please direct all questions, comments & concerns to:
Mrs. Raquel Welch-Johnson
Business/Entrepreneur, YCS@Work Coordinator
Grizzly Store & DECA Coordinator
Rm. 227 in Ypsilanti Community High School
Phone: 734 - 221-1174
Email: rwelchjohnson3@ycschools.us
7th Annual PROM Dress Sale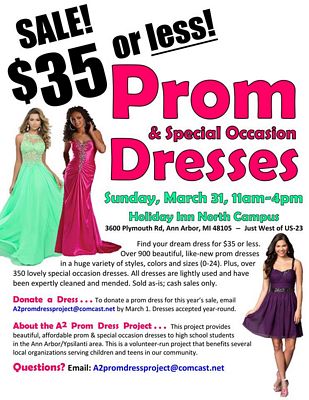 Sunday, March 31, 2019 – 11am-4pm
Holiday Inn, 3600 Plymouth Rd, Ann Arbor
It's hard to believe that PROM is fast approaching. High school girls are already hitting stores in search of the perfect gown. Unfortunately, many girls may stay home from their prom because they think they can't afford to spend hundreds on a dress. We can help, and I'd appreciate if you will share this information with your students and their parents.
Incredibly, over 900 beautiful long prom gowns will be available for just $10-$35 each. The sale will also offer more than 350 lovely special occasion dresses that would be perfect for graduation or Homecoming.
This is a volunteer-run project that benefits several local organizations serving children and teens in our community.
YCHS Counselor Wins MCAN Ombudsman Award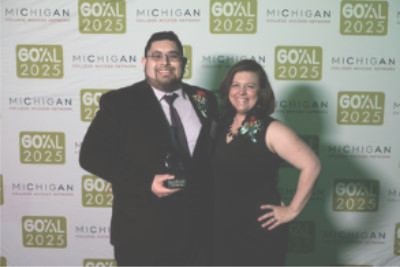 Congratulations to Patrick Mullen-Coyoy for his dedicated work at YCHS!
The Michigan College Access Network (MCAN) held its ninth annual conference in Lansing and acknowledged 11 outstanding postsecondary education practitioners and advocates from across the state at the awards dinner Monday, March 4.
Patrick Mullen Coyoy received The Ombudsman Award. The Ombudsman Award recognizes individuals whose passion for college access helped them persevere over challenges while engaged in their year of service as an AmeriCorps member through one of the college advising programs in Michigan. Coyoy is an AmeriCorps member with the Michigan College Advising Corps serving ACTech High School and Ypsilanti Community High School. Patrick is very passionate about educating and advising students in their postsecondary plans.
"The College Access Impact Awards shine a light on the individuals and organizations who have made extraordinary efforts to improve postsecondary attainment," said Brandy Johnson, executive director of MCAN. "The award winners play a key role in ensuring that students are college and career ready by increasing college applications, FAFSA completion rates, and college enrollment. We are looking to the future, along with the students, as we cultivate tomorrow's talent to keep Michigan as an innovative state."
Information was provided from the MCAN press release and not YCS written copy.
YCS GRADUATION
Date: June 4, 2019 - Class of 2019 Graduation
---
Michigan Scholarships
---
Senior Counselors
If you have any questions regarding your student's graduation status or post-secondary options please contact your student's counselor.
Contact Information:
Ms. Tonysha Emerson
Counselor: ACTech (M-S) Students
Estabrook Counselor (Grades 7 and 8)
(734) 221-1014
Fax: (734) 221-1003
Temerson6@Ycschools.us

Coming Events for Seniors
Senior Information
Senior Class Meeting
October 10, 2018
Senior Graduation Packet Distribution
9:10 am - 9:50 am
October 10th
Collecting Senior Graduation Packet Orders
During Lunch 11:30 am - 1:00 pm
October 22nd and 23rd
Yearbook Picture Deadline
January 25, 2019
Prom
May 11, 2019
Location: TBA
Senior Final Exams
May 22-24, 2019
Senior Awards Night
May 21, 2019
Senior Last Day
May 24, 2019
Cap and Gown Pick-Up
Date TBD
Graduation
June 4, 2019
Location: TBA
Transcript Information


Order secure transcripts online through Parchment. Register for an account at www.parchment.com and choose where (schools or addresses) transcripts should be sent: 90% of higher education facilities accept these transcripts.
YCS Registrar (Record Requests):
Christina Strickland
Email: records@ycschools.us
(734) 221-1221