HIGH SCHOOL RESOURCES & News
This page will contain information pertinent to all High School SLCs.
Picture Retake Day
Important Information
YCHS Picture Re-takes
October 19, 2018
8:00 am- 11:00 am

Senior Information
Under this heading you will find information about the following topics:
Guidance & Counseling
Band
Camps & Student Opportunities
Dual Enrollment at WCC Information
First Robotics
Ypsilanti STEMM Middle College Graduation Requirements
MAT²® Opportunity for Graduates
MIAT Dual Enrollment Program
RAHS
Seven Correlates of Effectiveness
Water is cool at school!
YCHS Calendar
YCHS Freshman Academy
YCHS NSBE, Jr. Chapter
Project SUCCESS
RAHS and YCMS New Program

The Regional Alliance for Healthy Schools - Ypsilanti Community Middle School is implementing Project SUCCESS (Schools Using Coordinated Community Efforts to Strengthen Students). The goals of the program are to prevent and reduce alcohol, tobacco and other drug use. Project SUCCESS is funded by the Community Mental Health Partnership of Southeast Michigan and is a partnershipbetween Ypsilanti Community Schools and Michigan Medicine's Regional Alliance for Healthy Schools (RAHS).
Join Us!
Run RAHS - 5K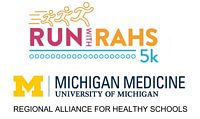 Visit the RAHS website at www.umhs-rahs.org

Kids ages 4-11 can participate and win prizes too! The Run with RAHS Kid's Fun

Events will take place on the track during the 5K!
Race Date: October 6, 2018
Race Time: 10:00 am
August 21, 2018
Free Scholarship Fair
You are invited...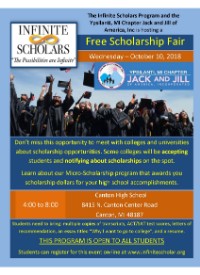 The Infinite Scholars Program and the Ypsilanti, MI Chapter Jack and Jill of America, Inc
Wednesday – October 10, 2018
Time: 4:00 to 8:00
Canton High School
8415 N. Canton Center Road
Canton, MI 48187
Students need to bring: multiple copies of transcripts, ACT/SAT test scores, letters of recommendation, an essay titled "Why I want to go to college", and a resume.
THIS PROGRAM IS OPEN TO ALL STUDENTS
Students can register for this event online at www.infinitescholar.org
Calendar

‹

September

2018

›

S
M
T
W
T
F
S
1
2

Sep 2

7:45 AM to 1:30 PM

MCOLES Police Academy

HS Cafeteria, Gymnasium & Locker Rooms

YCHS Calendar

MCOLES Testing WCC Police Academy This event has a Google Hangouts video call. Join: https://plus.google.com/hangouts/_/ycschools.us/ycschools-us-fb?hceid=eWNzY2hvb2xzLnVzX2ZiMjlpcDFhNzI5bzdyMTh0bDhla2wzbXI4QGdyb3VwLmNhbGVuZGFyLmdvb2dsZS5jb20.h5icacpqoki04eff8dr28m9jbc&hs=121

3
4

Sep 4

8:15 AM to 3:15 PM

1st Day of School for Students

YCHS STEMM Middle College

5
6
7
8
9
10

Sep 10

3:30 PM to 5:30 PM

All Star Driver Education

HS Classroom

YCHS Calendar

This event has a video call. Join: https://meet.google.com/csu-ypwd-yib +1 601-748-4538 PIN: 393772725#

11

Sep 11

3:30 PM to 5:30 PM

All Star Driver Ed

HS Classroom

YCHS Calendar

This event has a video call. Join: https://meet.google.com/pdp-orga-dwm +1 409-241-8964 PIN: 456730054#

12
13

Sep 13

3:30 PM to 5:30 PM

All Star Drivers Ed

HS Classroom

YCHS Calendar

This event has a video call. Join: https://meet.google.com/oov-tsnm-uvs +1 414-909-4761 PIN: 253041337#

14

Sep 14

Picture Day at YCHS

Ypsilanti Community High School, 2095 Packard St, Ypsilanti, MI 48197, USA

YCHS STEMM Middle College

3:30 PM to 5:30 PM

All Star Driver's Ed

HS Classroom

YCHS Calendar

15
16
17

Sep 17

3:30 PM to 5:30 PM

All Star Driver's ed

HS Classroom

YCHS Calendar

This event has a video call. Join: https://meet.google.com/psa-upfv-bgc +1 413-853-2400 PIN: 165402061#

5:30 PM to 7:30 PM

All Star Drivers Ed

HS Classroom

YCHS Calendar

This event has a video call. Join: https://meet.google.com/fzp-cdzi-opp +1 513-839-2951 PIN: 673832707#

18

Sep 18

3:30 PM to 5:30 PM

All Star Driver's Ed

Hs Classroom

YCHS Calendar

This event has a video call. Join: https://meet.google.com/sgc-ivee-oxi +1 574-383-9779 PIN: 917266187#

5:30 PM to 7:30 PM

All Star Drivers Ed

HS Classroom

YCHS Calendar

This event has a video call. Join: https://meet.google.com/hoy-izam-wwr +1 650-980-4839 PIN: 255435402#

19

Sep 19

5:00 PM to 7:00 PM

School-wide Open House at YCHS

YCHS STEMM Middle College

5:30 PM to 6:30 PM

Hewitt Road Neighborhood Watch

HS Rm 401

YCHS Calendar

This event has a video call. Join: https://meet.google.com/hbv-vvje-jsx

20

Sep 20

3:30 PM to 5:30 PM

All Star Driver's Ed

Hs Classroom

YCHS Calendar

21

Sep 21

3:30 PM to 5:30 PM

All Star Driver's Ed

HS Classroom

YCHS Calendar

7:00 PM to 9:00 PM

YCHS Homecoming Game

Shadford Field

YCHS STEMM Middle College

22

Sep 22

7:00 PM to 10:00 PM

YCHS Homecoming Dance

YCHS

YCHS STEMM Middle College

23
24

Sep 24

3:30 PM to 7:30 PM

All Star Driver's Ed

HS Classroom

YCHS Calendar

This event has a video call. Join: https://meet.google.com/sge-xeos-pdk +1 574-318-7396 PIN: 225966461#

25

Sep 25

3:30 PM to 5:30 PM

All Star Drivers Ed

HS Classroom

YCHS Calendar

This event has a video call. Join: https://meet.google.com/een-gbyq-dvh +1 218-414-3263 PIN: 569438828#

26
27

Sep 27

3:30 PM to 5:30 PM

All Star Drivers Ed

HS Classroom

YCHS Calendar

This event has a video call. Join: https://meet.google.com/gbo-jngr-seu +1 219-364-5920 PIN: 653915261#

28

Sep 28

3:30 PM to 5:30 PM

All Star Drivers Ed

HS Classroom

YCHS Calendar

This event has a video call. Join: https://meet.google.com/fwf-qagz-aju +1 915-308-2134 PIN: 480992802#

29
30