HIGH SCHOOL RESOURCES & News
This page will contain information pertinent to all High School SLCs.
February 28, 2019
YCHS Information, Tardy Policy
We work every day to make sure that YCHS is safe, orderly, and disciplined. Our students and family supports play a vital role in that process. Below, I have listed a few reminders of our daily policies, procedures, and routines. I have also attached our new Tardy Policy that will be enforced starting Monday, March 4. The policy will be explained to students during advisory time on both Thursday, February 28 and Friday, March 1 this week.
Please review this information with your scholar.
Daily Policies, Procedures, and Routines at YCHS:
1.) We are a closed campus. Unless a parent or guardian signs a student out, the student cannot leave school for any reason from 8:15am-3:15 pm. If students leave, they cannot return to school for the remainder of that day. They will be marked absent in PowerSchool and as a result, parents/guardians will get a notification.
2.) Students cannot have food delivered to YCHS during the 8:15am-3:15 pm hours. Parents/Guardians may bring food to their scholar. Parents/Guardians sign in at the front door and report to the main office for that.
3.) No hats and/or hoodies are to be worn in the building from 8:15am-3:15 pm. When students wear them, we have a very difficult time identifying the individual(s). This is for safety and order. We have to know who is in the building at all times.
4.) Students are not to be in the halls within the first 15 minutes and/or last 15 minutes of any class period. No hall passes will be given during this time.
5.) No hall passes are given to students during our lunch times. Students are to be in class and/or in the cafeteria at lunch. They can use the restroom during their lunchtime.
6.) Getting to class: students are to follow the transition times for getting to class and are expected to get to class on time. This limits incidents in the halls and disruptions for starting class. This also helps to reduce students skipping and going to areas of the building where they should not be. I have attached the new Tardy Policy to this email.
Thank you for your continued support.
Go Grizzlies!!
YCHS Tardy Policy (students:parents).pdf
Prom Dress Sale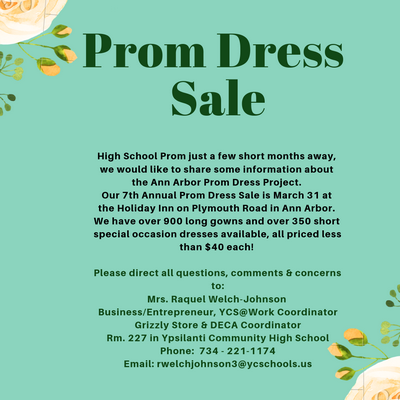 High School Prom just a few short months away, we would like to share some information about the Ann Arbor Prom Dress Project.
Our 7th Annual Prom Dress Sale is March 31 at the Holiday Inn on Plymouth Road in Ann Arbor. We have over 900 long gowns and over 350 short special occasion dresses available, all priced less than $40 each!
Click on image to enlarge
Please direct all questions, comments & concerns to:
Mrs. Raquel Welch-Johnson
Business/Entrepreneur, YCS@Work Coordinator
Grizzly Store & DECA Coordinator
Rm. 227 in Ypsilanti Community High School
Phone: 734 - 221-1174
Email: rwelchjohnson3@ycschools.us
7th Annual PROM Dress Sale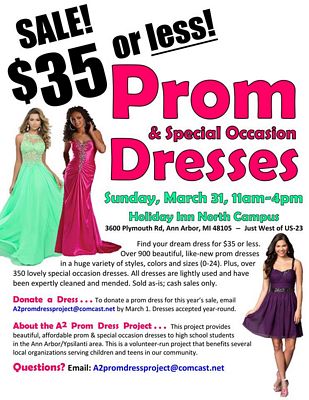 Sunday, March 31, 2019 – 11am-4pm
Holiday Inn, 3600 Plymouth Rd, Ann Arbor
It's hard to believe that PROM is fast approaching. High school girls are already hitting stores in search of the perfect gown. Unfortunately, many girls may stay home from their prom because they think they can't afford to spend hundreds on a dress. We can help, and I'd appreciate if you will share this information with your students and their parents.
Incredibly, over 900 beautiful long prom gowns will be available for just $10-$35 each. The sale will also offer more than 350 lovely special occasion dresses that would be perfect for graduation or Homecoming.
This is a volunteer-run project that benefits several local organizations serving children and teens in our community.
YCHS Counselor Wins MCAN Ombudsman Award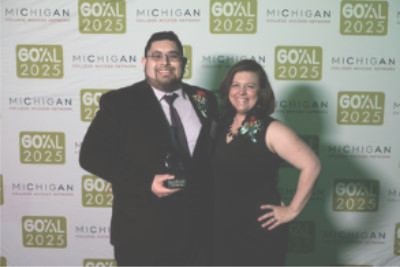 Congratulations to Patrick Mullen-Coyoy for his dedicated work at YCHS!
The Michigan College Access Network (MCAN) held its ninth annual conference in Lansing and acknowledged 11 outstanding postsecondary education practitioners and advocates from across the state at the awards dinner Monday, March 4.
Patrick Mullen Coyoy received The Ombudsman Award. The Ombudsman Award recognizes individuals whose passion for college access helped them persevere over challenges while engaged in their year of service as an AmeriCorps member through one of the college advising programs in Michigan. Coyoy is an AmeriCorps member with the Michigan College Advising Corps serving ACTech High School and Ypsilanti Community High School. Patrick is very passionate about educating and advising students in their postsecondary plans.
"The College Access Impact Awards shine a light on the individuals and organizations who have made extraordinary efforts to improve postsecondary attainment," said Brandy Johnson, executive director of MCAN. "The award winners play a key role in ensuring that students are college and career ready by increasing college applications, FAFSA completion rates, and college enrollment. We are looking to the future, along with the students, as we cultivate tomorrow's talent to keep Michigan as an innovative state."
Information was provided from the MCAN press release and not YCS written copy.
Washtenaw County Young Citizens Award Nominations Open Until April 2
The Washtenaw County High Schoolers Young Citizens Award Nominations are open until April 2. Please take a moment to nominate a high school student you think fits the criteria for the award! We have had a few YCHS candidates in the past.
Under this heading you will find information about the following topics: - Click on + sign to open.
Under this heading you will find information about the following topics:
Guidance & Counseling
Band
Camps & Student Opportunities
Dual Enrollment at WCC Information
First Robotics
Ypsilanti STEMM Middle College Graduation Requirements
MAT²® Opportunity for Graduates
MIAT Dual Enrollment Program
RAHS
Seven Correlates of Effectiveness
Water is cool at school!
YCHS Calendar
YCHS Freshman Academy
YCHS NSBE, Jr. Chapter
Kroger Community Rewards Program
Dear Ypsilanti Community High School Stakeholders,
The Kroger Co. Family of Stores is committed to bringing hope and help to the local neighborhoods they call home. Kroger stores are on a mission to go beyond being a part of the community to also helping create a stronger community. We appreciate your participation in our Community Rewards program to help accomplish that mission!
Kroger has recently upgraded their Community Rewards system, and as a result, our Non-Profit Organization (NPO) has a new account number = AM149.
While the previous number will continue to be associated with our organization, it will not be visible to our members when enrolling. New Members can enroll by searching for either the new number (AM149) or the name of our organization (Ypsilanti Community High School).
If you have any questions please email: kcr18@kroger.com or visit their website at www.kroger.com. Please reference the new number when contacting them for assistance.
Thank you for supporting Ypsilanti Community High School by using the Kroger Community Rewards program when shopping at Kroger.
Go Grizzlies!!
YCHS Students: An employment opportunity

SUMMER19 is a ten-week employment and mentorship program for Washtenaw County youth ages 16-24. Summer19 provides on-the-job training and opportunities that will help you:
Earn summer cash working 20 hours per week

$12.00/hr for youth with a high school diploma or equivalent

$10.00/hr for all other youth employees

Learn how to manage money

Build your professional network

Explore Career opportunities and new industries

Prepare for future jobs and the career you want

Gain skills around communication, interviewing, and professionalism
KEY DATES:
Please note that the following events are mandatory. Soft skills sessions will be paid:
March 29 - Youth Application due

April 17 - Youth & Parent Orientation

April 23 - May 23 - Soft Skills Academy

May 29 - Match Day

June 17 - Employment Period begins

August 23 - Employment Period ends

July 17 - Mid Summer Event

Aug 22 - End of Summer Celebration
APPLY TO SUMMER19!!
For more information and to apply by 3/29 visit: DoMoreSummer19.com
Questions?
Contact Shana Collins at MichiganWorks!
734-714-9833
You may also see Mr. Solomon who will be in rm. 225 on Fridays!
2019 Senior Prom Theme: Masquerade
Prom Date: Friday, May 31, 2019 Time: 7:00 pm to 11:00 pm Location: Polo Fields 2955 Packard Rd Ypsilanti MI/48197 Prom Tickets Price $60
September at YCHS - 2018
September 2018
Calendar

‹

March

2019

›

S
M
T
W
T
F
S
1
2
3

Mar 3

7:30 AM to 12:00 PM

ANTIOCH Church Services

Location:

Auditorium and 500 hallway area

This event has a video call. Join: https://meet.google.com/rna-epei-euq +1 615-813-0248 PIN: 545270608#

7:30 AM to 1:30 PM

MCOLES

Location:

upper gym, locker rooms and cafeteria

This event has a video call. Join: https://meet.google.com/yyt-wiky-yvt +1 224-707-1331 PIN: 439925228#

1:00 PM to 7:00 PM

This event has a video call. Join: https://meet.google.com/dfu-himx-mpr +1 208-856-8208 PIN: 517603953#

4
5
6
7

Mar 7

5:00 PM to 8:30 PM

Otters Swim Club

Location:

HS POOL & Lockers

6:00 PM to 7:00 PM

YCHS Spring Coaches Meeting - Reminder

Location:

YCHS Media Center

Hello, This is a friendly reminder for tonight's spring coaches meeting. It will be held in the YCHS media center at 6:00 PM. It is mandatory for all spring sports coaches to attend. If you are unable to attend please inform me. Thanks. This event has a video call. Join: https://meet.google.com/oim-zxti-rqn +1 321-296-9710 PIN: 311953659#

6:00 PM to 8:30 PM

any audio equipment need please communicate that with Clark This event has a video call. Join: https://meet.google.com/gsc-kexe-xky +1 314-649-9252 PIN: 866329362#

8

Mar 8

5:00 PM to 8:30 PM

Otters Swim Club

Location:

HS POOL & Lockers

9

Mar 9

9:00 AM to 6:00 PM

Sat. March 9, 9-6 (This is the day we will build our set and would have it on stage until March 23rd.) March 18, 19 3-6 March 22- 12:00 performance for elementary students, 7;00 public performance March 23- 2:00 performance followed by clean up and cast party" Malik working 9am to 2pm and Mohammad working 2pm to 7pm This event has a video call. Join: https://meet.google.com/geq-qjtk-qsb +1 302-440-5697 PIN: 702336436#

10

Mar 10

7:30 AM to 12:00 PM

ANTIOCH Church Services

Location:

Auditorium and 500 hallway area

This event has a video call. Join: https://meet.google.com/rna-epei-euq +1 615-813-0248 PIN: 545270608#

11

Mar 11

3:30 PM to 7:30 PM

This event has a video call. Join: https://meet.google.com/aqs-wypz-qde +1 336-754-9083 PIN: 359160253#

5:00 PM to 8:30 PM

Otters Swim Club

Location:

HS POOL & Lockers

12

Mar 12

3:30 PM to 7:30 PM

This event has a video call. Join: https://meet.google.com/pfg-mytj-gjn +1 319-975-1497 PIN: 935236238#

5:00 PM to 8:30 PM

Otters Swim Club

Location:

HS POOL & Lockers

13

Mar 13

2:30 PM to 5:00 PM

This event has a video call. Join: https://meet.google.com/yxa-wodm-gwh +1 432-693-9063 PIN: 491452574#

3:30 PM to 5:30 PM

This event has a video call. Join: https://meet.google.com/ftq-qhyi-nhm +1 318-417-7244 PIN: 265381047#

5:00 PM to 8:30 PM

Otters Swim Club

Location:

HS POOL & Lockers

14

Mar 14

2:30 PM to 5:00 PM

This event has a video call. Join: https://meet.google.com/yxa-wodm-gwh +1 432-693-9063 PIN: 491452574#

3:30 PM to 5:30 PM

This event has a video call. Join: https://meet.google.com/ftq-qhyi-nhm +1 318-417-7244 PIN: 265381047#

5:00 PM to 8:30 PM

Otters Swim Club

Location:

HS POOL & Lockers

15

Mar 15

5:00 PM to 8:30 PM

Otters Swim Club

Location:

HS POOL & Lockers

5:30 PM to 7:30 PM

Allstar Drivers Ed Classroom

This event has a video call. Join: https://meet.google.com/nph-adnz-tqe +1 385-323-0180 PIN: 590522434#

16
17

Mar 17

7:30 AM to 12:00 PM

ANTIOCH Church Services

Location:

Auditorium and 500 hallway area

This event has a video call. Join: https://meet.google.com/rna-epei-euq +1 615-813-0248 PIN: 545270608#

4:00 PM to 8:00 PM

covered by Malik per Fred This event has a video call. Join: https://meet.google.com/bjc-gbpu-ker +1 669-223-1633 PIN: 578858377#

18

Mar 18

3:00 PM to 6:00 PM

March 18, 19 3-6 March 22- 12:00 performance for elementary students, 7;00 public performance March 23- 2:00 performance followed by clean up and cast party" This event has a video call. Join: https://meet.google.com/ood-sotd-grv +1 224-662-0436 PIN: 245257784#

3:30 PM to 7:30 PM

This event has a video call. Join: https://meet.google.com/yno-ohgw-wqa +1 515-758-5848 PIN: 451082202#

5:00 PM to 8:30 PM

Otters Swim Club

Location:

HS POOL & Lockers

19

Mar 19

3:00 PM to 6:00 PM

March 18, 19 3-6 March 22- 12:00 performance for elementary students, 7;00 public performance March 23- 2:00 performance followed by clean up and cast party" This event has a video call. Join: https://meet.google.com/ood-sotd-grv +1 224-662-0436 PIN: 245257784#

3:30 PM to 5:30 PM

This event has a video call. Join: https://meet.google.com/spa-mqam-ais +1 601-589-1210 PIN: 469146315#

5:00 PM to 8:30 PM

Otters Swim Club

Location:

HS POOL & Lockers

20

Mar 20

3:30 PM to 5:30 PM

This event has a video call. Join: https://meet.google.com/spa-mqam-ais +1 601-589-1210 PIN: 469146315#

5:00 PM to 8:30 PM

Otters Swim Club

Location:

HS POOL & Lockers

6:00 PM to 8:00 PM

Upward bound

Location:

auditorium and classroom

you will need to do a tech ticket for anything needed. This event has a video call. Join: https://meet.google.com/hwd-pnhz-gwi +1 414-882-6202 PIN: 600231197#

21

Mar 21

3:30 PM to 5:30 PM

This event has a video call. Join: https://meet.google.com/spa-mqam-ais +1 601-589-1210 PIN: 469146315#

5:00 PM to 8:30 PM

Otters Swim Club

Location:

HS POOL & Lockers

22

Mar 22

12:00 PM to 9:00 PM

March 22- 12:00 performance for elementary students, 7;00 public performance March 23- 2:00 performance followed by clean up and cast party" This event has a video call. Join: https://meet.google.com/tvn-ewxt-agh +1 402-396-5104 PIN: 433576263#

5:00 PM to 8:30 PM

Otters Swim Club

Location:

HS POOL & Lockers

23

Mar 23

2:00 PM to 6:00 PM

Middle school Musical (Last Performance and cast party)

March 23- 2:00 performance followed by clean up and cast party" This event has a video call. Join: https://meet.google.com/kny-vmum-nto +1 929-445-3446 PIN: 727700463#

24

Mar 24

7:30 AM to 12:00 PM

ANTIOCH Church Services

Location:

Auditorium and 500 hallway area

This event has a video call. Join: https://meet.google.com/rna-epei-euq +1 615-813-0248 PIN: 545270608#

25

Mar 25

5:00 PM to 8:30 PM

Otters Swim Club

Location:

HS POOL & Lockers

26

Mar 26

5:00 PM to 8:30 PM

Otters Swim Club

Location:

HS POOL & Lockers

27

Mar 27

8:00 AM to 4:00 PM

Washtenaw Sheriff's Dive Team

Give access to Sheriff's at pool door entrance. This event has a video call. Join: https://meet.google.com/mvg-waoz-gjc +1 786-540-3773 PIN: 171925461#

5:00 PM to 8:30 PM

Otters Swim Club

Location:

HS POOL & Lockers

28

Mar 28

5:00 PM to 8:30 PM

Otters Swim Club

Location:

HS POOL & Lockers

29

Mar 29

5:00 PM to 8:30 PM

Otters Swim Club

Location:

HS POOL & Lockers

30
31

Mar 31

7:30 AM to 12:00 PM

ANTIOCH Church Services

Location:

Auditorium and 500 hallway area

This event has a video call. Join: https://meet.google.com/rna-epei-euq +1 615-813-0248 PIN: 545270608#