HIGH SCHOOL RESOURCES & News
This page will contain information pertinent to all High School SLCs.
Poetry Slam at YCHS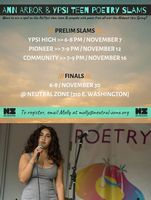 Poetry Slam at YCHS
What: Ann Arbor & Ypsi Teen Poetry Slams (Preliminary Rounds)
When: Wednesday, Nov. 7, 6-8 p.m. (Preliminary Rounds will also be held at Pioneer on Nov. 12 and Community High on Nov. 16.)
Where: YCHS Auditorium
What's at Stake: The Top 5 student poets (based on judges' scores) will advance to the final round on Nov. 30 at the Neutral Zone in Ann Arbor. Top 5 poets in the finals will form an Ann Arbor-Ypsi Poetry Slam team that will compete regionally and nationally this spring.
How do students sign up: Email: Richard Mero at rmero2@ycschools.usrmero2@ycschools.us or Molly Raynor, the Literary Arts Director at the Neutral Zone, at molly@neutralzone.orgmolly@neutralzone.org
Click on image to enlarge
October 24, 2018
RCTC Culinary Arts and Bakery Science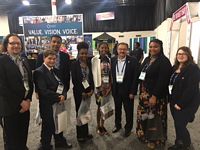 YCHS RCTC Culinary Arts and Bakery Science students had the opportunity to meet the founder and owner of Grand Traverse Pie Co. Students received a personal tour of their new $150,000 Pie Truck and had appetizers plus a demonstration with Detroit Celebrity Chef Maxcel Hardy of COOP Detroit and River Bistro. Finally, students got to meet and chat with Senator Mike Kowall (15th District, Detroit) about the importance of CTE education.
Under this heading you will find information about the following topics:
Guidance & Counseling
Band
Camps & Student Opportunities
Dual Enrollment at WCC Information
First Robotics
Ypsilanti STEMM Middle College Graduation Requirements
MAT²® Opportunity for Graduates
MIAT Dual Enrollment Program
RAHS
Seven Correlates of Effectiveness
Water is cool at school!
YCHS Calendar
YCHS Freshman Academy
YCHS NSBE, Jr. Chapter
Calendar

‹

November

2018

›

S
M
T
W
T
F
S
1
2
3
4

Nov 4

7:45 AM to 1:30 PM

MCOLES Police Academy

HS Cafeteria, Gymnasium & Locker Rooms

YCHS Calendar

MCOLES Testing WCC Police Academy This event has a Google Hangouts video call. Join: https://plus.google.com/hangouts/_/ycschools.us/ycschools-us-fb?hceid=eWNzY2hvb2xzLnVzX2ZiMjlpcDFhNzI5bzdyMTh0bDhla2wzbXI4QGdyb3VwLmNhbGVuZGFyLmdvb2dsZS5jb20.h5icacpqoki04eff8dr28m9jbc&hs=121

5

Nov 5

4:00 PM to 5:30 PM

1st Annual YCHS Shark Tank Event

HS Auditorium

YCHS Calendar

This event has a video call. Join: https://meet.google.com/qis-sazs-jdr +1 417-567-4307 PIN: 224187080#

6

Nov 6

8:00 AM to 4:00 PM

Professional Development SSS

Media Center & Rooms 111 & 112

YCHS Calendar

12:00 PM to 2:00 PM

Custodial Meeting & Training

Media Center

YCHS Calendar

This event has a video call. Join: https://meet.google.com/fcu-vygc-tnu +1 561-614-0538 PIN: 302537270#

7

Nov 7

5:00 PM to 9:00 PM

Poetry Slam

HS Auditorium

YCHS Calendar

This event has a video call. Join: https://meet.google.com/yee-upxe-ygn +1 661-553-0082 PIN: 692999163#

8
9
10
11
12
13

Nov 13

5:30 PM to 7:00 PM

Foundation Meetings

HS Principal's Conference Room

YCHS Calendar

14
15
16
17
18
19
20
21

Nov 21

5:45 PM to 7:15 PM

Hewitt Road Neighborhood Watch

HS Room 401

YCHS Calendar

This event has a video call. Join: https://meet.google.com/cru-wgts-qnj

22
23
24
25
26
27
28

Nov 28

5:00 PM to 6:00 PM

Upward Bound Parent Meeting

Media Center & Auditorium

YCHS Calendar

Need projector ans screen "Roderick Wallace EMU Upward Bound 201 Boone Hall Ypsilanti, MI 48197 734-487-5690" This event has a video call. Join: https://meet.google.com/xkh-kehb-djd +1 605-865-2281 PIN: 782459426#

29
30