and

Washtenaw County Young Citizens Award Nominations Open Until April 2
The Washtenaw County High Schoolers Young Citizens Award Nominations are open until April 2. Please take a moment to nominate a high school student you think fits the criteria for the award! We have had a few YCHS candidates in the past.
Estabrook Award - Motivation Manager at Imagine Learning
Coming to Estabrook Elementary: Imagine Language & Literacy Michigan Cup Celebration Ceremony
Congratulations to the staff, and the wonderful students on placing first in the Imagine Language & Literacy Michigan Cup contest.
Estabrook placed first in the state and students will be honored at a school-wide award assembly.
YCHS Counselor Wins MCAN Ombudsman Award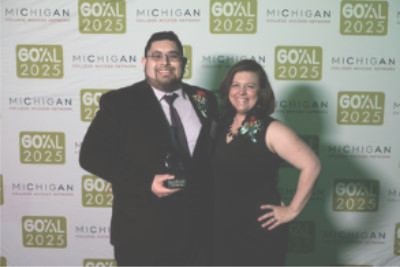 Congratulations to Patrick Mullen-Coyoy for his dedicated work at YCHS!
The Michigan College Access Network (MCAN) held its ninth annual conference in Lansing and acknowledged 11 outstanding postsecondary education practitioners and advocates from across the state at the awards dinner Monday, March 4.
Patrick Mullen Coyoy received The Ombudsman Award. The Ombudsman Award recognizes individuals whose passion for college access helped them persevere over challenges while engaged in their year of service as an AmeriCorps member through one of the college advising programs in Michigan. Coyoy is an AmeriCorps member with the Michigan College Advising Corps serving ACTech High School and Ypsilanti Community High School. Patrick is very passionate about educating and advising students in their postsecondary plans.
"The College Access Impact Awards shine a light on the individuals and organizations who have made extraordinary efforts to improve postsecondary attainment," said Brandy Johnson, executive director of MCAN. "The award winners play a key role in ensuring that students are college and career ready by increasing college applications, FAFSA completion rates, and college enrollment. We are looking to the future, along with the students, as we cultivate tomorrow's talent to keep Michigan as an innovative state."
Information was provided from the MCAN press release and not YCS written copy.
Exciting News! From YCMS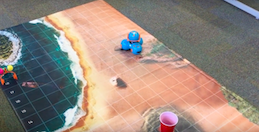 We have a team of 7th-grade girls that are competing in a coding competition "Girls Solve It". We have three quests we have to complete and submit...we were given the first quest on Monday and during advisory this week the girls have been coming down to my room to work on it.

Click on image to enlarge
The exciting news...We finished the first Quest today and the girls are pumped! We will receive our second quest on March 11
Check out the videos of our first Quest! Everything the robot does was coded by them!
Click on links to play each video
https://www.youtube.com/watch?v=Dw09D7jviOo
https://www.youtube.com/watch?v=LUBym4EYrjo
No Dream Deferred
YCHS had their final performance of "No Dream Deferred" for the student body! The production was in celebration of Black History Month! Congratulations to the student performers on a job well done!
Photos below
Ypsilanti Community Night – January 18th – Lincoln vs Ypsi Game Night:
Check out the cool video from our Grizzly Community
Basketball Night last Friday, January 18, 2019! Although our team lost
in a close game--the event for the Ypsilanti community was amazing!
Family Fun Night
EMU Education Day Video
Ypsilanti Otters Swimming Club Events
3/20 (Wed), 6-8p, 2019 Winter YOSC Fun Meet - YCHS Pool
We will be Hosting a Fun Meet with Current/Former YCS, Otters, Friends of Otters, Parents and Coaches! Participants must be able to swim the length of the pool!
This is a fun meet where we will built community and race together. There will be a variety of different races, including a Coaches Relay at the end of the meet!
We recommend all swimmers try to participate in some races, as it gives them a goal to aim for in their training.
3/21 (Thurs), 6-7:30p, 2019 Winter Bring-A-Friend-Day YCHS Pool
This event is for anyone 18 & under, regardless of swimming ability. The pool will be sectioned off into 3 areas. 1 area will be in the shallow area for free swim. The other 2 areas will have organized activities.
YCS Students Traveling to Washington D.C. to have their Art Showcased
Check out the article on our 66 students headed to Washington D.C. next spring to have their artwork showcased at the National Department of Education! The districts art department teachers have been working extremely hard to make this experience for our students happen!
YCS District Wide Open House
AT RIVERSIDE ARTS CENTER