NAAPID
---

National African American Parent Involvement Day


WHAT IS NAAPID?
NAAPID is a national call to action to get African American parents more involved in their children's education. It is expected that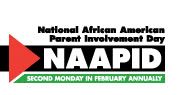 this national observation will open up dialogue among teachers, parents, and students, which will lead to a more conducive learning environment for African -American students from kindergarten through college.
---
February 13, 2017 - NAAPID Celebration
National African American Parent Involvement Day (#NAAPID) is this Monday, February 13th. Your school has activities to be involved that day and everyday. All parents are encouraged!
If you're in a school building this Monday, take a selfie and post it to theYpsilanti Community Schools page with the hashtag #YCSNAAPID
NAAPID at Night
---
2017 Theme: Education, Dedication, and Determination are the Keys to Success ... Dream Big!

February 13, 2017
5:00-8:30 pm
Washtenaw Community College - Towsley Auditorium
Morris J. Lawrence Building
4800 E. Huron Rive Drive
Ann Arbor, MI 48105
Keynote Speaker: Dr. Eddie M. Jr.
Link to NAAPID at Night Flyer